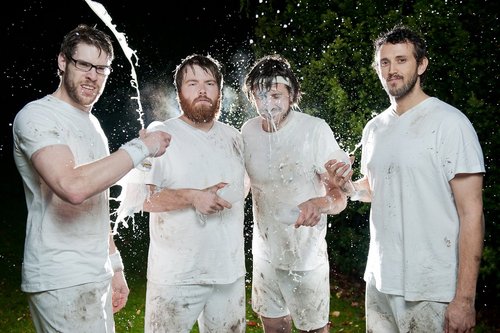 Midlands math rockers You Slut! have announced they are to part ways after a decade long career.
The band posted the following statement:
"This year marks the 10 year anniversary of the birth of You Slut! and in that time we have achieved far more than we could've imagined – though we did only ever imagine playing a one-off gig in Derby.
Highlights have included: Two great European tours, several excellent UK tours, a Radio One and Kerrang! session, playing to some crazy crowds (we are looking at you Portrush), s…upporting and being supported by some amazing bands, meeting and making some great friends and luckily just a smattering of arseholes, that frankly amazing video of covers from the cool Japanese band, Gav's infamous pizza and Sam's drunken Hells Angels/Cherry Picker/Stay Puft T-shirt story – both of which occurred in Bristol. And the whole experience was wonderfully topped off by a truly mind-blowing gig at ArcTanGent 2013.
This is why we have decided that as of today You Slut! are no more.
Special thanks go to Phil and Neil of Stressed Sumo Records who unleashed our music to a wider audience than just our practice room. And huge kisses, hugs and slightly uncomfortable fondles for all of you for your wonderful, continued support over the years. Without you coming to our gigs, buying our music and merch and tittering at our frankly awful jokes then we'd probably have just sat becoming world beaters at Pro Evolution Soccer.
I've left the number to the Samaritans, you know, just in case…
08457 90 90 90 * (UK)
Much love – Daz, Gav, Rich & Sam. x"