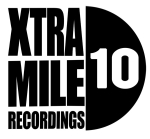 Xtra Mile Recordings have revealed their plans for this years Record Store Day.
First of the label will be releasing last years 'Single Sessions' 7"'s in a complete, rare box set. It includes 4 coloured 7" singles, with 9 tracks from Chris T-T & the Hoodrats, To Kill A King, Larry and His Flask, Beans On Toast, Jim Lockey and the Solemn Sun, Crazy Arm, Möngöl Hörde, and Jamie Lenman.
Other RSD releases from the label sees Jamie Lenman releasing a double A-side 7"; 'It's Hard To Be A Gentleman/All The Things You Hate About Me, I Hate Them Too' which comes with a functioning zoetrope. Whilst Beans On Toast is set to release a 10" 'Best Of Toast' limited to 300 hand-numbered and signed copies.
Both Lenman and Beans on Toast will be playing shows on Record Store Day (April 19th).
Jamie Lenman:
Rock Box, Camberley
Beans on Toast:
11am Bristol @ Rise
1pm Cheltenham @ Rise
3pm Worcester @ Rise
7.30pm Cardiff @ Clwb Ifor Bach