The Slam Dunk Festival always throws up a host of opportunities; fans get to watch, or even meet, their favourite bands, make new, like-minded friends and create lasting memories… that's if you don't get too "Slam Drunk!"
Although it's a special weekend for festive-goes, it's just as special for those performing. With a mix of established, underground and emerging acts across the bill, it gives some of SDF's "smaller" acts the chance to meet some of their own musical heroes, even if it's in the bathroom.
That's exactly what happened Stamford singer-songwriter Rob Lynch at Slam Dunk when he met Taking Back Sunday's Adam Lazzara. Having spent the best part of his adult life listening to TBS, Lynch would end up sharing the bill with the band in 2015 and is doing it again this weekend.
Taking Back Sunday's influence and legacy continues to grow stature as a new generation of bands who spent their teenage years listening to 'Tell All Your Friends' emerge. While considerably there isn't a stylistic link between TBS and Lynch, Rob's brand of indie/folk-punk has an emotional core.
As he prepares to return to Slam Dunk this weekend, Rob told us how and why he loves Taking Back Sunday.
---
I've always been an emotional guy. I think things through too much, I dwell on things for too long and I sure as hell hold a grudge. My musical tastes lean towards something that have an angsty, earnest scream and a sweet catchy melody. I'm here to talk to you about my love for Taking Back Sunday.
I first came across TBS at the age of 18 in the form of an acoustic version of 'Cute With The E (Cut From The Team)', and I instantly had a new favourite band. I discovered their first full-length 'Tell All Your Friends' shortly after hearing this, and the sophomore album 'Where You Want To Be' came out that same summer. Adam Lazzara helped me navigate the summer of transition from school to university, a summer in which I learned a girlfriend had cheated on me with a far cooler guy (not the only time Adam has helped me here) and the mixture of bitterness and "I can't live without you" lyrics struck a chord with a naïve small-town boy.
I carried TBS to Leeds University with me, where their musical stylings allowed me to make a load of tight jean wearing, sad boy (and girl) new friends who had just as much interest as I did in going to The Cockpit and pretending that their mobile phones (or keys) were a microphone and screaming along to every word of 'A Decade Under The Influence' at Slam Dunk club night at The Cockpit (long before the festival existed, yes kids, I'm old as hell).
The first time I saw TBS was on my own on a cracking hangover (probably from Slam Dunk) at Leeds Refectory in 2005 (with a little known band called My Chemical Romance supporting), and I had no bones whatsoever about jumping around alone in the pit in my white studded belt and *insert emo band name* t-shirt and having the best time to what you couldn't exactly call the tightest performance of all time, as every word felt like it was being performed for me and my girl woes.
Admittedly, TBS aren't the world's greatest live band, but that's not what they're about for me. I want to hear hit after hit, I want to see a swinging microphone and I like to swoon over Lazzara*, and it matters not to me if it's a note-perfect performance. (*Years later when we were both playing at SDF, I met him in the toilets and discussed the questionable plumbing of the building. A weekend highlight for me.)
Sixteen years on from the release of their debut album, I still look forward to each Taking Back Sunday release, and I'm a big fan of 2016's 'Tidal Wave'. All these years later, I'm still an emotional guy, and you'll find me this weekend holding a frosty sud and singing along to every word with Adam, John and the boys.
---
'Red Lion Square' by Rob Lynch is out now on Xtra Mile Recordings.
Rob Lynch links: Facebook | Twitter | Instagram
Taking Back Sunday links: Website | Facebook | Twitter | Instagram
---
Taking Back Sunday will be playing the Monster Energy Stage at the Slam Dunk Festival at the following times:
May
Sat 26 City Centre, Leeds – 20:00 – 21:00
Sun 27 Hatfield Park, Hatfield – 19:35 – 20:35
Mon 28 The NEC, Birmingham – 20:05 – 21:05
Rob Lynch will be playing the Key Club Stage at the Slam Dunk Festival at the following times:
May
Sat 26 City Centre, Leeds – 18:40 – 19:10
Sun 27 Hatfield Park, Hatfield – 17:50 – 18:10
Mon 28 The NEC, Birmingham – 17:30 – 17:55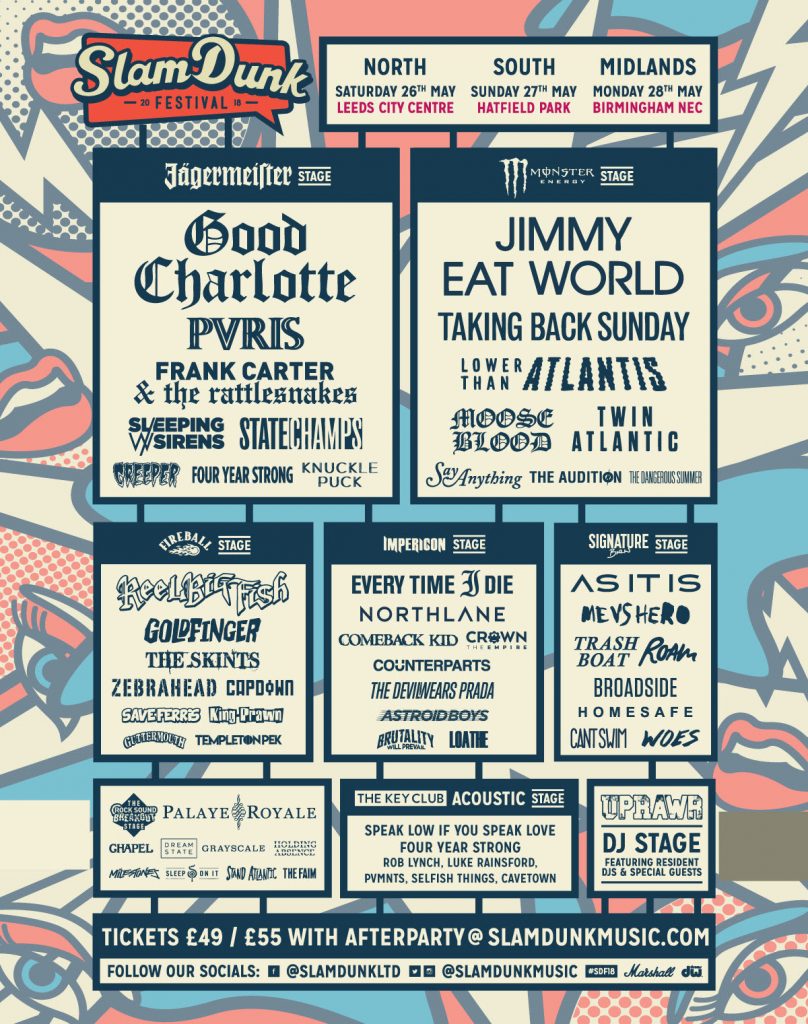 Tickets can be purchased here.
View more of Already Heard's Slam Dunk Festival 2018 coverage here.
Slam Dunk Festival links: Website | Facebook | Twitter | Instagram
---
If you have enjoyed reading this article and would like to help us produce more content and promote more great new music, please consider donating to our Patreon page.