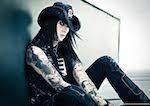 Wednesday 13 is set to bring a special acoustic tour, dubbed 'Undead, Unplugged' to the UK next month. He will be joined by his two guitarists from his solo band, Roman Surman and Jack Tankersley.
May
Wed 21st Southampton – The Cellar
Thu 22nd Bristol – Thekla
Fri 23rd Newcastle – Cluny
Sat 24th Glasgow – Stereo
Sun 25th Manchester – Deaf Institute
Tue 27th Norwich – Waterfront Studio
Wed 28th Tunbridge Wells – The Forum
Thu 29th London – Borderline
Fri 30th Wolverhampton – Little Civic
Sat 31st Nottingham – Rock City
A new album, 'Undead, Unplugged' is also set for an 7th July release.
1. Undead
2. Dead Carolina
3. Haunt Me
4. Nowhere
5. Morgue Than Words
6. Curse Of Me
7. Welcome To The Strange
8. Scary Song
9. We All Die
10. Ghost Stories
11. Transylvania 90210