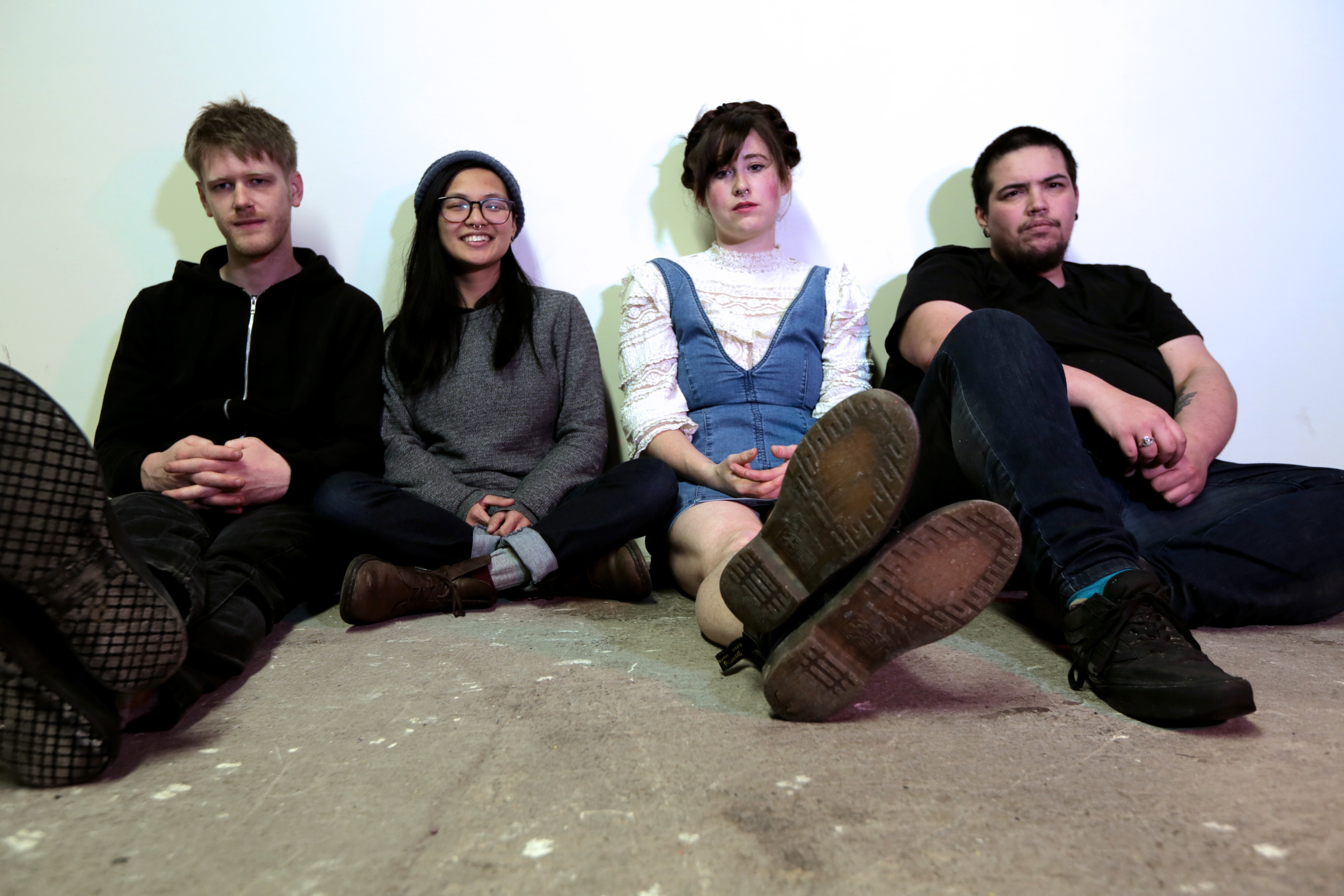 It's damn near 20 years since As Friends Rust declared that Middle America likes its coffee black and its neighbourhoods white, yet, for all that has changed since them, much has remained the same.
In music too, the same old platitudes remain. Despite plenty of work to make gigs safer for all, there are still large parts of society that feel insecure in such an environment. Combined with a long-lasting sense of misogyny in many group's lyrics, music from the emo/hardcore/pop-punk scene is still, for the most part, a boy's club.
And this is why acts such as Philadelphia's Great Weights are so vitally important – and why an hour on the phone with them to discuss their excellent new EP barely scratches the surface of their aims, ambitions, challenges and demands.
Great Weights are a band that reflect what society should be like in 2018. They also sing about topics that are relevant to them as a group; a group that includes people of colour, transgender members, and women. They're a group pushing for change and making powerful statements while doing so, using their voice to champion those without.
"As one of the members of the band who is a person of colour – I'm Puerto Rican – and I'm a trans man, so as a trans person of colour, I am sick of hearing about whiny white guys," says bassist James De La Vega. "There are other post-hardcore bands out there, and I'll listen to their music, and they sound like the music that we listened to in 2005.
"There's no change in the lyrical content from back then. I don't want to hear about your ex-girlfriend you're blasting in this song because you broke up and it wasn't healthy and blah blah blah. I wanna hear about something of substance, at least lyrically."
It's kind of a cliché, but they say 'be the change you want to see', and this is fair of Great Weights, and their approach to music. The group's self-titled EP is, for all intents and purposes, a break-up record, reflective of the respective collapses of long-term relationships experienced by vocalist Meredith Haines and De La Vega. Yet there's no blame to be found on the EP and no exes torched because of their behaviour. Instead, tracks like 'Underwater', 'Wide Awake' and 'After The Drive-In' focus on recovery and moving past the challenges.
"All of the songs are about looking at a relationship from a retrospective point of view," considers Haines.
"This EP was meant to challenge the genre that we exist in, but in essence it's also a break-up album and it's about moving forward. They are break-up songs, but they're not sappy or sad. It's about finding hope after you think everything is crashing down."
Yet, there's not much hope to be found in the group's ramshackle take on post-hardcore. Like Joan of Arc fighting with Drive Like Jehu, there's an expressive edge to the group's dark sounds, driven by Haines' distinctive vocals and Al San Valentin's frenetic guitar. Often frenzied, sometimes twisted into shaped beyond the ordinary, there's a performative element to the group's sound that makes them stand outside their peers.
It's also a project (completed by drummer Patrick Higgins) driven by personalities. Both Haines and De La Vega speak passionately – and are not afraid to challenge each other. This chemistry – direct and intelligent – clearly reflects the group's differing backgrounds. For example, Haines is a lead singer who was told by her choirmasters that she was tone deaf, but has diligently written songs for well over a decade, while De La Vega is a guitarist who splits his spare time between the burlesque community and the DIY punk communities of West Philadelphia.
They're individuals with different personalities and a shared belief – and, in the form of Great Weights, a vehicle that can help convey their message: Change is coming, even if progress has, to date, been slow:
"It's something that you see in both communities that I'm a part of – the performance art community and the DIY community," says De La Vega. "There's a lot of talk of 'we want change', but there's no change happening. It doesn't matter how many townhalls we hold – actually, it matters as a community that we're sitting together saying 'shit is happening and it shouldn't be happening, what can we do to make these spaces safer' – and we can only go as far as not playing certain venues or playing with certain bands – but that doesn't hold those bands or venues accountable.
"The amount of stories I have personally, just from working in the burlesque industry – and it is a sexually-driven community, let's be frank – where CIS men think they have rights to touch folk… this is the same thing we deal with in the DIY community.
"And even though we're perpetuating safe spaces we don't know who these people that are in them are sometimes. So we need to find a way to make the community safer for bands like us, and other that are inclusive in some way."
"We have to be active," says Haines. "I try to be optimistic. Generally-speaking, I'm a pretty optimistic person. But I also see this band as a way to challenge the hardcore and emo scene to do better.
"I want to vent out that frustration and tell everyone that it needs to change. I think that's the beginning of it."
And, although the group's self-titled EP has only just been released, they're now looking at ways to channel their anger and frustration outwards, looking at societal and political issues. With so much negativity in the world – especially towards minority groups – it means artists from 'fringe' communities are fighting back, and Great Weights are among those looking to bloody the nose of the people in power.
"It feels like we have this direct connection now between our music and what we're saying now and moving forward," say De La Vega. "I mean, we could literally cherry pick topics and how they've affected us. So, the Muslim ban at the beginning of 2017, or Trump saying that they're going forward with the ban on transgender soldiers. This is all shit that's so unnecessary."
Combined with issues around healthcare insurance, gentrification, gun control, and the lack of mental health care, there are a number of targets for the group's ire. "This shit is every fucking day," says De La Vega. "And it weighs heavy on all of us. It's so much to think about and talk about – and then to convey it in musical form, for me, it has been my catharsis."
And yet, Great Weights aren't negative. Just as these issues clearly take their toll, wins are there to be celebrated.
"We played this place called the Crater in Columbus Ohio. It was a fantastic house – probably the most inclusive space we've played in a long time," says De La Vega. "Everyone who walked into that house was queer, trans, non-binary or somewhere on that spectrum. And automatically, I walked into that space and felt very safe. Correct pronouns were used, and there was no bullshit about that sort of stuff. Just a room full of people who there to listen to good music and absorb the fact that not every band in this genre is shitty."
Great Weights epitomise the changing times. Just like As Friends Rust's polemic 20 years ago, things have to change for the better, and bands like Great Weights – who are here to challenge the status quo and have fun while they do it – should be celebrated. Change may be glacially slow, but without bands like Great Weights, it's likely it wouldn't happen at all…
Great Weights links: Facebook | Bandcamp
'Great Weights' by Great Weights is out now on Bunny Cat Records.
Words by Rob Mair (@BobNightMair)
---
If you have enjoyed reading this article and would like to help us produce more content and promote more great new music, please consider donating to our Patreon page.