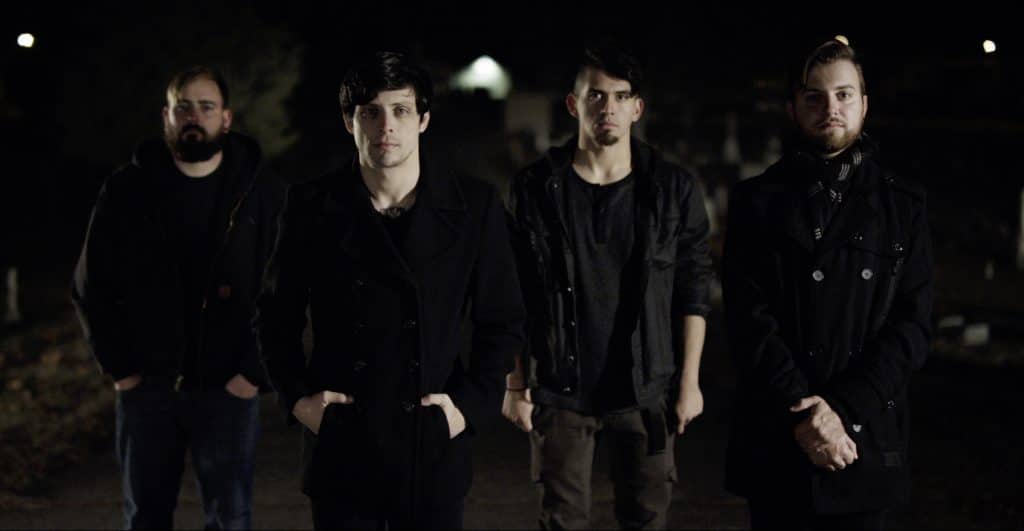 Although New Jersey natives Your Persona has existed for the best part of 10 years, it's not been an easy ride for them. Formed in late 2008, the quartet has faced more struggles than successes in the past decade. Most notably, frontman Matt Campione being diagnosed with cancer, which put the band on hold for the best part of two years.
Fast-forward to the present and Your Persona are firmly back in action. Having released their last EP, 'When In Limbo', in 2016, Campione along with guitarist Tyler Mazza, drummer Jeremy Spahn and bassist Jose Martinez have returned with 'Hate Is A Strong Word'.
The combination of a ferocious post-hardcore angst and a favourable, hooky pop-punk chorus, the single is a vigorous number with a video to match. Amidst the band performing in an empty suburban house, the compelling clip includes fist fights, crowbars, and flames. A lot of flames.
Already Heard has landed the exclusive premiere of the video for 'Hate Is A Strong Word'. We also spoke to the band about the song, the idea behind the video and working with Ace Enders.
AH: Today we're premiering your video for 'Hate is a Strong Word'. Aside from the obvious meaning of the title, what is the track about?
Your Persona: 'Hate is a Strong Word' can be interpreted in a few different ways according to how the listener receives the message. Our meaning behind the video is to tell the stories of four different individuals and how their lives eventually clash towards the end. The concept of "hate" literally ruins all of their lives. When you let hate or feelings of anger get a hold of you, the end result isn't always the best. It's a strong reminder that nothing good comes from these things and that the outcome is never pretty.
AH: The track sees you working with Ace Enders again. What does he add to Your Persona's sound that wasn't there before?
Your Persona: Working with Ace Enders has been a very maturing process for us. He's really helped us hone in on key elements when it comes to not just songwriting, but what it takes to be a better band as a whole; reminding us to separate ourselves from the music, and look at it with a non-biased opinion. Honestly, working with him at first, for a lack of better words, was "A hard pill to swallow". He really made us face a lot of hard truths about ourselves and changed us for the better and we feel like that translates over to our music.
AH: As for the video itself, it's a visually striking video with arson and fist fights. How did the concept for the video come together?
Your Persona: Matt brought the idea to the table after finishing up lyrics. We probably sat around for hours retouching ideas and brainstorming ways to make every scene come out the way we want. This being our fifth music video now, it really gave us a chance to apply all the knowledge we've gained when it comes to putting together a music video. We got to focus more on branding, artist collaborations, and storytelling which was really fun and enlightening as a process. Also, the guy that makes our videos (Anthony Berenato) is a very gifted individual and has given us a lot of knowledge on things as well. We got to focus more on branding, artist collaborations, and storytelling which was really fun and enlightening as a process.
AH: 2018 marks ten years since you started the project. It's been a decade of ups and downs. With 'Hate is a Strong Word' being your first full band material in two years, is it the first glimpse of new material?
Your Persona: It's crazy because it doesn't even feel that long. To us, it feels like we've only been a band for six years due to the amount of time we had to take off because of Matt getting sick so frequently. For those who don't know, Matt deals with Crohn's disease and also had four run-ins with cancer from 2014/2016. Everything took the backseat during that time.
This song is a great introduction for what we've been working on, yet some people might be more surprised (in a good way) on what we have in store for later this year. All we can say though is that we have poured our souls into this music and are ready to come out with material that really shows who Your Persona is.
Your Persona links: Facebook | Bandcamp
---
Do you have a new video or release you'd like to premier on Already Heard? If so contact Sêan Reid to find out more.
---
If you have enjoyed reading this article and would like to help us produce more content and promote more great new music, please consider donating to our Patreon page.