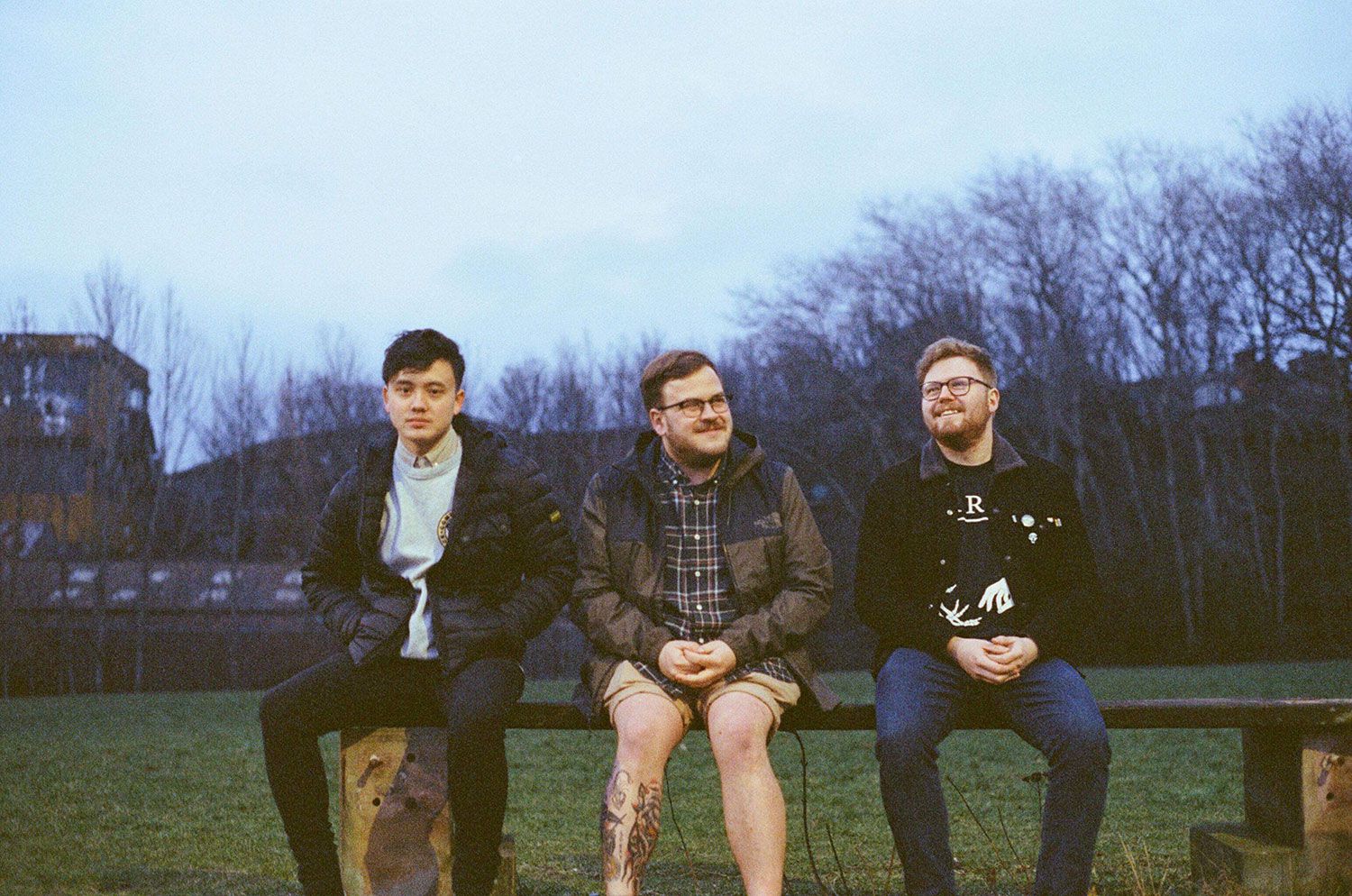 Let's admit it, the so-called "emo revival" that flourished in the early 2010s is still going strong to the point that the revival tag line is now redundant. Nevertheless, emerging Newcastle trio Threadbear look to prolong the genre's momentum with their debut album – 'Fine By Me'. Citing genre forefathers The Get Up Kids and Jimmy Eat World alongside more recent bands such as  CSTVT, Marietta and Free Throw as influences, 'Fine By Me' blends together serene tone with youthful brashness delivering a heartfelt collection of songs.
Although the self-funded record isn't due to be released until April 3rd, Threadbear have decided to launch the album with Already Heard by premiering the video for its first single. 'Yupppp' closes 'Fine By Me' and neatly captures their sincere lyricism and urgent and raw musicianship.
In addition, we spoke to guitarist Jon Teggert to learn more about Threadbear, the making of 'Fine By Me', recording with Bob Cooper and what the deal is with the simple yet odd concept behind the 'Yupppp' video.
AH: Today sees you announce your debut album ('Fine By Me'), as well premiere a video for its first single ('Yupppp'). The album follows two EP's. For those hearing Threadbear for the first time, what should they know?
Jon: We're a three-piece from Newcastle that people have described as "a nice band". We became friends through working together, and we started playing music together in 2016. At the end of 2017, we'd just finished writing a collection of songs after releasing our last EP ('Poland Spring'). We joked that instead of recording another EP, we'd write more songs and make an album instead… seems that joke turned into a reality!
AH: We'll admit when you reached out to us and mentioned some of your influences, you caught our attention. Besides the influence of 90's and emo revival bands, what makes Threadbear different?
Jon: A big part of Threadbear's creative process is writing music that we enjoy playing and would like listening to. Whilst we wear a lot of our influences on our sleeve, we actually listen to a wide range of music among the three of us and I hope that comes through in the way we don't just fit into one section of the 'emo' genre. We don't really try to write any specific style and we're not trying to write songs that we think are going to be 'hits'. There's also just the three of us playing, so there's a lot more emphasis on each individual instrument. When we write, we make sure that each part is necessary and adds something to that song.
AH: How did you find the experience writing a full-length compared to the EP's? Did it allow to explore more ideas?
Jon: It was quite a different writing experience for us as we didn't just have songs there ready to record; we actually had to write songs with the goal of having an album at the end of it. As we had written the original bunch of songs maybe six months before deciding to record a full album, our interests developed a bit; we discovered new music and became more instrumentally focused.
Once we had those core five/six songs written, we were selective in choosing material that flowed coherently, instead of having a collection of unrelated songs. There were a lot of ideas that got scrapped in the run-up to last August because we couldn't see how they would contribute to the finished product. It was a completely new way of writing for us but I feel we got the best from it.
AH: You headed to Leeds last summer to record the album with Bob Cooper. With such a glowing reputation, how beneficial was his input to 'Fine By Me'?
Jon: Bob is amazing; he's a real perfectionist when it comes to recording. He pushes to get the best out of you and isn't afraid to say when he knows you can do better. From the get-go, Bob had it figured out – which is obvious from the list of bands he's worked with alone. He really tailored the process to how we wanted it to be and the album sounds even better than we could have imagined.
https://youtu.be/aci9MBI4ltY
AH: Let's talk about the video for 'Yupppp'. It seems a pretty simple but weird concept – the three of you performing with a guy getting messy with some spag bol. What's the story behind the making of it?
Jon: Honestly, the idea was pretty random. Sam and I were out for food and he just had this idea of our friend, Jacque, eating a big old messy bowl of pasta and getting it everywhere whilst we play, oblivious to what was happening.
We were pointed in the direction of Krishna Mutharangu (Bish), who's done a few local music videos; we've known of his work for a while due to his documentation of the Newcastle skate scene. We didn't hesitate to contact him and he loved the concept. He helped us create the exact video Sam had pictured as well as making it really visually interesting; somehow he managed to make the weird little idea look like some deleted scene from Suspiria! We also can't thank Allan Scorer, the owner of Little Buildings (where we filmed the video), enough for putting up with the mess – and for looking out for us over the past few years.
AH: So with the album out soon, what's next for Threadbear?
Jon: We're already onto writing LP #2 but we'll save that for another day. For now, we'll be releasing another single before this album's released, then once it's out we really want to start getting out and playing it around the UK. We've got some friends in some amazing bands we'd love to be able to play with, we've waited long enough. With any luck, people will dig us and give us a reason to keep writing songs!
'Fine By Me' by Threadbear is released on 3rd April.
Threadbear links: Facebook | Twitter | Instagram
Do you have a new video or release you'd like to premier on Already Heard? If so contact Sêan Reid to find out more.
---
If you have enjoyed reading this article and would like to help us produce more content and promote more great new music, please consider donating to our Patreon page.