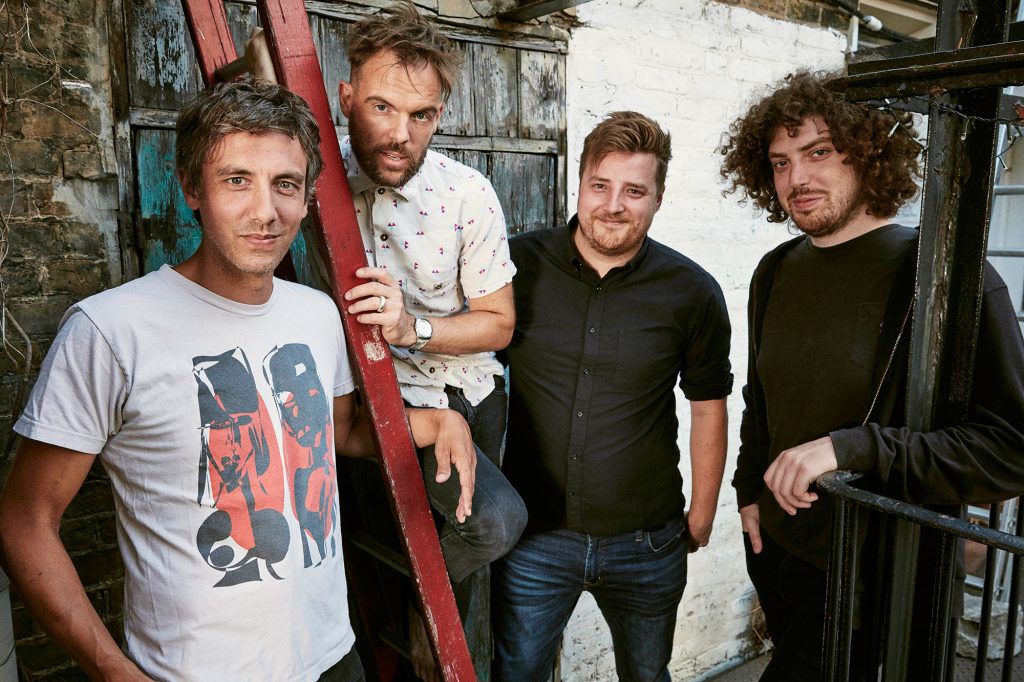 Emerging out of the hectic London gig circuit, meet River Fury. The quartet originate from various parts of the UK, and in the case of co-vocalist and guitarist Dan Howe, Melbourne, Australia. Having met through music connections in London, River Fury have been fine-tuning their brand of rock, taking in elements of early 90's grunge, 80's indie and melodic post-rock to create an alluring sound.
This Friday sees them release their debut EP, '5 Year Plan' on Painted Halo Records. Amongst its five songs is 'Comfort Is Being Fooled', a stomping slice of psychedelic indie rock that serves as an ideal introduction to what River Fury are all about. Today, Already Heard is premiering its video.
We also spoke to co-vocalist and guitarist Patric Nutton to learn more about River Fury; their formation, 'Comfort Is Being Fooled' and '5 Year Plan'.
AH: With members coming from all over the UK and Melbourne, Australia, how did you all come together?
Patric: Dan (Howe) is the Melbourne link, he and I met in a bar in Camden, both on the same bill, and decided we should pool our musical talents, then eventually after a few lineup changes later we hooked up with Callum (Hayes – bass) and Andy (Gallop – drums). Callum is from the deep South of England and Andy hails from Wales but we all met up in London through various music channels. We've all played in other bands too, so River Fury took a while to break free.
AH: We're guessing for any aspiring band, moving to London was an easy decision. What advice would you give to bands who are considering doing the same thing?
Patric: It's a good place to gig and be inspired (near enough anybody who is anybody passes thru), but I wouldn't say it's the be all and end all, there's still life brewing elsewhere in the UK. I am now living in Kent and places like Margate and Ramsgate are sticking their two bob down to get a piece.
AH: Today we're premiering the video for 'Comfort Is Being Fooled'. It has a somewhat psychedelic element, as does the artwork. What your intentions when you started planning the video?
Patric: The psychedelic sound is always there somewhere in what we do, and this track has quite a lot of that. The vocal is done through a megaphone effect a bit like on Tomorrow Never Knows, the beat is a bit like a Queens of Stone Age chug with a Tame Impala style fuzz, and Ed Ripley, our producer, used a wicked little drone box in their too.
In the video, we tried to get a bit of an experiment with seeing how we could turn a studio performance into something slightly psychedelic and glitchy and disturbed to go with it. It's a kind of dark song really, so we had to give it a bit of an uncomfortable touch, like a nightmarish trip… it's not a love song after all.
AH: How did the video come together?
Patric: We had seen a couple of ideas we wanted to try and thought that would fit, but we pretty much threw it together on the day, same as the 'Wasteful' vid. We just vibed it!! We don't get much time to plan things these days…too hectic… It was so hot in there too, we ended up playing it about fifty times which just added to the wild stare.
AH: As for the track itself, what can you tell us about it?
Patric: I think Dan wrote the lyrics to that one, but it's basically about a guy who wants to have normal romantic relations with someone, but ends up alienating or being alienated. For me, it seems like he's lamenting and conversing with a sex robot, and maybe she doesn't even look at him, so he mistakes it for apathy, and he doesn't love her in the conventional way and it just leads him to the idea that at least he is comforted by pretence in the absence of something meaningful.
AH: It's taken from your new EP, '5 Year Plan'. For new listeners, how would you sum up the EP?
Patric: Fairly raucous in places, but always epic and melodic, like bathing in warm razorbladed jelly. Starts loud ends in a rather relaxed manner. It's probably best to just give it a few listens and make your own mind up. Or even better, come see us play and get the exclusive vinyl copies!
AH: And finally, what is your five year plan?
Patric: Stay furious, flow like a river. And hopefully, land a few more melodic bombs in 2019 and a round of festivals. Don't blink.
'Five Year Plan' by River Fury is released on 30th November on Painted Halo Records.
December
7th Spice of Life, London
January
12th Music Hall, Ramsgate
February
23rd Roadtrip & the Workshop, London
River Fury links: Facebook | Twitter | Bandcamp
Do you have a new video or release you'd like to premier on Already Heard? If so contact Sêan Reid to find out more.
---
If you have enjoyed reading this article and would like to help us produce more content and promote more great new music, please consider donating to our Patreon page.