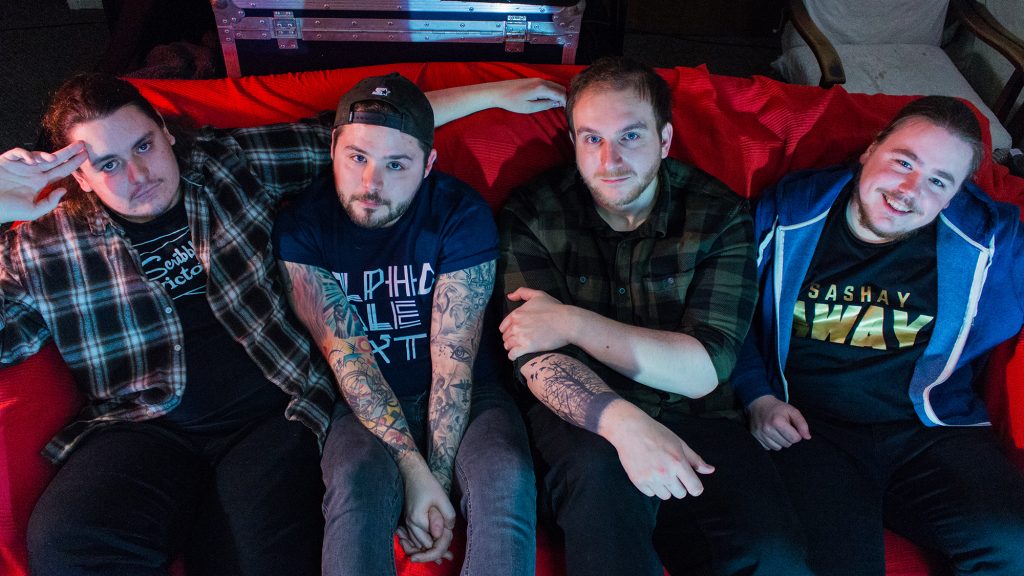 "Forget your life ambitions, They're pointless dreams," screams Kovax's Pete Freeth on their new single – 'Cobalt'. Set for release this Monday (7th May), it marks a new chapter for the Leeds-based band. Not only is it the first offering of new music since a line-up change last summer, it also sees the band's sound becoming increasingly dynamic.
Having honed in on a groove-laden, hard rock sound on last year's 'If There Was Ever Any Doubt' EP, this revived version of Kovax sees them throwing math rock ingredients to the pot. The end result is a chaotic, riff-heavy 2-minute glimpse of what we can't expect from the up-and-coming four-piece.
Although 'Cobalt' will be hitting digital services on Monday, we're premiering the video for the track today. On top of that, we spoke to guitarist Michael Bracewell to find out more about the track, their imminent UK tour and being part of Leeds music scene.
AH: Today we're premiering your new single 'Cobalt'. What can you tell us about the track?
Michael: Musically, Cobalt is a combination of early 2000s alt-metal groove and choppy, math-inspired riffs underpinned by Pete's (Freeth – guitar & vocals) rough shouts and gravelly vocals. Lyrically the song deals with the mistreatment of prisoners in CIA black sites during the early 2000s, so the brutish swagger at the beginning of the song slowly becomes more manic and futile towards the end – mirroring the lyrical content.
We think it's a perfect statement of musical intent for our new material and raises the bar of what we can achieve sonically.
AH: It's also the first Kovax song to be released since a line-up change last year. Compared to past material, how has Kovax's sound developed since the changes?
Michael: With the line-up change came a decision to push Kovax in ways we hadn't before, so the music got heavier and we started playing around with time signatures a lot more. Joel (Small – drums) and myself, both have backgrounds in math rock and this new direction, combined with the more traditional style big Kovax riffs, has really developed our sound.
AH: As the change happened last summer, can we expect more new material sooner rather than later?
Michael: We're looking into it for sure! We've spent a good portion of the past year writing and developing new material, most of which we're now playing live, so there's plenty to work with and some general plans moving forward. But right now the focus is on getting Cobalt and the new sound out there as much as possible.
AH: The release of 'Cobalt' coincides with a UK tour. How would you sum up a typical Kovax show?
Michael: It's three bigger guys shaking their luscious hair around to a loud, riffy soundtrack and an excellent drummer keeping us all in check! Expect lots of energy and an unrelenting, rapid-fire pace.
AH: You worked with Will Cook from fellow Leeds noisemakers Classically Handsome Brutes on the track. It seems the city constantly has a thriving, tight-knit music scene. How beneficial is that to a band like Kovax?
Michael: Leeds is an awesome place for any bands playing alternative genres at the moment – with the good work of Bad Owl for the math/post-rock scene, Veritas Promotions for the alternative rock/metal scene and the consistently excellent DIY shows popping up all across the city (amongst lots of other great promotors!) there's just so many good bands to go out and see. This helps everyone – not just us – as a thriving scene means more people at shows, more people networking and more wicked bands for us to drool over. We love Leeds and can't wait to see what will pop up over the coming months!
'Cobalt' by Kovax is released on 7th May.
Kovax will be touring the UK on the following dates:
May
10th Grand Central, Manchester
11th Mother's Ruin, Bristol
12th The Swam With Two Necks, Macclesfield
17th 27 Club, Liverpool
18th Santiagos, Leeds
19th Woolpack, Doncaster
Kovax links: Facebook | Twitter | Instagram | Bandcamp
---
Do you have a new video or release you'd like to premier on Already Heard? If so contact Sêan Reid to find out more.
---
If you have enjoyed reading this article and would like to help us produce more content and promote more great new music, please consider donating to our Patreon page.