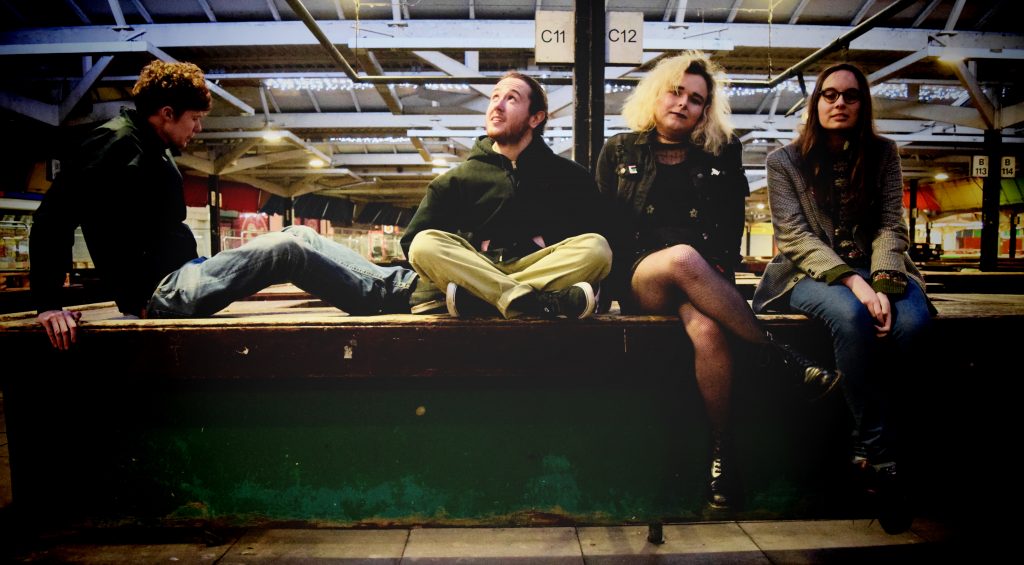 On their forthcoming debut album, 'We Choose Pretty Names', self-described queer indie-punk band Kermes confront a plethora of issues such as depression, misogyny, and anti-capitalism.
Their latest single, 'Casting The Creatures', sees the Leicester quartet approach the matter of transgender identity and how some parts of society mistreat queer and trans people. "'Casting the Creatures' was my attempt at writing about the liberating power of queer sex but because my mental health was in an absolutely awful state at the time, it ended up being quite gloomy in the end," explains vocalist Emily. "The main idea of the song is about how, being a visibly queer person, society can often make you feel like a freak, and it's about reclaiming that almost and sort of revelling in it, despite the danger that you may be in because of it. So, it's essentially The Shape Of Water, but with guitars. (I haven't seen The Shape Of Water)"
Ahead of the release of 'We Choose Pretty Names' on 13th April via Robot Needs Home, we're premiering the new video for 'Casting The Creatures'. It sees Kermes maintain their DIY aesthetic as the video takes a low budget horror movie approach. The track itself captures Kermes' playful, lo-fi indie punk sound with harmonised vocals and hooky chorus.
Nevertheless, take a look at what they got up to in the woods…
Kermes will be joining Happy Accidents and itoldyouiwouldeatyou on the following shows:
April
14th YMCA, Leicester (Headline)
18th Gwdihw, Cardiff (with Happy Accidents)
19th Rough Trade Nottingham (with Happy Accidents)
20th Wharf Chambers, Leeds (with Happy Accidents)
22nd Head of Steam, Newcastle (with itoldyouiwouldeatyou)
25th Five Bells, London (with itoldyouiwouldeatyou)
27th Cafe Kino, Bristol (with itoldyouiwouldeatyou)
28th Cavern Club, Exeter (with itoldyouiwouldeatyou)
'We Choose Pretty Names' by Kermes is released on 13th April on Robot Needs Home.
Kermes links: Website|Facebook|Twitter|Instagram|Bandcamp
Do you have a new video or release you'd like to premier on Already Heard? If so contact Sêan Reid to find out more.
---
If you have enjoyed reading this article and would like to help us produce more content and promote more great new music, please consider donating to our Patreon page.