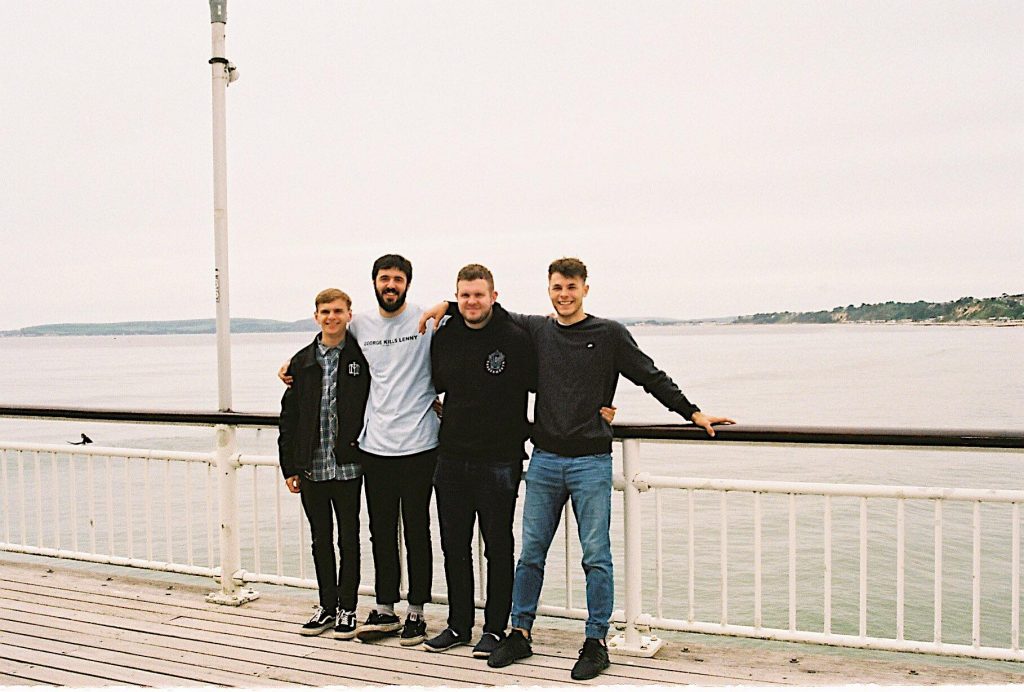 Although summer might already be a distant memory for some of us, Bournemouth quartet Death By Shotgun are on hand with a dose of surf punk that is sun-soaked and introspective in equal measure. Their forthcoming EP, 'Good Times // Sad Times', combines summery powerpop choruses with a weathered punk core. As its title suggests, the six songs on 'Good Times // Sad Times' captures the ups and downs the band have experienced over the past year.
With its sincere lyrics and heartwarming instrumentation, their latest single 'Lines' serves as a fine introduction to what the South Coast four-piece have to offer. Ahead of the release of 'Good Times // Sad Times' on October 19th on Beth Shalom Records, we're premiering the video for 'Lines'.
It sees Death By Shotgun capture an ideal summers day; hanging out, drinking some cans, and taking a dive into the pool. But then again this is the UK and the British Summer weather is never perfect. As vocalist/guitarist Dom Wright explains below, the inevitable downpour of rain hindered the making of the video. Nevertheless, as the video shows they made a good thing out of a bad situation, which is something Death By Shotgun know all about.
AH: Today we're premiering the video for 'Lines' from your upcoming 'Good Times // Sad Times' EP. First of all, what is the track about?
Dom: Thank you for premiering it!! The song is about a few things but mainly about that someone who keeps you grounded and makes you happy, even when life can be a bit weird. It's also about making the most of a bad situation and staying in touch with old friends.
AH: The video sees you donning Hawaiian shirts, diving in swimming pools and playing with water guns. What did you make of the video making experience? It looks pretty fun to us.
Dom: It was well fun to film just really cold! Our friend Ollie was kind enough to let us use his pool and drink beers round his house, which was nice. We were meant to shoot it all outside but it chucked it down with rain on the day, so had to do some of it inside his shed in the end. We were also lucky enough to work with our new mate Joe Hoey on the video who absolutely smashed it!

AH: The EP has been described as a "coming of age" record, documenting the ups and downs of the past year. Of course, the title hints at that but can you tell us more?
Dom: The EP is a snapshot of the year we have all had, and like everyone knows, there is some really cool stuff that happens in a year and some other stuff that isn't so cool. The songs were all written at different points of the year and are all about different situations/people. When naming the EP, we were struggling for a name so just went for something really obvious.
https://youtu.be/g7t5d9jzeNM
AH: In comparison to last year's 'Life's A Beach' EP, do you consider this EP a more lyrically concise set of songs?
Dom: I'm not really sure. I tend to just write down what's literally on my mind at the time, so the lyrics are all pretty concise with how I'm feeling at that moment in time. I feel like this EP is definitely a stronger set of songs than 'Life's A Beach' but am still really anxious to see what other people make of it.
AH: Besides the release of the EP next month, what else does Death be Shotgun have in the works?
Dom: We have loads of stuff coming up which is cool! The EP is being released on October 19th via Beth Shalom Records. We then have our release show at The Monarch in Camden on the 20th followed by an EU tour that we are announcing soon. We also have a bunch more shows to announce that I'm really excited about!
'Good Times // Sad Times' EP by Death by Shotgun is released on 19th October on Beth Shalom Records (pre-order).
Death by Shotgun will play an EP release show at The Monarch in Camden on 20th October.
Death by Shotgun links: Facebook | Twitter | Instagram
Do you have a new video or release you'd like to premier on Already Heard? If so contact Sêan Reid to find out more.
---
If you have enjoyed reading this article and would like to help us produce more content and promote more great new music, please consider donating to our Patreon page.