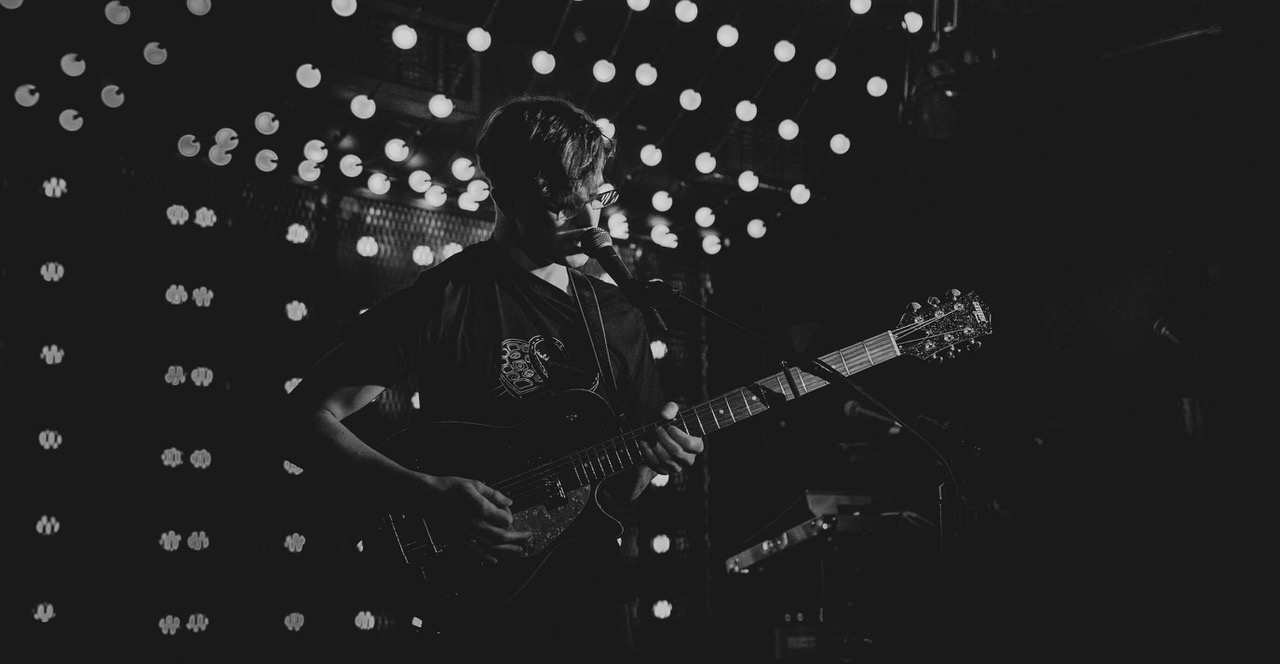 Hailing from Hampshire, 21-year-old solo artist Joe Booley has always had a DIY work ethic. From playing in numerous DIY punk bands to starting his own independent label, Beth Shalom Records, to extensively touring the UK as a singer-songwriter.
Last month Joe released 'Movements', an EP that is threaded together by Booley's stirring emo folk. Sporadically written over the course of four years, events in Joe's personal life meant the first of the five songs were suddenly relevant to him.
In the months preceding its release, Joe performed 10 shows in one day. Each location he visited between Portsmouth and Guildford was significant to Joe and his musical journey. Having documented the 10 shows in eight hours in aid of the Forward 4 Wiz Trust, Joe has allowed us to premiere 'The One Day Tour' short video.
We also spoke to Joe about 'Movements', his involvement with the Forward 4 Wiz Trust and maintaining Beth Shalom Records.
AH: You've just released your new EP 'Movements'. We hear the EP has been in the making for nearly four years. Can you give us an overview of what the EP is about?
Joe: Yeah, so various parts of 'Movements' have been about for quite a few years and have evolved and changed in that time. Movements III + V specifically have been songs in their own right previously and used to be staple tracks of my set. But one of the main issues is that I wrote them with no specific relevance to my life at that point, apart from the latter about my friend. Along with other parts of the EP, they were songs with no previously relevance, that is until mid last year after quite an unhealthy break-up.
It felt as if the songs I had written as far back as 2012 suddenly meant something to me at that moment. And they kind of helped me through the summer and my difficulties with mental health in that time. It's a very different EP for me. It was the first time I recorded closely with someone, that being Jon Callender of CURL and that really helped me as we are good mates and very similar musically. Especially when it came to all the layers across the record as previously I had procrastinated over that stuff for months on some tracks.
AH: Today, we're premiering a tour video for the 'One Day Tour', which you did late last year. How did the idea to do 10 shows in eight hours come about?
Joe: The idea has always been with me to do that kind of thing, ever since seeing the music video for 'The Road' by Frank Turner. He did 24 shows in 24 hours and I've always thought 'I want to do that'. But when on tour with my mate Wolfe Sunday, it was the sudden realisation that it was possible, mainly as we were doing 2 or sometimes even 3 shows in one day on that tour.
AH: What was the significance of playing shows in from Portsmouth to Guildford?
Joe: As you'll hear me talk about in the video, a lot of the places that I played/visited on that day either are special to me (specifically the Hifi Hangar and 101 Records) or have been stomping grounds for me at different points in my childhood and recent years.
AH: The one day tour was also in aid of the Forward 4 Wiz Trust. Can you tell us about the trust, how you became involved with it and why people should consider supporting it?
Joe: Forward 4 Wiz Trust are amazing. Some of the nicest and passionate people you will ever meet. The trust was formed in memory of Wiz (from Mega City Four) who had sadly died back in '06. He was an inspiration to many within the scene at that time and the trust was built on his approach to music.
The trust help bands in various ways, whether financially, with training, mentoring, or just general support. I first came into contact with them about helping my debut album get pressed onto vinyl and stayed in touch, played shows for them, ran shows for them and they actually helped financially with putting 'Movements' out on vinyl. It's such a pleasure to be able to work alongside them and now be a part of their team.
AH: Besides being a solo artist, you also run Beth Shalom Records. You've been running the independent label for almost four years. How have you found the experience of maintaining the label?
Joe: It's been a lot of fun. I started it to just make myself look more professional and to release my mates' music, and suddenly it's become this now international thing. I've had the opportunity to put out some amazing records from some of my favourite bands on the scene at the moment and hope to continue for many years to come.
AH: You recently announced Beth Shalom as being part of a DIY collective called Let's Stop Hanging Out DIY! What can you tell us about that?
Joe: Let's Stop Hanging Out DIY is the joint venture of myself and Andy from Rose Coloured Records. We've been working together for a few years now whether it be with shows even releases and upon discussing different ideas LSHO was born. We are very lucky to have some amazing labels such as; Undead Collective, Till Deaf Do Us Party and many more be a part of it. And we launched mid last month with a huge show at the Westy in Aldershot featuring; Tellison, Caves, Fresh, Peaness, itoldyouiwouldeatyou and Dogeyed. It was seriously one of our proudest moments when that gig finished!! But there will be plenty more things to come from that.
AH: The label has also recently released material from Hora Douse and Possum. What else can we expect to see from the label in the coming months?
Joe: We've got some very exciting things to come. We are very very close to our 50th release so there a few ideas in the pipeline for that as well as some long-awaiting material from The Yacht Club and some other artists which shall stay very very secret for now…
'Movements' EP by Joe Booley is available now on Beth Shalom Records.
Joe Booley links: Facebook | Twitter | Bandcamp
Beth Shalom Records links: Website | Facebook | Twitter | Bandcamp
Forward 4 Wiz Trust links: Website | Facebook | Twitter | Instagram
Let's Stop Hanging Out DIY! links: Facebook
Do you have a new video or release you'd like to premier on Already Heard? If so contact Sêan Reid to find out more.
---
If you have enjoyed reading this article and would like to help us produce more content and promote more great new music, please consider donating to our Patreon page.