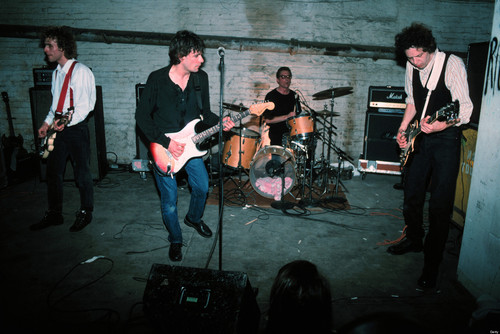 Forming in Minneapolis, Minnesota in 1979, The Replacements are considered to be one of the pioneers for alternative rock. For most of their career, the band's line up included guitarist/vocalist Paul Westerberg, guitarist Bob Stinson, bassist Tommy Stinson and drummer Chris Mars. This lasted up until 1986 after Bob Stinson left due to in-fighting with Westerberg plus substance abuse problems. Slim Dunlap would take Stinson's place, whilst Steve Foley replaced Chris Mars as the quartet's drummer in 1990. Yet, the band would ultimately split in 1991 pursuing various projects; Westerberg pursued a solo career, whilst Tommy played in short lived but fan favourite projects such as Bash & Pop and Perfect before replacing Duff McKagan as the bassist for Guns N' Roses in 1998. Stinson's half brother and former guitarist Bob died in 1995 from alcohol abuse, whilst second drummer Foley died in 2008 from an accidental overdose from prescription medication.
It wasn't until 2012 that The Replacements would resurface. Westerberg, Tommy Stinson and Chris Mars recorded an EP entitled 'Songs for Slim', aptly named, for it was released in 2013 to help benefit former bandmate Slim Dunlap, who suffered a stroke. Apart from Mars, The Replacements would play their first shows after 22 years at Riot Fest in Toronto, Chicago and Denver in late August and September last year. Filling out the rest of the current line up is current Weezer and The Vandals drummer Josh Freese, and on guitar, Dave Minehan from Boston band The Neighborhoods. The Replacements haven't looked back since, and Westerberg has said they neither will rule out touring or a new album.
In terms of style and in contrast to their contemporaries, the band plays heart on sleeve punk influenced rock songs, with Westerberg's raw yells and self disparaging lyrics. Their first three albums, including 'Hey Ma, Forgot to Take Out the Trash' in 1981, 'Hootenanny' in 1983, and 'Let It Be' in 1984, were released on Minneapolis indie label Twin/Tone Records. Whilst the first two was influenced by raucous post punk and hardcore from the time, the third strayed towards more melody. This would play a part in them being signed to a major label, and influencing the group's various line up changes. They signed to Sire Records in 1984, thus releasing 1985's 'Tim', 1987's 'Pleased to Meet Me', 1989's 'Don't Tell a Soul', and 1990's 'All Shook Down' (the latter considered by many to be a Paul Westerberg solo record). 
In their heyday, the band were known for their unpredictable live shows. More often than not, their performances would involve them being intoxicated and trashing their instruments. However, they would equally play sober also at unpredictable points, critics often citing them as being brilliant in performance in such a state of mind.
In line with the unpredictable nature of their performances, we at Already Head have also veered clear of the expected this week by not tying "Versus" with a news related topic. Thus we shall ask the debated question on what is The Replacements' best album. Our Guest Writer this week, Harker lead vocalist/guitarist Mark Boniface, defends 'Don't Tell a Soul', often considered to be the band's weakest album. On the other side, our very own Assistant Editor, Aaron Lohan, boldly claims why 'Let It Be' is the band's magnum opus.
What do you consider to be The Replacements' best album and why? Let us know on our Facebook and Twitter pages.
Don't Tell a Soul (by Mark Boniface, Harker)
I feel I need to start by saying, 'Don't Tell A Soul' isn't my favorite Replacements album. In fact, I probably wouldn't ever be able to favor a single album of their back catalogue, as each record shows the band in an ever-changing transitional stage. First album 'Hey Ma…' was a scatty, raw and powerful homage to basement bands of the early eighties, while the last album, 'All Shook Down', was a fantastic Alt Rock album by an ever-important underdog band taking a final bow.
The reason why I chose 'Don't Tell A Soul' is because, when talking to fellow fanatics, the album is always either skipped completely in favor of earlier records or misjudged by it's abandonment of the bands "drunk and disorderly, but who fucking cares" attitude.
By the time the album was due to being recorded, there was an obvious change in the band's outlook; they had lost guitarist Bob Stinson halfway through tracking the demos to their previous record 'Pleased To Meet Me' due to drug and alcohol related problems which forced a cloud of doubt amongst the remaining members. The songs became a lot less 'raw', with the band favoring a cleaner, alternative rock sound, which at the time was flooding radio stations.
The first thing that is a striking difference when you first hit play on 'Don't Tell A Soul' is the difference in sound when compared to previous albums. The band dropped the garage band sound completely in favor of some staple late 80's production techniques. Acoustic guitars, double tracked vocals and a nice beautiful open space sounding drum kit. Tracks like 'Talent Show', 'I'll Be You', and 'Back To Back', show exactly how much work the band and producer Matt Wallace put into the creation of this album.
While these tracks are great examples of the record's high production value, there are still a few steady rockers on here. 'Anywhere's Better Than Here' is a rhythm-based stomper, complete with great call and response vocals. 'I won't' is a short Replacements style blues/rock and roll number, complete with wailing Harmonica. And lastly, the record houses in my personal opinion some of the most underrated pop songs of the last century.
Any person that has listened to this record and snuffed it has yet to know the full beauty of one thing The Replacements do, and that is write an amazing pop song. 'Asking Me Lies' is a great upbeat piano driven indie rock shaker with similarities to a few later Cure tracks. 'They're Blind' is a homage to 50's rock and roll/doo wop. 'Achin To Be' and 'I'll Be You' were the album's two singles, which the latter was one of their two charting singles.
The album was there to show the band's attempt at becoming something more than a band that would record in just a few takes. They wanted a stab at creating a high production album, which would make the listener appreciate their music in a different light. However, they were still up to their usual attitude when on stage, with Paul Westerberg singing about the usage of pills at the 1st International Rock Awards when asked to censor a line in 'Talent Show'.
The Replacements were a band that according to fans were never given a chance; there was a point in the mid eighties where them and REM were both on the verge of success explosion. While everybody knows that the opposing band went on to massive success with selling over 85 million records, Westerberg and Co remained at a steady pace releasing each record how they wanted to, when they wanted to. Keeping their reputation as a genuine 'garage' band that could be living the exact same life as you, this attitude is alive in so many bands across world nowadays which shows their massive influence amongst artists, underground and beyond.
Let It Be (by Aaron Lohan)
After much contemplating over what I consider to be The Replacements' best album, one could look no further than their third, and finest, 'Let It Be'. 'Tim' is heart-wrenchingly solid sure, and I respect my opponent in defending 'Don't Tell a Soul' (considered by most fans to be the weakest in their catalogue), yet it simply feels right to me that 'Let It Be' is their magnum opus. Out of all seven (or six, depending on whether you consider 'All Shook Down' to be a Paul Westerberg solo effort) albums, this, for me, is their pinnacle achievement. In fact, 'Let It Be' was the first album by the band that immersed me. Last June, whilst interrailing in Europe, most of my soundtrack involved this record, as well as the aforementioned 'Tim' and fifth LP 'Pleased to Meet Me'. Focusing on the record at hand, 'Let It Be' is flawless, and I'll explain why.
From first song 'I Will Dare', there's a thrilling sense of charm as those light chords swing into 50's style aplomb. It twirls you into something fun, as well as being melancholic. Basically, this record beholds a balance of their witty and raucous early work with, what was here, a newfound sense of melody and melancholic beauty. For instance, to go from the tongue-in-cheek tone on 'Tommy Gets His Tonsils Out' to the heart on sleeve yearning on 'Answering Machine', shows how varied this record is. It doesn't take itself too seriously, whilst at the same time it's sincere in the serious subject matter Westerberg sings. In regards to that latter point, you can look no further than the piano led LBGT anthem 'Androgynous'; fun and sweet in delivering such a socio-political message, a contrast with the bands of their hardcore roots.
As well as varying in lyrical theme, the music has a range within its alt punk confines. 'Favourite Thing' is mid-tempo rock 'n' roll at its most delightful. 'We're Comin' Out' is near furious in hardcore influenced pace, before interluding into complementary finger snapping before resuming. 'Sixteen Blue' meanwhile is laid back in its bluesy rock tale of teenage sexual anxiety. Each song accompanies a certain mood with how the band delivers them in sound. There's grittiness in numbers like 'Gary's Got a Boner' and the cover of 'Black Diamond' by Kiss; this shows The 'Mats' bite. This is counterbalanced by the softer touches, thus making it all the more human. What better example to use than what has to be their best and classic tune, 'Unsatisfied'. Not to be all soppy, but that song has to be one of the most beautiful pieces of music I've set my ears upon. The melancholic acoustic notes are dazzling yet sad in the most genuine way possible. It really does gut you into two that one; it is that powerful in its emotion.
What else can I say about this record? The words are difficult to pronounce in how brilliant it is. In summary, it deals with self-consciousness; the awkward anxiety found in youth; generational discontent; and humanity at its amateur. Noting that last word, 'amateur', it balances such serious topic with a sense of giddiness in parts, yet will switch into 'maturity' when it has to. To the musicians behind this record: Paul Westerberg, Chris Mars, Tommy and Bob Stinson (R.I.P.), thank you for making a pinnacle achievement in sincere, fun and heartfelt college rock 'n' roll at its finest. This is the soundtrack for people in their twenties and beyond. Trust me on this, I haven't looked back since, and neither should you.
The Replacements links: Website|Facebook|Twitter
'Hours' by Harker is out now on Unfun Records.