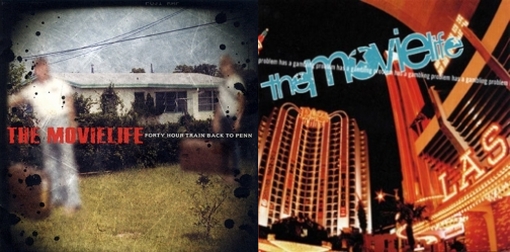 For Vinnie Caruna before he formed Brooklyn Post-Hardcore group I Am The Avalanche, he was part of the now legendary Long Island Hardcore pop punk band that was The Movielife. 
Over the space of six years (1997–2003) Caruna, Brandon Reilly (Nightmare of You) and company released an array of now classic EP's and albums that have gone on to influence and inspire of variety of modern bands, for example Transit, Fireworks and Hostage Calm.
The Movielife have become so influential that Pacific Ridge Records has just released a compilation album paying tribute to the NYC band. And it's no better time than the present to highlight The Movielife as part of our "Versus" series.
For this weeks edition we have two guest writers. From Nevada pop rockers Wayward is guitarist Aaron Lewis explaining why 'Forty Hour Train Back to Penn' is The Movelife's best effort, whilst Mark Dongivin from Florida's The Lion Faced Boy takes on Lewis by telling us why '…Has Gambling Problem' is superior.
Not only do we have two guest writers for this weeks edition of 'Versus', we're also very proud to be streaming both Wayward's and The Lion Faced Boy's tracks from Pacific Ridge Records' new 'A Tribute to The Movielife' compilation. Wayward cover 'Takin' It Out and Choppin' It Up', whilst The Lion Faced Boy put their own spin on 'Spanaway'.
What is your favourite album from The Movelife? Let us know on Facebook or Twitter.
'Forty Hour Train Back to Penn' (by Allen Lewis – Wayward)
'Forty Hour Train Back to Penn' would have to be my favourite Movielife album. I believe I can speak on behalf of my band when I say that the album is still an influence on us almost a decade after its release. 
I still recall my excitement when the music video for 'Jamestown' would be on TV. The heavy intro as the camera descended from the sky instantly made me go out and purchase the album and have countless circle-pits in my bedroom. Because I was 14, I was developing into the early stages of teen angst and it seemed as if The Movielife's lyrics were written for me. While phrases such as "I hope this song will shut you up" and "you lost the only thing you had left to lose, tragic mistake" still remind me of being that angry little boy, songs such as 'Hey' showed a different perspective of The Movielife and really made me appreciate them on a completely new and distinct level. This was a band that I felt earned their popularity from the ground up: no gimmick, no bullshit, just good songs. 
The Drive-Thru Records DVDs (come on, I know at least some of you remember them) gave me and the rest of my band a quick look into the lives and performances of The Movielife and made us all say the exact same thing: I want to be in a band like this. Energetic performances, heavy guitars and angry lyrics. I wish I had the chance to see them live. The Movielife is responsible for the formation and sound of many, many bands. Myself, along with the rest of Wayward are honored to be a part of this tribute album and had the time of our lives re-recording our favourite track, 'Taking It Out and Chopping It Up.' It makes me wish I was 14 again. Well, sort of.
'…Has A Gambling Problem' EP (by Mark Dongivin – The Lion Faced Boy)
Picking a favorite record from The Movielife is like picking a favorite child. Do I have one?  Of course, it's the '…Has Gambling Problem' EP.  I know it's not a traditional full length record, but that collection of songs is the reason I fell in love with The Movielife. So, for this edition of Versus, that's my story and I am sticking to it.
I guess the summation of my love affair and decision making can be found in the opening track 'Walking On Glass'.  To be perfectly honest, I could have that song repeat on a record 12 times over and be happy.  It was the first song I had ever heard from the band, and was the last song I needed to sell me on them. From the gritty driving opening guitar riff, to the incredible drum rhythm in the chorus.  It's one of those songs that immediately grabs you by the balls and pulls you in, which to me is everything an opening track should do.  
Now follow that up with songs like 'Hand Grenade' and 'Up To Me.'  With those three songs in a row, the last two tracks could sound like complete dog mess and I would still buy a copy, even though they don't. I think if that album had been an LP with a proper release, The Movielife would be on the tips of more tongues than they already are. The only downside to a record like that, is that the band is no longer around to play it live. Well, that's not completely true, because without the death of The Movielife, we wouldn't have the wonderful creation that is I Am The Avalanche. Regardless, the rest of their catalogue is pretty incredible, but you would be hard pressed to find a better handful of songs than the ones found on the '…Has A Gambling Problem'.
What is your favourite album from The Movelife? Let us know on Facebook or Twitter.
'A Tribute to The Movielife' is available now on Pacific Ridge Records. Stream Time Will Tell's cover 'Kelly Song' here.
Further information on Pacific Ridge Records can be found on Facebook, Twitter or through their Official Website.
Wayward links: Facebook|Twitter
The Lion Faced Boy links: Facebook|Twitter
Want to be a guest writer for a future 'Versus' feature? If you're in a band, run a label or music website then we want to here from you. Send us an e-mail to [email protected].