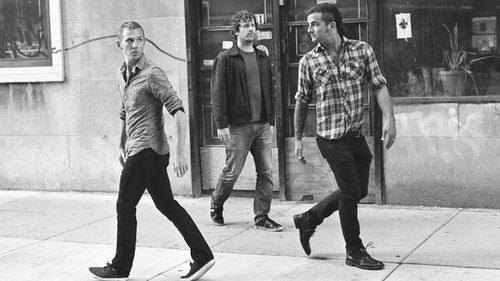 In the year 1999, three young punks formed The Lawrence Arms. The line up has included to this very day, Brendan Kelly on vocals and guitar, Chris McCaughan on bass and vocals, and Neil Hennessy on drums. They released two albums on Asian Man Records and a further three albums on Fat Wreck Chords. After releasing and touring in support of fifth LP, 'Oh! Calcutta!', (as well as releasing an EP in 2009), the band went to take a break and explore their creativity elsewhere in solo efforts. Eventually, the patience of fans was rewarded, after the band signed to Epitaph and released their sixth album, 'Metropole' (which can be heard here!).
Continuing our celebration of their latest LP, we at Already Heard have pitted two albums from their back catalogue against each other to decide which is the best…well sort of. Jay Sullivan holds third LP 'Apathy and Exhaustion' above a pedestal. Assistant Editor Aaron Lohan acknowledges, but writes on how 'Oh! Calcutta!' should also be regarded as a strong record from the Chicago trio.
What do you consider to be The Lawrence Arms' best album and why? Let us know on our Facebook andTwitter pages.
Read 'Fives: The Best The Lawrence Arms Songs' here.
Oh! Calcutta! (by Aaron Lohan)
When it comes to The Lawrence Arms' best record, without hesitation, I would say 'Apathy and Exhaustion'. On the other hand, since my fellow writer has chosen that record, I will stand by the band's second best. 'Oh! Calcutta!' was for a lot of people, including myself, the record where the Chicago trio made perfect sense. It has the instant spark to get you into the band, and forthrightly appreciate all of their other outputs. With this point made, I guess I should lay out the blanket called my opinion, and deliver each point out of the picnic basket I carry, unto the rug.
Point one, there's a great balance between the rawness and melody; a solid, co-operative marriage. 'The Devil's Takin' Names' and 'Lose Your Illusion 1' display this union smoothly, both dip and dive in desperate yells within a cocktail of serene gruffness. Point two, the Chicago trio step it up a notch when it comes to big, anthemic punk songs; songs which make you want to soar when you sing and dive off a stage. 'Are You There Margaret? It's Me God', with its glorious chorus and memorable twinkle, sums this up perfectly. The anthemic structure lies in the foundation; not in terms of the music itself, but also the vocals, which leads on to the next point. After much work, the group are able to successfully co-operate as a well-oiled machine when it comes to vocals. Brendan Kelly's sandpaper-esque yells and Chris McCaughan's mellow resonance are a dynamic duo here. 'Beyond the Embarrassing Style' is a testament of this.  Other highlights to recommend is the rough kick to the nerve in 'Cut It Up' and the bluesy aplomb stomp in finale 'Like a Record Player'.
Hitherto, I have spoken on the music, but yet to convey the themes entangling the lyrics. I won't go into detail, but there's something relatable in them, adding to the spark of this LP. Broken, confused, questioning momentum; "is there more to this, and how can we get back?" That's one way in summing up the struggles the trio tell in their tales here. Delivered in simple, melodically raw punk enables the themes to hit home. It's for these reasons why I clicked with the band via this LP, and developed a respect for their catalogue. Indeed a great record from the Chicago outfit known as The Lawrence Arms.
Apathy and Exhaustion (by Jay Sullivan)
The Lawrence Arms are one of those bands that took me ages to discover with no real reason behind the delay. I've liked similar bands such as Hot Water Music and Alkaline Trio for years, but it was only a few years ago I got around to downloading The Lawrence Arms' back catalogue. Luckily for me, this meant I got everything they've ever done in one hit, and out of that rush of albums it's safe to say that 'Apathy and Exhaustion' is my absolute favourite. Queue a large dose of hyperbole…
Smack bang in the middle of their releases and the first album to be released on Fat Wreck Chords, 2002's 'Apathy and Exhaustion' has the strongest set of songs overall from any of The Lawrence Arms' albums. The catchiness of opener 'Porno and Snuff Films' kicks the album off with a bang, and the way it crashes into my all-time favourite 'The First Eviction Notice' make this album a classic from the off. Third track 'Navigating the Windward Passage' has some of my favourite lyrical deliveries of any of The Lawrence Arms' songs, mercilessly piling agony over agony, refusing to relent pace for even a second.
The whole album is a lot of fun, and while the subject matter is bleak, it keeps things upbeat with some amazing one liners, and a lot of really memorable rhyming couplets "When I'm done you won't miss me, you're dying to fist me" and "But don't forget to forget that you forgot me, when I show up at your door, I'm gonna remember that you're my friend and fall asleep on the floor" both spring to mind. I like inventive wordplay in lyric writing, and The Lawrence Arms have a talent for it that's showcased best across this album.
Slower songs like 'Your Gravest Words' and 'Boatless Booze Cruise Part 1' help to break up the relentless onslaught of songs, and show their song writing at its most simple and effective.  The simple riff and drum combination in 'Boatless Booze Cruise Part 1' is on point, and the crescendo that builds around 3:40 into 'Brick Wall Views' is a masterpiece in song writing.
In short, at 38 minutes, 'Apathy and Exhaustion' is perfect for getting a quick hit of The Lawrence Arms, and is also a great entry point into their lengthy back catalogue. Not only is it the best Lawrence Arms album, it's one of my all-time favourite albums. Perfection. 
'Metropole' by The Lawrence Arms is out now on Epitaph Records.
The Lawrence Arms links: Facebook|Twitter|Website
Words by Jay Sullivan and Aaron Lohan.