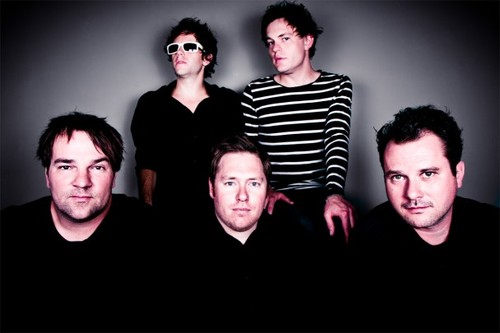 Recently Matt Pryor completed a run of UK shows, and in honour of his return to these shores, we thought it'd be good time to pit two albums from Pryor's most well-known band, The Get Up Kids, against each other.
Formed out of Kansas City in 1995, TGUK became one of the main spearheads of the turn of the millennium emo scene. After the release of a couple of EP's and their 1997 debut 'Four Minute Mile', a disagreement with the bands label Doghouse Records led them to depart for Vagrant Records, a struggling LA-based independent label. The bands Vagrant debut, 'Something To Write Home About' in 1999 became a breakthrough record for both the band and the emo genre.
With rising popularity due to the success of 'STWHA' and tours alongside Green Day and Weezer, a compilation of b-sides and covers was released in the form of 'Eudora'. Whilst the bands former label (Doghouse) capitalised on the bands new found success by re-releasing 'Four Minute Mile' and combining the bands 'Woodson' and 'Red Letter Day' EP's as a one-disc release.
2002 saw the release of 'On A Wire' and saw the quintet take a more organic, mature approach that still divides fans and critics now. Two years later 'Guilt Show' arrived and was better received by critics yet the bands personal problems and inner band tensions resulted in the band going on hiatus in 2005.
Over the next three years, the band concentrated on their solo projects, however in 2008 the band reconvened to celebrate the 10th anniversary of 'STWHA' for US and UK dates and a CD/DVD re-release of the album.
2010 saw the bands first new material in six years. An EP titled 'Simple Science' saw the bands sound more towards a more experimental, indie rock sound that was further enhanced on the bands 2011 full-length 'There Are Rules'.
Having built such a cult-like following in their nearly 20 years activity, The Get Up Kids have built an acclaimed worth of material during their time together. Nevertheless this edition of "Versus" sees two members of the Already Heard team putting their case forward their respective TGUK favourite LP's. First up Tom Knott explains why 'Something To Write Home About' is a masterpiece, whilst Senior Editor Sean Reid goes on to tell us why 'Guilt Show' is under-appreciated and is his personal favourite TGUK record.
What do you consider to be The Get Up Kids' best album and why? Let us know on our Facebook and Twitter pages.
Something To Write Home About (by Tom Knott)
Is The Get Up Kids' 'Something To Write Home About' the greatest album of all time? I'll accept a little debate on the matter. It's a bold claim; I can't deny that. Is it The Get Up Kids' masterpiece? Yup, although Sean will no doubt do a great job fighting 'Guilt Show's corner.
'Something To Write Home About' begins with the now classic intro of 'Holiday' and ends with the indomitable love of 'I'll Catch You'. Between these two points is nothing but gold. Track through glorious track there isn't a dull moment to be had. The vocal deliveries are raw and emotive with instrumentation to match. It's almost impossible to pick out highlights of a record, wherein every second of every song, it's a worthy highlight. The chorus of 'Ten Minutes', the riff after the chorus of 'Ten Minutes', the breakdown of 'Ten Minutes'? All perfect examples of this album's brilliance.
'Out of Reach' provides a soft break, utterly gorgeous in execution with Matt Pryor's soft vocals at their storytelling best. 'I'm A Loner, Dottie. A Rebel.' is a bona fide classic. From the burst of the opening line – "Come tomorrow I'll be on my way back home" – to the final crushing chorus, 'I'm a Loner, Dottie…' is an example of a band at the very top of their game. Followed by the soft swells of 'Long Goodnight', which in turn give way to the anthemic 'Close To Home', 'Something To Write Home About' is the quintessential Get Up Kids record. It is, for me, unrivaled both by the band's other four records (all of which I love dearly) and the records of every other band ever.
Closing track, 'I'll Catch You' is one of The Get Up Kids' most well known and beloved. Probably the one track you could count on an outsider to know. Truth be told, it was the first song that I heard by a band that became unfathomably important to me and it was one that I just didn't understand that first time. I thought it sucked. I could not get my head around why my friends were so enamored with it. Then, all of a sudden, the beauty of the lyrics, Pryor's untouchable vocals, and the oh-so-perfect combination of Ryan Pope's drums and James Dewees' keys hit me, and I've been hard pressed to find an album so faultless since that moment.
You can't go wrong in picking an album by The Get Up Kids (although I expect someone will be sure to tell me that I have). Each of the band's releases has been exceptional. 'Something To Write Home About' may be the go to and sometimes I think people like to claim that it's the wrong choice because it is the most popular. But it's the most popular for a reason.
'Guilt Show' (by Sean Reid)
Ok I'll begin my "defence" by stating I don't have anything against 'Something To Write Home About', it's a great album and deserves all the credit it gets but for me 'Guilt Show' tops it. Admittedly it doesn't have TGUK classics like 'Action & Action' or 'I'll Catch You' but that's made up by a consistent blend of bitter, reflective songs and sensible pop hooks.
Throughout the Kansas subtly show signs of progression and experimentation; starting with the brash power pop 'Man of Conviction', followed by the rockin' 'The One You Want', it delivers the bright, upbeat start you want from a record.
At the other end of the spectrum is the slow-burning 'The Dark Night of the Soul' that explodes with relief in the chorus and the penultimate 'Is There A Way Out' is a haunting number with an aching vocal delivery.
Lyrically Pryor and company take a reflective, post-twentysomething approach which moves on from the yearning style from earlier releases. The end result is admirable. 'Never Be Alone' and 'Sick In Her Skin' (seemingly) deals with divorce, whilst 'Wouldn't Believe It' takes on betrayal.
Nevertheless 'Guilt Show' is brilliant a pop-rock record that is a return to form after the haphazard 'On A Wire'. Sure its no masterpiece and if its true, 'Guilt Show' isn't even a full-band collaborative effort as it's been documentated that inner-band relations were becoming fragmented. However, that shouldn't hinder your opinion when hearing 'Guilt Show'. For all of its negativity, its the songs that benefit as The Get Up Kids showed progress towards a well-rounded rock band rather than the boxed in emo band they were known as.
I'm sure Tom Knott will do a fantastic job sticking up for 'STWHA', and rightly so he should. It's a great record but 'Guilt Show' is on par with it and as a big fan of the band, I highly recommend it as an introduction to the band. With huge choruses, thoughtful lyrics and strong momentum fem start to finish, it's a record that shouldn't be ignored.
What do you consider to be The Get Up Kids' best album and why? Let us know on our Facebook and Twitter pages.
'Wrist Slitter' by Matt Pryor is out now on Alcopop Records.