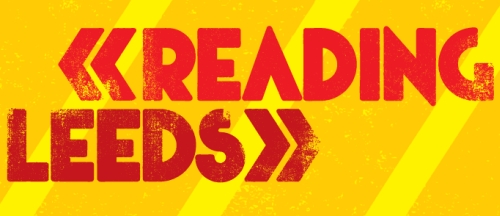 Now if you're an avid reader of Already Heard (and so you should be! There's plenty of blood, sweat and tears crammed into these digital pages) you'll probably be incredibly familiar with an original feature of ours called 'Versus'. Now, this feature has focused so far on looking at which album is the best with certain bands. However, we always knew there was versatility with such a name and so we deliver to you today a new stance on things; who is the best Reading & Leeds 2013 headliner?
Whilst discussing who would pick which act out of the three main stage headliners, one of our new writers crept up to the table and proclaimed that the best headliner was actually Crystal Fighters! So, 2 main stage arena acts and a Festival Rupublic stage headliner! Who is best? Mikey Brown gives Green Day a good seeing to, Christopher Smith will shout 'MON THE BIFFY' at you in the form of some well constructed paragraphs and newcomer Anthony Lusmore will be fighting for Crystal Fighters (see what I did there, using fighting for… yeah, you got it)
Who is the best Reading & Leeds headliner for 2013 and why? Do you agree with our choices or is there someone else entirely? Let us know on our Facebook and Twitter pages.
Green Day (by Mikey Brown)
Recently, Touché Amoré have gone on record to say that they'll never play Warped Tour. Thomas Erak, formerly of The Fall Of Troy (R.I.P. my love) and now of Chiodos, made the point that the 'veterans' get treated a lot better than those starting out, saying he doesn't find that fair. I agree. I mean, of course everyone should be treated equally. However, there's a reason the veterans are treated miles better, get paid more and bring in a bigger crowd and it's simply that they're reliable. Everybody knows that they will deliver exactly what people expect and so this closes my introduction and leads nicely onto my following paragraph.
Green Day are the veteran headliners of Reading & Leeds 2013. The band formed way back in 1987 and so have traversed through the 90s and the noughties, giving them a roster of studio albums and even a couple of live albums. Why would a band need more than one live album? It's simply because the fans will lap it up. The fans love the live experience of a Green Day concert (more on that soon) and so it makes sense for a record label to milk that side of things. Ok, so it's not an essential release by any means and is certainly a cash cow issue, but it does go to prove that everyone knows and expects a good performance for a band that have been existent through two entire decades.
Now then, concert. It's safe to say that a Green Day show can be classed more so of a concert, right? I'm not sure if this is because they play arena shows but there's certainly more of a popular music kind of vibe to the whole staging, crowd involvement and various antics. It's all big, glam and quite frankly for show. However, that's a good show. I've seen Lady Gaga live and that was one hell of a live show, leading myself to put Green Day in such a category. However, in a setting such as Reading & Leeds the band are only going to reach further into this, but will seem ever so much more punk simply from the atmosphere of all those festival goers as well as the incredible line up preceding them.
And now for the final blow; the songs. Tried and tested for many years in many different cities across every continent on this planet we call earth, Green Day have the hits and if you think you don't know a Green Day song you do. I'm not saying you probably do, I'm saying you do. You will have heard one, you will recognise it, you will know it. Most people will have heard 'Basket Case' or 'Time Of Your Life' at some point, or even more recently the relaunch rock opera lead single 'American Idiot'. And then those days sat in front of  music television channels will have birthed your ears to 'Welcome To Paradise' or 'Warning'. Despite the fact that the band have such a wide range of songs to choose from I'm fairly sure you'd be able to predict the set now.
So yes, they're predictable. But, the best way to stop you right there is to say 'Why fix something that isn't broken?' Especially considering that it's not been broken for over 20 years. There's a reason Green Day are veterans. Now, get on Spotify and get yourself hyped.
Biffy Clyro (by Christopher Smith)
Just over two years ago now, I lined up to watch Biffy Clyro take to the stage at Sonisphere. Their debut headline slot was already the basis of much debate, with many a grumble that the band just weren't big enough – or good enough – overshadowing their announcement. An hour and a half was all it took to put any doubts to rest: Biffy smashed it.
Having released a career-spanning six albums, the band have a consistently great back-catalogue of hits to choose from. The best headline acts possess the ability to make you laugh, make you cry, make you go positively fucking mental. Biffy have the songs and the on-stage banter that should allow them to achieve all three.
What's more, they are a band at the peak of their powers. I know old-school fans of the Scottish trio will disagree but I truly believe 'Opposites' is the best record they've ever put out; twenty songs of real quality, it showcased a band who have reached their creative zenith. In contrast, Green Day and Eminem – fantastic headliners as they are – are way past their artistic peak. Right as it is that a major festival such as the Reading & Leeds weekender should book iconic acts of their stature, it should also cater for emerging icons that need a chance to prove themselves on the biggest stage.
In previous years, that headline spot has gone to the likes of Razorlight and Franz Ferdinand, bookings that smacked of short-termism and proved to be abject failures. In contrast, Simon, James and Ben have paid their dues. Cutting their teeth over a twelve year period, Biffy Clyro epitomise what Reading & Leeds is all about: great rock music. Perhaps most importantly, it's great British rock music. Excited as I am to be seeing Green Day again, and accepting of Eminem's return, nothing will compare to seeing one of our own close the festival for the very first time. One thing you can guarantee is that headlining Reading & Leeds means as much to the Biffy boys as it does their fans. I don't think the same can be said for the other headline acts.
Granted, their booking is something of a risk. But all great festivals throw a wildcard choice into the mix and it's all about whether the band concerned are able to step up to the plate. Come your chance to see them in the (literal) flesh, you'll be sorry you ever doubted them.
Crystal Fighters (by Anthony Lusmore)
When it comes to the most must-see headliner at Reading and Leeds, people seem to be treating it as a three horse race. It seems, as far as most opinions go, to be between Green Day, Biffy Clyro and Eminem. This is exactly what you'd expect, surely? After all, they are the bands topping the bill this year, so naturally the debate would revolve around them. But the three-day event boasts plenty of other stages that attendees are likely to at least wander past throughout its duration, and there's one particular evening where those visiting the festival should certainly consider sticking around.
The Festival Republic and Lock Up/Rock stages could make for a highly enjoyable festival on their own, and Friday (Saturday for Leeds) is when Reading's Festival Republic offering churns out its brightest gem. I was lucky enough to be at Poland's Open'er Festival this year where Crystal Fighters absolutely stole the show from the likes of Kings of Leon and Skunk Anansie, with even the always on form Arctic Monkeys and Queens of the Stone Age finding them hard to top. This weekend, they go toe to toe with the likes of fellow Friday stage-headers Alkaline Trio and Green Day to knock out a set that you simply can't miss. The band have potential to take the moniker of Reading Festival fan favourite away from Gogol Bordello, bringing to the table a party atmosphere and upbeat vibe that any summer is worse off without. Even if you're more content to just twiddle your thumbs until Nine Inch Nails, or prepare your visions of making it to the barrier for Fall Out Boy; even if your weekend will mostly be spent doing some last minute memorising of the lyrics to Eminem's 'Marshall Mathers LP', the Fighters are not one to even consider missing out on.
There's still just enough time to get acquainted with their latest album 'Cave Rave' and preceding debut 'Star Of Love', which have both spawned favourable reviews across the board and a number of huge singles. Use the time well, or just jump straight in and let the band make a magnificent first impression this Friday (or Saturday). Though the band was officially born in Spain, Crystal Fighters are very much in the "Best of British" category, and their headline slot on the Festival Republic Stage this year is just another rung on the ladder for a band on the fast track to the top. Green Day, Eminem and Biffy Clyro will be special, of course, but Crystal Fighters? Well, they're just plain unmissable.
Reading links: Website|Facebook|Twitter
Leeds links: Website|Facebook|Twitter
Green Day links: Website|Facebook|Twitter
Biffy Clyro links: Website|Facebook|Twitter
Crystal Fighters links: Website|Facebook|Twitter
Our full coverage of Reading and Leeds Festival 2013 can be found here.
Words by Mikey Brown (@MikeyMiracle), Christopher Smith (@chrissmith_catp) and Anthony Lusmore (@Metacosmica).