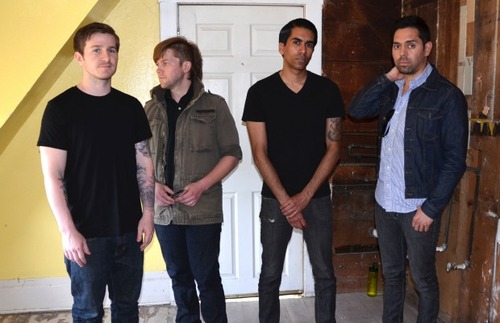 New Jersey emo stalwarts Saves The Day started life in 1994. After a name change their 1998 Record 'Can't Slow Down' and 1999's sophomore effort 'Through Being Cool' sent ripples through their native music scene, out into the wider american indie scenes. Label interest from Vagrant brought Saves The Day into their fold and released their first major label record, 'Stay What You Are' to much praise and attention from music tv. through tumultuous band lineup changes and a co-release by Dreamworks and Vagrant, their fourth album 'In Reverie' was released and then seemingly abandoned by the record labels in 2003. a trilogy of albums: 'Sound The Alarm' in 2007, 'Under the Boards' in 2008 and 2011's 'Daybreak' followed, with the latest being heralded as a return to form for the band.
After numerous lineup changes, life changes and plenty of side projects along the way the band return this week with a self titled album and fairly settled lineup. To celebrate, we decided to look back and argue the case for the best Saves The Day release.
This week's 'Versus' sees a guest writer enter the ring; Jessi Frick of Father/Daughter Records is writing for 'Through Being Cool' in a battle against 'Stay What You Are' by our very own Heather Robertson.
What do you consider Saves The Day's best album and why?  Let us know on our Facebook and Twitter pages.
Through Being Cool (by Jessi Frick)
"What's a bond if it dissolves in water?/ I took a piss that lasted longer / than you and your manipulations"
'Through Being Cool' was Saves The Day's (and more specifically, Chris Conley's) rite of passage. After breaking onto the pop-punk scene in 1998 with their debut 'Can't Slow Down', Conley, Dave Soloway, Ted Alexander, Eben D'Amico and Bryan Newman (let it be known that this line-up IS Saves The Day. There are no substitutions) shed the Lifetime-copy scarlet letter and embraced themselves on what I'm defending as Saves The Day's best album, 1999's 'Through Being Cool'.
By the time 'Through Being Cool' was released, they already had me. I came to know Saves The Day in 1998 when I happened upon five kids from Jersey on tour opening for Bane. It was the breakdown in 'Always Ten Feet Tall' (from 'Can't Slow Down') that sealed the deal. At that point, I don't know if 'Through Being Cool' had even been written yet but my obsession with the band was growing exponentially.
'Through Being Cool' spoke about being young, on tour in a van full of smelly guys yet still wishing you were with someone else, someplace else, even if that person pissed all over your heart and stomped it dead. Yeah, there's a lot of anger in Conley's lyrics (see 'Rocks Tonic Juice Magic') but who hasn't been wronged by that one person you thought was, even just for a moment, your eternal love? Come to think of it, I'd still buy my first boyfriend a lemonade just to throw it in his face.
It's a story of yearning for comfort, love, and acceptance in the midst of a never-ending lemon pelting from life. My heart has been broken more times that I care to remember but it wasn't until I heard 'Through Being Cool' that I didn't feel alone. It was okay to be angry, hurt and vengeful but still wish they'd take me back. It was okay to be myself no matter how I felt.
'Through Being Cool' taught me to ignore outside expectations and criticisms and strive to live up to my own definition of cool. Hell, the cover image screams the band's disinterestedness with being the center of attention. That point was what attracted me in the first place to the music scene I grew up in. It wasn't about who was on stage or what they were wearing or how many Myspace friends they had, but instead about gathering with a bunch of friends and strangers and experiencing something together. It was about the connectivity to each other, including the guys on stage. For a few moments in life, we could all feel cool because we weren't worrying about it.
It also made me want to go on tour really badly so when the opportunity presented itself, I jumped in the van faster than you could say Wawa. And you better believe a day didn't pass without listening to Saves The Day. I've been through with being someone else's idea of cool for a long time and anytime I put on 'Through Being Cool', it brings back awesome memories and you know what? That's pretty cool.
Stay What You Are (by Heather Robertson)
Like many of my peers, my first introduction to Saves the Day was the video for their first single from 'Stay What You Are', the almost drearily titled 'At Your Funeral' on MTV2 one weekend afternoon. Through sheer force of will, they make a song that should be by all lyrical turns a depressing song about death a celebration of life and a statement of how much you care that you'll stick by them to the end. The upbeat brightly coloured video of the impossibly young and perfectly skinned Chris Conley singing against a background of a man's life through a lens fast-forwarded occurring just over his shoulder. it made it's impression.
'Stay What You Are' was my first Saves the Day record, and the way pop punk perkiness mingles with darker undertones of the song subjects goes a long way to explaining why it remains one of my favourite albums in whole over a decade later. The juxtaposition of harmonies for tracks like 'cars and calories', with organ playing in the backdrop of short sharp guitar riffs played at just the right tempo lulls you into just listening and loving this danceable song, while Conley is recounting the dissolution of a girl obsessed by 'the plastic canopy of us royalty' rather than trying to improve her own life and letting all of life's setbacks get her down. Another track, 'As Your Ghost Takes Flight' is an imagined dream of revenge and redemption, which is pretty grim when you consider the lyrical content but it's hard not to be seduced by its catchy melody and harmonies while the chorus is about drinking someone's life force.
Second single from the album, 'Freakish' is still one of my best friend's favourite songs about anxiety, and something that she used when trying to explain those feelings to her family. It definitely spoke to me about the problems of having difficulties dealing with other human beings and that desire to just get away from worrying about those social situations. There's a lot of depth and breadth to this album, with the subject of mortality being a constant throughout, probably as a result of an accident the band escaped from before going into the studio. 'Certain tragedy' and 'All I'm Losing is Me' cover the idea of dealing with the pain of loss of friends and family, and how much better it would be to not have to deal with those endings.
While there's a lot of grim imagery and thoughts of mortality, there are also a few beautiful love songs . Closing track 'Firefly' still captures that jumble of feelings of lust and alcohol really well. With the notion that the feeling of love is like 'a lightbulb' on a firefly, and confessing it feels like being around a beautiful fire: warm, glowing, but ultimately destructive. There's pain in all relationships, but you have to acknowledge that the risk is worth that reward. 'Nightingale', with its dreamy laid back guitar parts on verses has the singer laying down his desire to make his love feel like a queen and to be loved by her. 'I'll do everything I can to keep you by my side' sings Conley as he suggests that he'd be blinded by his love even if she chose to walk on top of him.
For me, 'Stay What You Are' is a brilliant coming of age record, they've moved on from partying teens hanging out and having teen drama over big egos and broken hearts on 'Through Being Cool' and really turn a corner in their song-writing; engaging with mortality, loss and love on a much less superficial level. There are a lot of lyrics which are easily missed and so much that's revealed in later listening. I'm still finding new facets of guitar parts or bass lines that I hadn't noticed, it feels more mature in the way that it's written and the way these little embellishments have been added. Overall, I feel it's a really hopeful album, which looks at the bad things in life and then reminds us of the good. As sung on 'This is Not An Exit''despair can ravage you, if you turn your head around and look down the path' [you came down] – while this album reflects, it seems to be looking outwards as well. And it says that where we are isn't that bad a place. Sometimes that's all you need.
What do you consider Save The Day's best album and why?  Let us know on our Facebook and Twitter pages.
Saves The Day links: Website|Facebook|Twitter|Tumblr
Father/Daughter Records links: Website|Facebook|Twitter
Words by Heather Robertson (@thecuriosity)