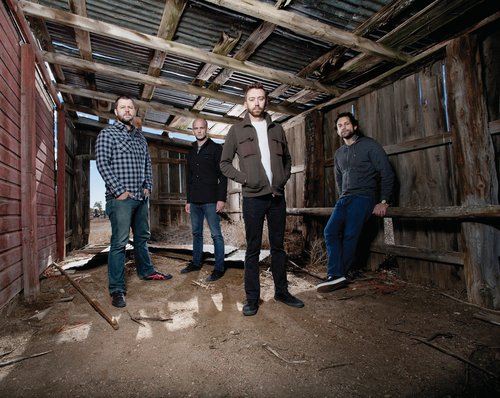 Formed from the ashes of Chicago punk bands 88 Fingers Louie and Baxter in 1999, Transistor Revolt was born. After releasing a demo in 2000, the band signed to Fat Wreck Chords and changed their name to Rise Against. They would release two albums under the label before signing to a major label i.e. DreamWork Records. Eventually, DreamWorks would be absorbed into Geffen Records. So far the melodic hardcore punk have released four full lengths, with a new album in the making. The punk band have grown from strength to strength, along with several line-up changes, morphing into one of the world's most adored punk bands, politically active in all manner of social conventions. The current line-up includes vocalist Tim McIlrath, bassist Joe Principe, guitarist Zach Blair and drummer Brandon Barnes.
This week's Already Heard versus sees us tackle an important question; what is Rise Against's best album? Having wowed us at the recent Warped Tour show in London and the band heading off to record their seventh album, we thought it would only be appropriate to answer this. Sticking by 'Siren Song of the Counter Culture' is Jay Sullivan, whilst Aaron Lohan defends 'Revolutions per Minute'.
What do you consider Rise Against's best album and why? Let us know on our Facebook and Twitter pages.
Siren Song of the Counter Culture (by Jay Sullivan)
Remember when you were 14? Apart from having terrible clothes and hair, unless you're an absolute liar or have rockstar parents, your music taste probably hadn't evolved to the superior heights that you like to think it has now. Somewhere along the way, you discovered a handful of 'gateway' albums, the ones that led you away from the mainstream and into a back alley filled with a brave new world of undiscovered bands and music. For me, Rise Against were one of those bands and 'Siren Song of Counter Culture' was one of those albums and for that, I owe them a fair bit.
The first song I heard from this album was 'Give It All' which featured on Rock Against Bush, a CD whose campaign I was obsessed with that year. After I purchased 'Siren Song of Counter Culture' it was 'Paper Wings' and its lyrical simplicity that drew me in, before songs like 'Dancing for Rain' and 'Life Less Frightening' made me a fully-fledged fan.  Nearly ten years on,  while 'Swing Life Away'  makes me wish I was dead whenever I hear it due to overplaying it one too many times, I still proudly sing every word to 'Blood to Bleed'.  In fact, I did exactly that when I saw them live just last week, and the inclusion of many of these fondly remembered tracks made their two-hour Groezrock set was a definite highlight of my weekend.
The perfect mixture of teenage nostalgia and stellar songs that stand the test of time, 'Siren Song of Counter Culture' is Rise Against's magnum opus.
Revolutions per Minute (by Aaron Lohan)
I, like many, got introduced to Rise Against via the solidly brilliant 'Siren Song of the Counter Culture' and 'The Sufferer & the Witness'. Of course, these major label offerings led me to check out their previous back catalogue. 'Revolutions per Minute' was one of a few records that changed my perspective on music. Building on the foundations laid on the debut 'The Unraveling', 'RPM' was, in this writer's opinion, their debut proper.
Aided by a fantastic production from Descendents drummer Bill Stevenson, the band created a perfect balance. Fast-paced punk rock melody and hardcore aggression are found in perfect unison. 'Dead Ringer' and 'To the Core' rip through guts in a gritty hardcore bite. Meanwhile, 'Black Masks & Gasoline' and 'Heaven Knows' are shining examples of what the band accomplished here. The aforementioned shift can be reeled off as such: breakdowns of crescendos fury; soaring melodic choruses; shredding guitars, humble bass and pummeling drums. It's simply fantastic to hear and it sinks deep into your soul.
Themes of the personal and the political flow seamlessly, something that few punk bands have pulled off. 'Like the Angel' is graceful, whilst 'Blood-Red, White & Blue' grabs the cuffs and heartily criticises wrong doings by political figures. It's simply marvellous at how they pull this off, especially through the delivery.
Tim McIlrath's vocal range in angry screams and heart-touching melodies is backed up perfectly by his fellow musicians. Drummer Brandon Barnes, bassist Joe Principe and former guitarist Todd Mohney; all of them managed to fluently display one of the finest melodic hardcore punk records of its time. More importantly, it should be noted that this was Tim's first record where he played guitar. This provided the filled and grander sound the band is known for today.
Whilst Rise Against have matured and have bettered themselves since (alongside the occasional misstep), 'RPM' was a game changer. Being their final independent full-length, it was a snapshot of the band at their most eloquent and raw. It is one of a kind, and it is certainly the one that caught the eyes of many as to why they were worth damn a decade earlier. 'Revolutions per Minute', in my opinion, is Rise Against's magnum opus.