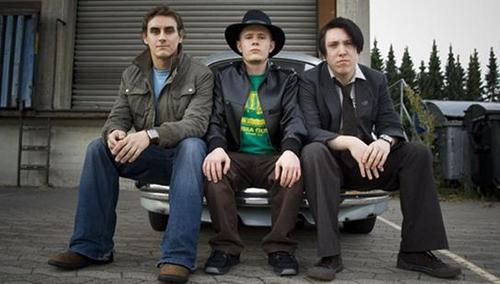 Back in the early part of this century, when we were starting to see the back of nu-metal and emo was starting to rear its head, something exciting was going on here in Blighty. The BritRock scene was at the forefront of the underground, and at its crux were bands like Biffy Clyro, Hell Is For Heroes, Million Dead, Hundred Reasons and Reuben. Reuben released just three albums (and a compilation), but they are remembered fondly amongst those who ever caught their scintillating live show. A unique mix of melodic hooks and bludgeoning heaviness, they are much-missed.
Continuing our Reuben theme from last week's Fives, in celebration of frontman Jamie Lenman's new double solo album, out now on Xtra Mile Recordings, we thought it'd be a good idea to follow it up with an edition of "Versus" on what is Reuben's best album. Ollie Connors hails their culturally iconic debut full length 'Racecar Is Racecar Backwards' (despite it's longevity) as their best, whilst Aaron Lohan stands by the trio's musically ambitious third full length 'In Nothing We Trust'.
What do you consider Reuben's best album and why? Let us know on our Facebook and Twitter pages.
Racecar Is Racecar Backwards (by Ollie Connors)
Coming from someone who grew up in small-town Surrey, it's shit growing up in small-town Surrey. Borne out of the frustrations of having nothing else to do in Camberley, the band that started life as Angel thankfully changed their name to Reuben. With word spreading like wildfire off the back of their 'Pilot' EP, Reuben signed to Xtra Mile Records and released their debut record 'Racecar Is Racecar Backwards', an album that fired them to the very crux of the exciting "BritRock" scene, alongside bands like Biffy Clyro, Hell Is For Heroes, Hundred Reasons and Million Dead. My first exposure to Reuben came with watching the 'Stuck In My Throat' video on Scuzz – one listen and I was hooked. A band that mixed a keen ear for melody and a knack for writing a catchy riff with bludgeoning heaviness, they instantly became an object of personal obsession in the formative years of musical discovery. Despite subsequently releasing two excellent albums and a compilation, it's the cocksure debut I keep coming back to – the sound of a young band firing on all cylinders, and adored because of, rather than in spite of, its imperfections and nuances.
If a debate arose concerning the best first track of a debut, 'No-One Wins The War' would lay more claim than most. A drum fill and a scream by vocalist Jamie Lenman opens the record, and blaring guitars scream into life, and from there on in the song is an exhilarating adrenaline rush, acting as the perfect curtain-raiser. The record is barely 30 seconds old before Lenman, in typically sarcastic style, delivers the line "Hell Is For Heroes, they've got another single out, my contemporaries, a Top 40 smash no doubt" – a sign of the kind of status Reuben were striving for from the get-go. It's fitting that this is succeeded by perhaps the most instant of Reuben's singles from this album, the aforementioned 'Stuck In My Throat'. It begins with a blood-curdling scream from Lenman, and a growling, lurching riff takes hold, laying over Guy Davis' powerhouse drumming. Despite its malevolent beginnings, the song unexpectedly breaks into a arms-aloft singalong, perfectly representing the two sides of Reuben within one song.
I've already nodded to Guy Davis' utterly sublime drumming skills, and they are thrust into the spotlight on 'Fall Of The Bastille', a much-overlooked highlight of this record. Lenman's lyrics tell of a young man who's all but given up on himself, and it's up to the protagonist to inspire him beyond procrastination. A fantastic song, and Davis' drum-fill towards the end is absolutely jaw-dropping. This is followed by the band's signature song, perennial fan-favourite 'Freddy Krueger'. A riff and chorus with a hook the size of Jupiter form the basis for this one, as Lenman divulges the struggles of being in a band. A triumvirate of brilliant songs is completed by one of their rarer tender moments in 'Tonight My Wife Is Your Wife' – sure, the song may be about unrequited love bordering on the obsession, but it concerns love nonetheless, rather than "Nightmare On Elm Street" murderers.
The problem with creating a confident debut release is that sometimes you can get too confident, and cracks start to appear. There isn't a necessarily bad song to be found on this record, just some songs that are slightly less good than others, and it's in the second half where the Polyfill starts to rear its head amongst the solid brickwork laid down thus far. There are highlights to be found here, such as setlist-closing anthem 'Let's Stop Hanging Out', a song with such magnitude many bands would give up limbs to write one like it now, or relentless blasts like 'Missing Fingers' & 'Wrong and Sorry', but at 16 tracks, it becomes very apparent one can have too much of a good thing – even if the rich and delicious gateaux is right in front of you, it's sometimes better to put some in the fridge to save for later.
Latter-album highlights are found in its more delicate moments – the brilliant 'Moving To Blackwater' which asks quite profound existential queries, showcases Lenman's vocal at its most raw and honest – while he may not boast a "classic" singing voice (it's quite nasal and quintessentially Home Counties), the pathos it can carry is remarkable, especially for someone in their early twenties. 'Moving To Blackwater' contains excellent use of violin, which brings me neatly onto finale 'Dusk', a solemn song that finishes on a poignant piano piece, that ensures this record finishes as strongly as it started. When this record was glued to my CD player during the summer of 2004, I was a little bit younger than the band playing it, but the lyrical themes of growing pains and confronting social situations truly resonated, and still do to an extent. Possibly not a classic debut album due to its occasional naïvety and overlength, but undoubtedly a formidable one – this album put Reuben on the map, and while their contemporaries have moved onto different levels of success, its perhaps because of their shorter lifespan and subsequent refusal to reunite that means Reuben's legacy is seen in the fondest light amongst their peers, and it was this initial offering that catapulted them to their cult-like status. 'Racecar Is Racecar Backwards' – a cracking album for both British rock fans and palindrome lovers alike.
In Nothing We Trust (by Aaron Lohan)
I'll admit it, I was late to the party with Reuben; in other words I got into them right after they called it a day. Regardless, they've left behind a small collection of brilliant records, the best of the bunch being third full length 'In Nothing We Trust'. In contrast to the straight forward approach on 'Very Fast Very Dangerous', the trio wanted to create something more ambitious and with "more depth". With determination and hard work, this resulted in this massively underrated and bold British rock masterpiece released on the band's own Hideous Records label.
The broad sounding palette on display is quintessentially Reuben but to the next level of their evolutionary chain. 'Cities on Fire' opens the record with such aggression and sorrow on a massive scale; 'Suffocation of the Soul' rises up a peak of contemporary prog rock beauty and dread; 'We're All Going Home in an Ambulance' screams and pummels away in fury in machine gun fire before moulding into melodious pitiful emotion; and 'An Act of Kindness' is a rock song of pure melancholy in its theme and melody.
Are there more examples? Indeed there are. 'Three Hail Marys' takes cues from Trent Reznor in its industrial-esque atmosphere before it twirls in the heavy side of the band's sound. Another is music critique themed 'Crushed Under the Weight of the Enormous Bullshit'; slow, trudging, spine-tingling, dreary and filthy are the key words in the song's sound.
Besides ambitious pursuits, the band does go down simpler and pleasantry numbers. 'Deadly Lethal Ninja Assassin' is Reuben's attempt at Weezer-esque formula; it's humorous, catchy fun flows well with rest of the album. It also features the vocal talents of Frank Turner and former Hundred Reasons guitarist Paul Townsend, who add more delight to the sound. Another example of simpleness belongs to rock 'n' roll feeling/piano led 'Agony/Agatha'. It's just as delightfully fun, especially with well-tuned back up vox and thick, beefy bass from Jon Pearce.
The sweetest moment on the LP belongs to acoustic ballad 'Good Luck'. Featuring Arthur vocalist Hannah Clark, both her and frontman Jamie Lenman share vocal duties. The harmonious tale on a job loss and a break up provides a heart on sleeve stamp of approval on one's mind.
Of course, a piece on Reuben wouldn't be complete without an overview of the lyrics. The themes and lyrics wander into dark subject matter. There are images of sorrow, destruction, loathing, violence and abandonment here. But this is contrasted and balanced out with a sense of ambition for something more, a sense of reflection to learn from errors and mistakes. Not only that, but Lenman injects his usual sense of humour. For example this line from 'We're All Going Home in an Ambulance', "when I was in New York, a woman tried to start a fight with me because she thought I was Jewish, and somehow it felt wrong to tell her that I wasn't". As you can see Lenman spins the dark nature into a humorous whirlwind.
So there you have it; all of the above is why I believe that 'In Nothing We Trust' is the best Reuben album. It's ambition and power is wonderful and countless beyond measure. To Jamie, Jon and Guy, thank you for leaving a masterpiece in the historical archive of British music.