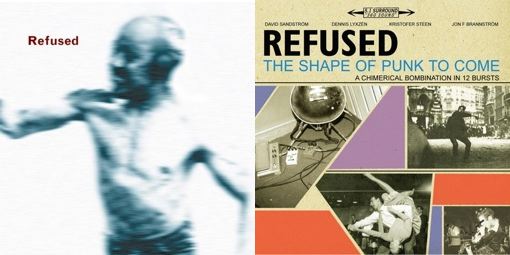 Back in January we were hit by some news. Some very big, news, in fact. For the punk scene and even many outside of punk, we were graced by the news that Refused were back. HOLY HECK. Yeah, it was quite something. The band that literally defined and shaped punk for the majority of bands that would form after their demise. Although, they did leave us with some albums to keep us occupied. Unfortunately for the band themselves they never received the recognition they deserved until after their split.
Anyway, history lesson OVER. What we're here to discuss is which is the better Refused album. They've been in the UK this week headlining a couple of shows and so we deemed it was a more than suitable topic. Two of our very own writers will be debating this very topic, fingers on their keyboards, and delivering to you exactly which album they think is best.
Aaron Lohan has chosen 'Songs To Fan The Flames Of Discontent,' possibly considered the underdog to many in comparison to final offering 'The Shape Of Punk To Come' that James Bearclaw Lewis will be defending.
Give both albums a chance! Read on, take it in and let us know what you think over at the usual spots of Twitter and Facebook.
Songs To Fan The Flames Of Discontent (Aaron Lohan)
It's easy to say that the best Refused record and the one that marked their legacy was 'The Shape of Punk to Come.' Nothing more, nothing less especially since we can all agree that it is their best record. However, the preceding record to such an artistic revolutionary epitaph laid the foundations of the band's innovative musicianship but at the same time retained the straight to the point integral hardcore punk fury of their earlier work.
'Songs to Fan the Flames of Discontent,' the band's second full length, introduced of what was to become of Refused. This would be Exhibit A in underling the Swedish punk legends as a spontaneous machine of twists and turns. Whether it's the quiet uneasy verse, loud throat shredding chorus dynamic of 'Return to the Closet' or the interchangeable rhythmic dipping and diving of 'Hook, Line And Sinker,' there is an unending sense of originality that the band achieve. This is held up by the lethal co-operation of anti-establishment lyrics which have a sense of urgency surrounding it as if the clock is ticking to get all those under the oppressive regime to take notice of what is going on before they are all smothered by conformist capitalist values.
Overall this all fits together because there is room made for interesting musical ideas to draw you in but it's short and to the point without making it a daunting affair. 'Songs To Fan The Flames Of Discontent' is a heavy punk record but with more of a serrated edge to it, a weapon that is more effective but retains the simplicity that any revolutionary would choose if they wanted to solve a problem in 30 minutes. It's the best of both worlds.
What we have here is not an inferior record to 'The Shape Of Punk To Come' but an equal to it. In fact 'Songs to Fan the Flames…' is quite capable of surpassing its successor as a better record. Its delivery is powerful enough to leave a molten metallic imprint on the brain both lyrically and musically due to its innovative simplicity. This was the bulldozer of the band's growth, the start of the chain reaction. With that in mind, it could be argued that this indeed is the band's epitaph.
The Shape Of Punk To Come (James Bearclaw Lewis)
What might possibly be left to say about 'The Shape Of Punk To Come: A Chimerical Bomb In 12 Bursts' that has not been subject to extensive discussion and scrutiny by now ? Arguably nothing. However, this was not always the case. In fact, before their eventual demise, a short
time after the release of 'TSOPTC,' Refused had been the recipient of fairly sparse attention from their peers, audiences and critics alike. Yet from the warm ashes of their disbandment rose a newfound appreciation for what the band had been standing for as well as achieving within the punk genre, especially their final album.
The concept of the album, as stated in the album's liner notes, revolves around the band's belief that punk's ethos could not survive if its revolutionary core continued to be distilled into increasingly mainstream conventions. As such, the sound of Refused evolved from a
more traditional form of hardcore (though 'To Fan The Flames Of Discontent' did have a couple of instances that anticipated the changes in sound) to one that drew influences and mixed elements from prog, jazz, electronic music, resulting in punk song as radical and
unconventional as one was likely to come across at that time.
Opening track 'Worm Of The Senses/Faculties Of The Skull' twists and turns between various grooves and time signatures, Lyxzén screech the only consistent thread as Refused's hardcore crashes around him before an abrupt stop, as the band introduce the re-occurring 'real' radio sounds that glue some of the tracks together. A potent notion when followed by 'Liberation Frequency' in which Lyxzén claims Refused 'want the airwaves back, [we] want all the time, all of the time' before the track gets riffed into blackness. 'Deadly Rhythm' shows the band's adept musicianship with regards to shape and rhythmics, while also perfectly integrating a short jazz interlude in the mix. Arguably the band's signature track, 'New Noise' might be considered the best summary of the album's philosophy as a whole, entirely encapsulated within the lyrical component of the song, juxtaposed with the emphatic
energy of its crowd-destroying riff.
With the addition of short political spoken-word sections ('Refused Party Program'), eclectic electronic interludes ('Bruitist Pome #5'), a beautiful and haunting classical introduction ('Tannhäuser / Derivè'), 'The Shape Of Punk To Come' is an intriguing, persistently relevant, unfathomably influential album. It consistently challenges traditional discourses of genre, art and politics, yet always by way of eloquent and enthralling examples of punk counter-culture in its most authentic form.
The album's opening line has Lyxzén claiming 'they told me the classics never go out of style, but they do… they do. Somehow baby, I never thought that we'd do to.' Let's just say, Mr. Lyxzén, that we agree to disagree.
What is your favourite Refused album? Let us know on Facebook or Twitter.
Want to be a guest writer for a future 'Versus' feature? If you're in a band, run a label or music website then we want to here from you. Send us an e-mail to [email protected].