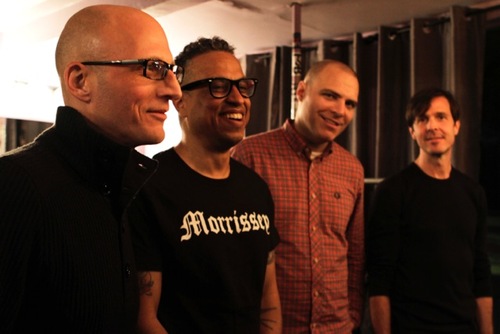 Comprising of former members from several New York hardcore bands including Gorilla Biscuits, Bold and Youth of Today, post hardcore/alt metal quartet Quicksand formed in 1990. The line up includes vocalist guitarist Walter Schreifels, guitarist Tom Capone, bassist Sergio Vega and drummer Alan Cage. After releasing a self-titled EP on Revelation Records, the band would go on to release two albums on the major label circuit; 'Slip' on Polydor Records in 1993, and 'Manic Compression' for Island Records in 1995. After extensive touring in support of both releases, plus pressure from their labels and within the band, they decided to separate for the first time in 1995.
Eventually, Quicksand would reform from 1997 to 1999, and would attempt to record a third full length. Unfortunately, this would see them split yet again, and also abandon the aforementioned album. Following this, Schreifels would go on to form Rival School (2001-2003, reformed in 2008) and perform solo; Capone played guitar for Instruction since 2002 for the majority of their existence; Vega temporarily replaced Deftones bassist Chi Cheng since 2009, before becoming a permanent member after his death; and Alan Cage has worked with alt metal act Enemy, New Idea Society and hardcore group 108 in the last decade.
In 2012, despite intentionally playing a special "one-off" set during the Revelation Records 25th Anniversary shows, the band decided to reform for a second time, and they have wowed audiences at shows ever since.
To coincide with the band's upcoming slot at Belgium's Groezrock Festival next weekend, this week's "Versus" is dedicated to Quicksandand their unwavering legacy. Assistant Editor Aaron Lohan has decided to stand by debut 'Slip'. In the other corner, Heather Robertson goes all out arguing for second album 'Manic Compression'.
What do you consider to be Quicksand's best album and why? Let us know on our Facebook and Twitter pages.
Slip (by Aaron Lohan)
There's always that one band you wish you'd gotten into sooner, but perhaps that's fate, or to be more realistic, a massive inconvenience. I heard of Quicksand's name a few times, but it wasn't until the band reformed (for the second time in 2012) that I began to investigate their legacy. Two incredible albums and a solid EP; according to my results, after endless hours of exposure, a consistent but short discography to the core. Yet, when it comes to their best album out of the two they've released, that title is claimed by none other than the genre defining debut LP 'Slip'.
Taking all the bite from their New York hardcore roots, and soundly moulding it into a post hardcore mixture containing melody and groove, 'Slip' is magnificent. It bends at all angles; it takes hardcore to new peaks of brilliance; and more importantly, its adrenaline fuelled to the max in innovate structures. You want evidence? Well then, here are some examples I shall describe and urge you to hear. Opener 'Fazer' bounces on gritty rhythms and bass, with pounding drums and snarling gravel-toned vocals by Walter Schreifels maintain the consistency. 'Dine Alone' shuffles in fury before settling into an eerie interlude, which eventually bursts open once more. For something that aims to reach a hopeful ledge, 'Freezing Process' is that number clambering for a settled sense of comfort. Guitar licks possessed by groove appear on 'Unfulfilled', whilst a clock chimes between the build ups and clever wording in 'Can Opener'.
It would be easy for me to stop with the aforementioned points, but oh no, I certainly shan't. There's more to come, my readers. For instance, 'Omission' is simply hypnotic, as if the music is playing a game of splits with a snake in a basket of delight. Utterly fantastic to listen to, cranking those hips and joints to an album of alt metal transmissions. Personally, the crème de la crème, the track which wakes you the fuck up at marvelling heights is penultimate song 'Too Official'. The moment that quivering bass grabs you by the cuff, and then launches you into the sun is a listening experience you'll never forget. Superb drums fills, rhythmic guitars and an octave reaching might has enough power to make you change your underwear on the crash landing.
Although it isn't 100% perfect, 'Slip' is strong enough in being the magnum opus for post hardcore luminaries Quicksand. The sheer scope it reaches in rhythm, bite, mass, and near psychedelic marvelousness is in this writer's opinion enough to convince you readers to check out this band and listen to great piece of post hardcore art. 
Manic Compression (by Heather Robertson)
In 1995, Quicksand's second album 'Manic Compression' dropped, and made some waves, but it seems like it sank without a lasting impact on the music community of the time. The record itself was a collection of angry but focused tracks, from the chuggy grungy guitars and tense terse vocals, it was full of well thought out feeling. The album gathered fans for the band and even though they split up (but not for the first time) shortly afterward, that album felt forward facing, very much like it was pointing the way for the future of music of that calibre, while also smarting from the grunge era. At that time it felt like heavy music was reaching a dissolution, while other genres were beginning to dominate the mainstream again.
'Manic Compression' stills feel relevant though, and has aged better than a lot of other albums of the era. The angular momentum driving you into 'Backwards' feels like running into a wall repeatedly while trying to sort out an emotional situation while acknowledging the problem, which is you running into a wall repeatedly by repeating your mistakes. The chunky riff gallops along, with a lot of influence from their previous New York hardcore band experience, but doesn't feel like it draws on any single source. It feels like a melting pot of attitudes drawn together and united. Then there's the dirty palm muted chords with high guitar scratching instead of a melody, which makes 'Delusional' a stronger rant against the kind of self important person who needs to tell everyone of their musical connections. The sound of scratching guitar strings feels like nails on a chalkboard and the torture of listening to another characterless music yes man droning on. There's something in these songs that reminds me a little of another album from around that time, 'Adrenaline' by Deftones. The differences are the approach taken to the vocals. While Deftones went with a much faster paced rap style of delivery, words being spit like bullets and shrieking as necessary gave a chaotic impression, Quicksand's Walter Schreifels seems to be able to convey anger without ever seeming to lose composure, even when his voice is stretched. He can make you feel his ire in 'Brown Guargantuan' simply by stressing his words on the repeated chorus lyric "..Life is a selfless thing..". Whilst'Adrenaline' sounds like it was a product of its time, 'Manic Compression' seems to stand a little apart from it, and some of the sounds on it feel like it could have been written years before or after.
There are some tracks that just endure and are still enjoyable when you listen back to them.'It would be cooler if you did' is a sprawling slow burn build up track that has guitar tones you might recognise in Thursday's 'Waiting' EP, while the layering and tones make build up atmosphere, something that's basically what my lot of emotional hardcore relies on. When the chorus kicks in, it still feels complex even though it's driving a simple melody and vocal part, and the feedback heightens it. It never tires in its 6 minutes running length, but they make playing with feedback at the end of their album to still raise a smile, even though it's now become a cliché. It would be criminal to not mention 'Thorn In My Side' now, as that track retains power even when performed as an acoustic piece, and remains a firm fan favourite. Its driving riff is instantly recognisable, and can be stripped to that essential part although there's beautiful guitar harmonics over the top. Quicksand make tracks like this look so easy.
This album retains it's power and never pulls its punches, while still managing to have interesting and calm moments. It goes above and beyond some of the hooks of 'Slip' and pushes at the boundaries of what they wanted to do with their sound. There's noisier breakdowns and unexpected but brilliant solos, in short beautiful chaos. It can still hook you in, and I feel like Quicksand were dealt a crap hand in this not getting more acknowledgment at the time. The fact people are still happy to make the effort to go and see them now is testament to its strength. They've retained a strong fan base who love this record with good reason.