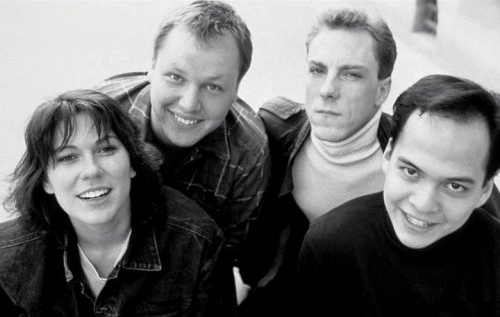 Formed in Boston, Massachusetts in 1986, featuring Black Francis on vocals/guitar, Kim Deal on bass/vocals, Joey Santiago on guitar and David Lomering on drums, alternative rock band the Pixies, helped influence and shape the guitar rock landscape for the next twenty five years. Alongside the likes of Sonic Youth and Dinosaur Jr., the band certainly laid the ground work for underground punk influenced indie and alternative bands. Their loud chorus and soft verse dynamic paved the way for a lot of big names including Nirvana, Biffy Clyro, PJ Harvey, Radiohead and Brand New.
The band achieved moderate commercial success in their home country, but were significantly more successful in the UK and mainland Europe. After releasing four studio albums and several EPs, tensions between members led the band to split in 1993 before reuniting in 2004. Eventually in 2013, Deal left the band, but this eventually led the remaining members to release their first new material in since 2004, under their new EP, 'EP1'. Rumours for a new full length next year are still in motion.
Having recently returned to the UK with their new line-up and EP, Already Heard's Aaron Lohan and Antony Lusmore thought it be a good time to highlight two of the bands best albums. First off Aaron tells us why 'Surfer Rosa' is a "timeless, rock 'n' roll classic" whilst Antony defends the bands 'Doolittle' LP and explains why it has everything you could ask for in an alt-rock record.
What do you consider the Pixies' best album and why? Let us know on our Facebook and Twitter pages.
Surfer Rosa (by Aaron Lohan)
Whilst my favourite and the magnum opus Pixies full length is held by 'Doolittle', the band's second full length, I will write about the band's first. 'Surfer Rosa' is without question the band's most influential; it is a record that stands toe to toe with its sucessor. It was the first record of the bands that I heard and certainly one of the most life-changing. I was turned to the Pixies through recommendation by my aunty who is a huge fan especially since I was a Nirvana fan (Pixies were a huge inspiration for the Seattle trio). Now that I've given you a brief insight on how it affected me, I will now explain to you as I type and listen to the record on vinyl (it sounds terrific on this format by the way), why this LP is worth a damn.
Let's begin with the production by the magnificent Steve Albini. The former Big Black and current Shellac frontman did a fine job of capturing the dynamics and atmosphere of the band. In fact, it was this record that led to working with Nirvana, Jawbreaker, The Jesus Lizard, and PJ Harvey. The drums hit the senses perfectly, whilst the guitars sound crisp and the bass is slick sounding.
Now to the songs themselves; what memorable pieces of alt rock they are. 'Bone Machine' kicks off with a slick bass and drums combo, before a tinkering guitar riff leads you away. 'Break My Body' is a sweetly hinged song of self-loathsome themes, whilst 'Cactus' just rides along a power chord led tension build up to keep you on your toes. The indecipherable screams on 'Something Against You' just illustrate the band's code of music first, lyrics second.
The highlights however belong to what is essentially the two of the five best songs written by the band. The first is written by former Pixies bass player Kim Deal, whose bass line wraps around the ankle of the listener before unleashing a noise pop filled chorus that is satisfyingly melodic and loud. 'Gigantic' perfectly underlines the ground breaking dynamic of soft verse, loud chorus the Pixies are known for.
The second is certainly the band's most famous; despite the fact it is overplayed, 'Where Is My Mind?' is one of the few songs written in music that never gets tiresome. It is hauntingly beautiful in tension and noise, the perfect pop song in alternative rock.
'Surfer Rosa' is a record that changed everything for the musical landscape. Here, the Pixies perfectly honed the dynamic of soft verse, loud chorus they blueprinted on their mini album 'Come on Pilgrim'. What I liked to call the "Pixies-dynamic" cemented and influenced a newly towering musical landscape. If wasn't for 'Surfer Rosa' then many bands wouldn't have existed; Brand New, Nirvana, Sunny Day Real Estate, Balance and Composure, Biffy Clyro…none of these bands would be around if it wasn't for this indisputable, timeless, rock 'n' roll classic.
Doolittle (by Antony Lusmore)
Name a Pixies song. Go on, name one. Now, a show of hands if you will. How many of you said 'Debaser'? How about 'Wave of Mutilation'? Now, how many of you went for 'Gigantic'? Despite the track's continued preference from long-standing Pixies fans, I'm inclined to assume the number is far lower; 'Surfer Rosa''s lead and only single just doesn't have the weight to stand up against 'Doolittle''s biggest tracks. I'll give some credit to 'Where Is My Mind?', which has stood the test of time solidly but beyond laying the groundwork for future success, there's very little the quartet's debut can do to stand up to its younger brother.
Let's start at the beginning, then. 'Debaser' kicks off 'Doolittle' as one of the best album openers of the eighties. The track is short and to the point, as is so much of the band's material, but immediately Black Francis & Co. are sounding sharper than ever before. It took half an hour for 'Surfer Rosa' to set up Pixies as a serious band to watch, but 'Doolittle' didn't even need three minutes to nail their status as one of alternative rock's most influential acts. From there, it's all systems go with 'Tame' and 'Wave of Mutilation' following with the former attracting praise from contemporaries such as PJ Harvey and Nirvana, while the latter would fuel a whole new generation of Pixies fans eighteen years later with its inclusion on the first Rock Band game.
When judging an album in hindsight, step one is always to look at what was influenced by it. And without tracks like 'I Bleed' you can bid the likes of Weezer a hearty farewell from history. Without 'Doolittle', there's certainly no 'Pinkerton', and even 'Smells Like Teen Spirit' owes its existence to the legacy that the second Pixies album would secure. 'Here Comes Your Man', meanwhile, still sits firmly as the band's highest charting song in the United States, and at the time would boast the same claim to fame in the UK as well. The added hand of Elektra Records on 'Doolittle''s distribution would prove instrumental too, with 'Here Comes Your Man' giving the band strong exposure from mainstream radio stations as well as MTV. 'Monkey Gone To Heaven' was similarly successful; the addition of a string section doing nothing to harm Pixies' sound, if anything bolstering them with a new edge, the guest musicians proving a staggeringly simple fit into the quartet's alt-rock atmos.
Whilst the album's biggest hits are found in the first half of 'Doolittle', there is certainly no momentum lost in the later stages. 'Crackity Jones' showcases the band at their most deliciously raucous, while 'La La Love You' and 'Hey' found themselves at the opposite, but by no means a lesser end of the Pixies spectrum. For alternative rock you can dance to, look no further than 'Mr Grieves' – the piece is one of the record's best and it's simply criminal that was never released as a single. Do you have another opinion?
'Doolittle', then, was and remains everything you could ask for in an alt-rock record. This is not to diminish the strength of 'Surfer Rosa' or any following Pixies record, but for me, 'Doolittle' will always be the ultimate Pixies record. There's just nothing topping it.