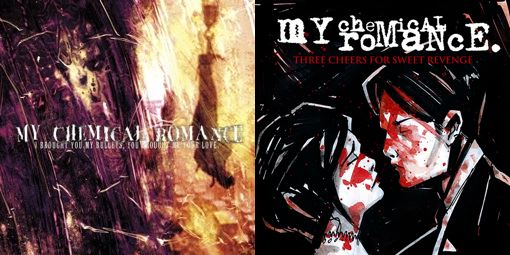 Talk about mutli-talented. Directing, writing comics and being a front man? Gerard Way certainly does a lot and being the music site that we are we're going to be looking at My Chemical Romance. Of course you've heard of them. If you've been around for the past 10 years then you probably would've heard about them, be it in a good or bad light. But it's all about the opinions isn't it, and that's where we come in!
As usual with every Wednesday we're using 'Versus' to settle a little bit of a debate. 'I Brought You My Bullets, You Brought Me Your Love' is defended by Richard Heaven whereas Tom 'The Machine' White is all over the concept based 'Three Cheers For Sweet Revenge'. Prepare for nostalgic noughties emo tinged glory.
 What is your favourite My Chemical Romance album? Let us know on Facebook or Twitter.
I Brought You My Bullets, You Brought Me Your Love (by Richard Heaven)
I could see this becoming one of the more controversial 'Versus' pieces; This week I'll be arguing for My Chemical Romance's debut album 'I Brought You My Bullets, You Brought Me Your Love'. Recorded over ten days and released into the world on July 23rd, 2002, Bullets was to be (arguably) destined to be My Chemical Romance's rawest and most intimate album.
Despite only being a band for just over six months (Frank Iero joined just days before recording commenced) 'Bullets…' boasts an incredibly developed sound for such a young band. Although their second album would see My Chem start down the more concept heavy road which would later define them, 'Bullets'… features lyrics of a more personal – and realistic – nature. Don't get me wrong, 'Bullets…' still has tracks influenced by vampires and the living dead (well, they do share a state with the Misfits) but self doubt and events like September 11th are also alluded to. It's this more grounded sounded that appeals to me as opposed to the slightly cartoony vibe they had during the Black Parade/Killjoy eras. 
Bullets also shows My Chem at their least commercial. Sure, the majority of this album is perfectly accessible for the average rock fan but unlike everything that followed there doesn't seem to be an emphasis on making two or three songs into radio hits (see: 'I'm Not Ok', 'Welcome To The Black Parade', 'NaNaNa'). Gerard's substance abuse and tooth troubles (alongside John Naclerios recording techniques) also gave the albums vocals are more authentic sense of desperation rarely seen on anything past 'Three Cheers…'. Also, who handled the production for 'Bullets…'? That's right, Geoff fucking Rickly. That's pretty cool. 
Whilst it would be naive to expect My Chem to return to the raw sound exhibited on Bullets after the success they found with 'Welcome To The Black Parade' and 'Danger Days' it has been great seeing tracks from the album re-emerging in the live environment. A game changing album? Probably not. A solid document of the bands beginnings? Definitely. 
Three Cheers For Sweet Revenge (by Tom 'The Machine' White)
I start off my argument by conceding that I love 'I Bought You My Bullets…'. It's the first My Chemical Romance album I heard and as a standalone piece of work is fantastic in its own right. However, it is inescapable that 'Three Cheers For Sweet Revenge' is a more influential and more important album in this band's discography.
This is the album that features the band's first and biggest "hits" with 'I'm Not OK,' 'Helena' and 'The Ghost of You'. These songs are not only the band's most powerful work to this day but also the most thematically realised. Sure, the grand concepts of 'The Black Parade' and 'Danger Days' are well constructed, with massive record company backing, but nothing comes close to 'Three Cheers…' as a concept record. The geeky comic book influenced gothic punk rock of this album is from the heart and personal. This was an album the band recorded without the help of major record labels, an album that had low sales expectations, and its success feels more organic and genuine because of it. It also helps that the band didn't need to delve into the dressing-up box in order to make this concept work.
The album tracks are of a much greater quality too. Anyone who would rather listen to 'DESTORYA' over 'It's Not A Fashion Statement, It's A Death Wish' is just plain lying. This is an album where there is not one weak track and it's so hard to pick a favourite. The songs are desperate and passionate, something which I feel has been lost to a certain extent in later releases.
This is also the album which propelled My Chemical Romance to mainstream attention without the gimmickry of 'The Black Parade.' It is an album of such strength, depth and clarity that it earned them top billing at Give it A Name at Earls Court in 2006. It is a genuine "emo" album in every sense and defining of innumerable teenage lives. I can also attest that they tore apart the main stage at the Reading and Leeds festivals in 2006, playing the slot after Slayer (!!) and putting them to shame. Overall, this is an album that truly defined the band and paved the way for the mammoth stadium-sized success that followed.
What is your favourite My Chemical Romance album? Let us know on Facebook or Twitter.
My Chemical Romance links: Website|Facebook
Want to be a guest writer for a future 'Versus' feature? If you're in a band, run a label or music website then we want to here from you. Send us an e-mail to [email protected].