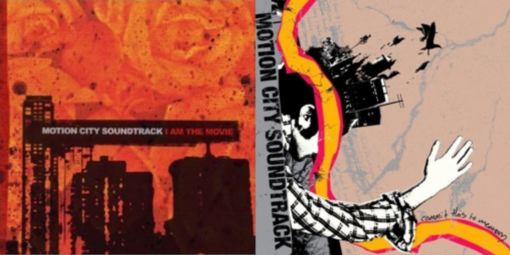 When Motion City Soundtrack played Slam Dunk earlier this year, they really did play it. They showed the North and South of this country just why they had that slot on the main stage and so many of us enjoyed it! Fantastic stuff. Did you enjoy it? I bet you did. Luckily they're back for a headline tour this month! Their new album 'Go' is out now and with that in mind it was time to settle in to our regular 'Versus' feature; which is the best Motion City Soundtrack album? 
Already Heard's head honcho and Editor Sean Reid believes that 'I Am The Movie' is clearly their best album, whereas Jonathan Ward from Maycomb is our guest writer and writing to tell you all that 'Commit This To Memory' is the one for him. So, which is best? There's only one way to find out… Read on!
Let us know what you think on Twitter and Facebook.
I Am The Movie (Sean Reid)
Although 'Commit This To Memory' has a welcomed sincere and honest approach, for me 'I Am The Movie' is the better record. MCS' debut is an all-round fun record with plenty of zest but has that lyrical quirkiness they're known for, as well as many other traits.Whilst MCShave grown into themselves these days, it's their debut that still stands out the most for me. It instantly draws you in and takes you a exuberant journey of smart lyrics, poppy melodies and tons of memorable hooks.
Throughout
'I Am The Movie'
Justin Pierre and company introduced a variety of ideas that we've come to known and love for by
MCS
.
'Cambridge'
welcomes the bands tendency to produce to bouncy Pop-Punk songs that just leave you smiling and feeling excited.  One attribute
'IATM'
has is that it flows really well and often with ease. From
'Cambridge'
to
'Perfect Teeth' 
all the way through to
'A-Ok'
MCS
are easily able to keep up the momentum with a combination of sensible but fun pop melodies and dynamic guitars. Yet simultaneously each song is able to make its mark and stand out from the next. It also has a subtle youthful sound that you expect from most debut releases, but unlike them
'IATM'
is cohesive and focused as its clear
MCS
used their experience as an independent band have a honed their songs with the end result being
'IATM.' 
Another attribute it has is that it delivers huge, memorable choruses in abundance. I'll admit 'The Future Freaks Me Out' is the obvious example but you can't disagree when I say that chorus is exactly what you want from a MCS song; bold, brash and catchy as fuck. The same can be said for 'Capital H' if that doesn't get you excited then this album isn't for you. 
Whilst some might say Jesse Johnson's Moog synth lines at times dominate, I think throughout they add a bright, upbeat side to Pierre's unique songwriting which is thought-provoking. For example 'My Favorite Accident' seems to be about an ex-love and sees Pierre reminiscing yet the bands style and Johnson's synth lines turn into a spunky, upbeat and triumphant track.
One thing I do admire about both 'I Am The Movie' and 'Commit This To Memory,' is that even though they're classed as Pop-Punk records, they don't follow the usual Pop Punk routine; both structurally and lyrically. Although they're are songs of heartbreak, it's not as instant or obvious as it is from other bands in the genre. This is a credit to Pierre's writing as he's able to put a mature, honest twist on his words. Musically 's guitars are textured and are not dominated by power chord after power chord yet they're able to carry the bands upbeat tempo and can also be dynamic during their more honest moments; see 'Autographs and Apologies'.
Overall 'IATM' set the standard high For MCS and although 'Commit This To Memory' plays off the potential it's predecessor provided, it doesn't have that instant appeal as 'IATM' has and lacks momentum. To avoid repeating myself, 'I Am The Movie' is a focused, well-paced début that sensibly mixes Pop Punk with an honest approach.
Commit This To Memory (Jonathan Ward)
There was an ill-informed time in my life where I thought that I didn't like Motion City Soundtrack. I was quick to dismiss them as a synth-driven fad, and to this day I hate myself for it. I picked up 'Commit This To Memory' on a whim on the day it was released in 2005. Considering I wasn't into them, and that I hadn't even heard the album, I can't explain exactly what it was that drew me to it – I'm just glad that it did.
One of the first things that grabbed me was how the guitars sounded. Up until this point, I was so used to massively overdriven guitars, and wouldn't even pick up my guitar unless the gain was maxed out. I couldn't believe how rich the guitar tones on this album were. They drive each song forward whilst remaining clear and understated, and each section has noticeably different settings and effects – it gives the whole record a dynamism I'd not heard before. It never feels muddy or overpowering, but it never feels weak. It's very subtle and executed perfectly.
Both the melodies and lyrics on the whole record are peerless. Every melody is a hook that any musician should be jealous of, and the lyrics throughout are angry and urgent without need for shouting or screaming.  Then, when you learn that front man Justin Pierre was in the thick of a drug problem during the time the record was written, it's hard not to hear the lyrics as painfully honest – 'Hold Me Down' can have me in tears if it catches me at the right moment. It's self-deprecating and troubled, but never comes across as whiny or cold. It's clever, but never pretentious. To write something so deeply personal, yet have it remain accessible is rare, and it's a very endearing quality to possess.
The artwork also really captured my attention. I'm a sucker for pretty album artwork and the use of photography, collage, colour, and metallic-silver print just looks great. There's a notebook-style theme throughout the booklet, and the whole thing feels introverted, personal, and coherent and it remains consistent with the mood of the lyrics and the music. The whole thing feels like a package, and the tactility of it gives me a feeling that makes me reluctant to leave physical music behind and embrace digital wholly. I wish I owned a vinyl copy.
Motion City Soundtrack manage to apply the same high quality aesthetic treatment to all of their releases (with the possible exception of 'My Dinosaur Life'), but it's 'Commit This To Memory' that I first experienced, and it really did make me see the importance of artwork. It concerns how you're presenting a particular body of what should be very personal work, and really makes me angry at lazy or cheap album covers.
'Commit This To Memory' is rich, dynamic, and beautifully executed. Every song is fantastic with no exceptions. It opened my mind to ideas about production, artwork, lyrics, structure, percussion and truthfully, it changed the way I thought about music. It made me feel that there was a kind of music that was compatible with who I was, and who I wanted to be, and that I didn't need to force myself into being something else. I shudder to think how I'd be without it.
What is your favourite Motion City Soundtrack album? Let us know on Facebook or Twitter.
Guest writer Jonathan Ward plays guitar in Birmingham pop punk band Maycomb.
Maycomb links: Facebook|Twitter|Tumblr|Bandcamp
Want to be a guest writer for a future 'Versus' feature? If you're in a band, run a label or music website then we want to here from you. Send us an e-mail to [email protected].