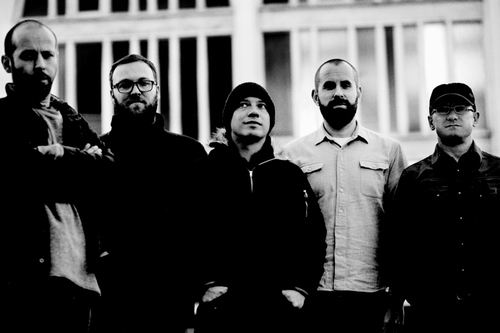 Forming in Glasgow, Scotland in 1995, Mogwai became one of a few bands to truly define the enigmatic and serene nature of post rock. In 1998, after the departure of Keyboardist/guitarist Brendan O'Hare, the line up has remained unchanged. Since then, this juggernaut comprises: vocalist/guitarist Stuart Braithwaite; bassist Dominic Aitchison; drummer Martin Bulloch; guitarist John Cummings; and multi-instrumentalist Barry Burns. 
Musically, the quintet takes inspiration from My Bloody Valentine, Slint, Fugazi, The Cure, Sonic Youth and the Pixies. With such influences, they have created a dynamic contrast of melody, distortion, grace, beauty and sombreness. Mainly instrumental, with minimalist vocals. Their craft and work has resulted in eight studio albums. They've worked with the likes of Matador, Chemikal Underground and PIAS Recordings. More recently however, the Scots distribute releases by U.S. label Sub Pop and their own Rock Action Records. For under twenty years, they have been an inspiration to many bands, across many genres.
In honour of the release of their latest LP, 'Rave Tapes', we at Already Heard have felt it only right to answer a simple question. What is Mogwai's best album? To answer this, two individuals have chosen a record each to defend and claim the top dog. On one side, our very own Heather Robertson has chosen to defend fifth album, 'Mr. Beast'. Meanwhile, Pete Bush, from Huddersfield post rock newbies Glass Harbours, backs debut LP, 'Young Team', as a worthy contender.
What do you consider to be Mogwai's best album and why? Let us know on our Facebook and Twitter pages.
Mr. Beast (by Heather Robertson)
Mogwai albums for me are divided into pre and post beast. While I adore 'Young Team', Rock Action' and 'Happy Songs for Happy People', I feel they're all building towards something, pushing the boat out without as much of a clear purpose in sight. 'Mr. Beast' really feels like some solid ground to build out from rather than experimentation for experimentations sake. It's a foundation upon which future Mogwai can branch out from.

Opening track 'Auto Rock' feels like a poised but lumbering wounded animal, the theme to accompany something that would be dreamed up in a Hayao Miyazaki film.The pentatonic scale used in the piano part and synths delicately plays off against a relentless drumbeat which seems to emerge out of nowhere. It's gloriously upbeat and light for a Mogwai opener. Everything restrained and pulsing in and out of focus. even when it builds up in volume, and the synths and cymbals really kick in, it never really loses any of the delicacy that it began with.
While you might think of that moment in 'Tracy' as being one of the most unexpected moments of weight and volume within the Mogwai's cannon, I would throw 'Glasgow Mega Snake' into that mix, the idea that the perfect response to the delicate beauty of 'Auto Rock' is to have something as abrasive and unsettling as that seems like a joke, but 'Mega Snake' is a behemoth track that was made to thrash out wildly in the live setting or on some good speakers, and it contrasts well. The way it shakes and shudders from loud to even louder as frenzied guitars and barrels along with momentum, and when the respite of the middle 8 gives way to that final chorus, its welcoming. It's always well received when i've seen them live, and it feels like a great reason for just going hell for leather and headbanging.
With some of the quieter tracks like 'Acid Food' and 'I Chose Horses', they play around with the vocals by using vocoding that contrasts these beautifully soundscapes that sound really natural and ethereal, or by asking Japanese hardcore band Envy's singer Tetsuya Fukagawa to recite poetry over the place where you might expect more melodic vocals. While post-rock sometimes lulls in the quieter tracks, each of the songs on 'Mr. Beast' feels like it has a distinct character and whether its the weirdly watery 'I Chose Horses' full of sliding guitar and soft spoken word, or the melancholy almost homophonic chant of the vocals in 'Travel is Dangerous' against the wailing guitars, it all sounds like Mogwai.
This album also released the radio friendly single 'Friend of The Night', with its pretty piano melody and light undistorted guitar tones. It's easy on the ear, but it still raises a smile, and even with a generous smattering of uses on television, it is instantly recognisable and loveable. it's also responsible for pushing Mogwai into the conscious of a much greater audience and arguably allowing a lot of the future opportunities for the band. This wasn't just an album that helped shaped them, it feels like it really allowed them a bigger prescence, which normally isn't a plus point for a lot of fans. It has however, opened up a band that a lot of friends would dismiss for no good reason and has allowed them to grow a much more varied fanbase.
With 'Mr. Beast', they hit upon a streak which has really shaped the way they're perceived today: as a band who can be heavy but melodic, and can make instrumental music thats as hooky and even singable as any pop song as well as having singers who can shift into and out of focus when needed. they've gone from strength to strength with albums and have always been able to have the music be the focus of what they do. 'Mr. Beast' for me is the best of what they do, and even as tracks and albums come in and out of fashion with what i want to listen to, it remains my favourite.
Young Team (by Pete Bush, Glass Harbours)
The best Mogwai album? Easy I thought; there's one I always go back to, 'Young Team'. The first Mogwai album I encountered and one that changed my love of music forever. Don't get me wrong Mogwai have written some cracking albums since their debut, but its 'Young Team'that I always find myself reverting to when I really need that Mogwai fix.
Why? Ok, 'Young Team' is not the most technical or detailed album Mogwai have produced, but of all the Mogwai albums this one feels personal. I don't even hold it as the best album due it having better songs (although I think Summer is one of their best tracks), or because of the dynamics and variety, as you get that across Mogwai's discography, for me it's all about the overall feeling and sentiment of the album.
I recall hearing way back that Mogwai had written just a handful of tracks when they hit the studio to record 'Young Team', which is why I think there's something special about this album. You can feel the very essence of being a band in these songs. In 'Young Team' you have instrumentation so stripped back and delicate in places, it feels it could almost break, and maybe it's just me, but as a musician (drummer, no laughing at the back!) that really connects on a fundamental level.
You have the delicate and so beautiful build up intro for 'Yes! I am a Long Way from Home' which demonstrates this sweet fragility as it builds and drops. But then there's the noise, from the delicate cross to the start of 'Like Herod' to the no holding back, pure power, full of raw emotion and genuinely creative noise. First time I heard this I was like "wow, that's exactly how I feel when I'm beating the hell out my kit!" Then within two tracks you're floating in clouds with 'Tracy'. This flip flop between fragility and destruction pops up throughout the album unapologetically and keeps you guessing what might be round the corner. By the end of the album, with 'Mogwai Fear Satan', the band appear to have matured and this track exudes confidence while encapsulating everything that has come before it; a fine ending to a fine album.
The whole album stirs a feeling any musician will encounter when that moment comes jamming in the practice room and the song clicks, you know you have something special. You don't care if your mates at Uni will like it or the labels, it's about you and your bros and it's magic. But far too often it's lost when the practice finishes with only the hope you find it again perhaps at your next gig. The production team of Paul Savage and Andy Miller did an amazing job of capturing this energy and creativity.
So while there's no doubt Mogwai have written more great albums and some blinding tracks, the reason I will always hold 'Young Team' as their best is, for me, it is Mogwai in their purest form and it makes me feel great!
'Rave Tapes' by Mogwai is available now through Rock Action Records.
Mogwai links: Website|Facebook|Twitter
'Glass Harbours' by Glass Harbours is out on the 14th February.