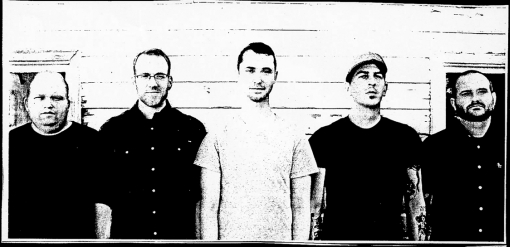 April 1st has always been a tricky one, and for a much loved band such as Modern Life Is War to announce their comeback could only be some sick joke twisted in the depths of hell and unleashed on the one day when no news could be taken seriously. Wait, they were serious? Well isn't that something! So yeah, Modern Life Is War are back. 
Within the underground hardcore scene the band were gaining much critical aclaim in their initial short run as a band, first releasing their self titled EP and their last album in 2007 'Midnight In America'. Let's not forget the upcoming new album later this year either!
However, there's two more albums that two of our writers think are Modern Life Is War's best albums. Do you back Ryan Clayton with 'My Love. My Way.' or 'Witness' which has Rosie Kerr defending its honour? As always, let us know on our Facebook and Twitter pages.
'My Love. My Way.' (by Ryan Clayton)
When I think about hardcore, very few bands seem to do much for me any more. One band that still manage to excite me in the way they did when i first heard them, is Modern Life Is War. Whilst each record tends to build on the previous attempts strengths, I  find myself going back to the bands debut 'My Love, My Way' when I need a fix of Modern Life Is War.
The slow build of opener 'Breaking The Cycle'  before the vocals kick in demands the listeners attention, it rages on until the final line "We're taking back what they stole"; the band's passion and energy bleeds through every single word.
Where this record shines brightest however is with the triple pronged assault of 'By The Sea', 'Yesterdays Trash' and 'A Tale Of Two Cities'. These three tracks perfectly sum up everything you need to know about Modern Life Is War. In fact, I would say these three songs are the very reason I'm writing this article. Although each song has its own merits, the way they follow on from each other is just perfect in terms of how it paces the record. The blistering anger that screams out for something better during 'By The Sea'. The fast paced 'Yesterdays Trash' which hurtles along at breakneck speed followed up by the intensely passionate 'A Tale Of Two Cities' which continues the theme of broken youth wanting something more.
The lyrics in this song still hit hard, especially now when many young people don't feel that there is much to look forward to "Get broken. Regenerate. Resurrect Is your city still sick? Are you still desperate? Get Broken. Regenerate. Resurrect. Prepare your heart for what lies ahead" It's a call to arms for us to do something about it. A call to get out of bed and make a world that we want to live in. I can honestly say that is what Modern Life Is War make me want to do. Modern life Is War carried forward a similar theme with each release, but for me it's at it's most honest, and passionate here on 'My Love My Way'.
Also featured on 'My Love My Way"' is my favourite hardcore song. EVER. It is the perfect curtain call to the record and still gives me shivers to this day. 'First And Ellen'  is a lesson to bands wanting to make this style of music. The lyrics hit close to home, the emotion and passion in every word combined with a melody that supports the themes of overcoming present in the lyrics. The final line of the record "We Overcome. We Push Ahead" works on two levels, it leaves the band something to build on with further releases. It also provides a positive ending to what at many times is an incredibly dark record thematically and lyrically.
'My Love My Way' will always be my favourite Modern Life Is War record. It has something to say; it shows the band in my opinion at their most passionate. Whilst later records are no doubt excellent, this is the one I look back on most fondly, and the one that ten years later still has something to say about the state of the world, and a young persons place in it.
'Witness' (by Rosie Kerr)
'Witness' is the second album by Iowa quintet, Modern Life Is War,released in 2005 via Deathwish Records. I am going balls out on this and saying I truly believe 'Witness' to be the melodic hardcore album of my generation. Mostly praised as being their finest record, it lives up to that expectation and I've forever struggled to find a record that comes close to the feeling this one gives me. Sinking Ships almost did it with 'Disconnecting' and in more recent years, Defeaterhave made a solid attempt with 'Travels', but there's an essence that no other band can capture the way Modern Life Is War can, and it's all laid out in this album.
One of my most talked about things relating to this record, is the story behind my favourite track 'Martin Atchet'. Based on a graphic novel by Peter Milligancalled Skin, it revolves around a young skinhead called Martin Atchet in 1970's London, who suffers from thalidomide-related birth defects and sets out to get his revenge on the men who prescribed the drug. The comic itself is a short affair and lends some of its dialogue to the lyrics for the track. It's not only the story behind this song that makes it my favourite track though, it's the melodic guitar work that appears halfway through the song that hits me right in the spine every time. Absolute chills. Instead of it just being a song about a graphic novel, they've taken it upon themselves to completely personify Martin and to really hit home his emotional turmoil throughout, which I actually think the comic finds itself lacking in.
Enough about the one track though. Every track on this record is out to prove to you that life just isn't fair, and there's really fuck all you can do about it. Have you ever just walked around your home town on your own, wondering what the hell is out there beyond just, this? That is what this record encompasses. That feeling of utter despair. "There's no one but me in the streets of my hometown. I've already said too much. I'm all lovesick for endless broken white lines. And I say to all the young wild ones… For you… Yeah on your way up… The world isn't against you, my dear, it just doesn't care." It's one of the most honest lines of any song I know, stockpiled in an album full of the same hopelessness 
'D.E.A.D.R.A.M.O.N.E.S' is the track that everyone knows from this record, and I find that a little hard to stomach. Not because the track is bad, but it's so much different to the overall tone of this record that I feel like it almost doesn't belong here and maybe would've actually lent itself better to 'My Love. My Way'. Despite this though, this track is a staple amongst hardcore. If you were to shout about one song during your teenage years it should have been this one. It's almost a reflection on times passed by, whereas the rest of the album remains pretty sharply in the dark present.
I could go on about each track, pick apart this entire album until there was nothing left, but it's not supposed to be that way. That's not what music is about when discovering it, and this is a record that you can discover whenever you listen to it, over and over. 'Witness' is essentially an album that tells the truth in the blackest and whitest sense. We are alone, we die alone, and whilst taking that journey you're going to come across some heartbreaking and some beautiful things, and 'Witness' warns you of all of that in the most angst ridden and poignant way. None of their other albums compare even slightly to this in my opinion. You're never going to feel so much like there's nothing left for you listening to any other record of theirs.
Now with Modern Life Is War back and recording a new album, I can only hope that it's something that'll remain as relevant as 'Witness' has for me and many others. I can't see them ever re-creating that kind of longing in their music again, but that's for them to prove us wrong.
What is your favourite album from Modern Life Is War? Let us know on Facebook or Twitter.
Modern Life Is War links: Website|Facebook

Want to be a guest writer for a future 'Versus' feature? If you're in a band, run a label or music website then we want to here from you. Send us an e-mail to [email protected].