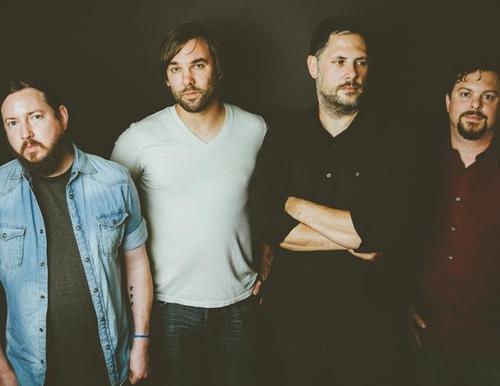 Two albums over the course of 4 years and a legacy that has endured – and indeed grown – in the intervening years is probably all you need to know about Mineral. Formed in Houston, Texas, in 1995 they released 'The Power of Failing' in 1997 and 'EndSerenading' in 1998, shortly after calling it quits. Defining the emo sound, the band left a huge impression on underground and DIY music in the States, despite their short life.
Now they've reformed, with Xtra Mile re-releasing their two seminal albums, as well as an anthology which includes both records and b-sides and singles, as well as scheduling their first ever trip to the UK.
To mark both albums being reissued, Already Heard's Rob Mair explains why Mineral's debut ('The Power of Failing') just edges its follow up. However, Mineral superfan Brad Barrett argues the case for 'EndSerenading'. The freelance music journalist has written for everyone from The Stool Pigeon and Artrocker to the BBC, and even went to New York earlier this year for the band's first reunion show.
'The Power of Failing' (by Rob Mair)
I wish there was some grand story about how Mineral saved my life – or indeed just one moment of perfect clarity that made me completely change my view of music, but in truth, my history with Mineral is far more straightforward than that.
It all starts with the discovery of vocalist Chris Simpson's other band, The Gloria Record, in my second year of university (almost certainly courtesy of Rich Perri and Tempest Records). Co-incidentally, at the same time we had also been planning on seeing another post-Mineral band, Deep Elm's Pop Unknown, in Southampton (if you want to date it, Pop Unknown were scheduled to play The Sorcerer, before the show was moved to another pub just down the road and then cancelled altogether after they missed the ferry – no-one was sure if this was a ferry from France or the Isle of Wight…), so I worked my way through the back catalogue and associated acts before finally hitting the jackpot itself.
During this period I consumed music vociferously, and Mineral were simply part of this consumption. But the best albums stay with you, and even though I've owned a couple of different copies of 'EndSerenading' and 'The Power of Failing' (whoever has the first almost also has my initial copies of Texas Is The Reason's 'Do You Know Who You Are', The Promise Ring's 'Nothing Feels Good' and Cap'n Jazz's 'Analphabetapolothology' – the jammy bastard) they're both albums I've gone back to constantly over the years.
In truth there's little to separate them in what is a near faultless back catalogue. ''EndSerenading'' may be the popular choice, but for me ''The Power of Failing' is every bit as exciting as its lauded follow-up.
More straight-up, in a traditional post-hardcore kind of way (I guess before post-hardcore was even really a thing) it sits snugly next to Texas Is The Reason's 'Do You Know Who You Are', as one of those genre-defining albums – and even today, when you consider it's the best part of 20 years old, it still feels remarkably fresh and exciting, and going back to it now ahead of doing this piece, it still feels like there's a surprise or two buried in there to be discovered. In fact, if you're coming to Mineral for the first time I'm envious of what lies in store for you…
Anyways, I think this is one of the reasons I'd go for 'The Power of Failing' over 'EndSerenading' – it makes you work for its affections a little more; it's a little more obtuse, a little more challenging. It's the sound of a band still trying to figure themselves out – and it's the sound of a band enjoying themselves. 'EndSerenading' is a phenomenal piece of work, but the stresses of it tore the band apart. Here, they're raw and passionate and a little rough around the edges – and they sound all the better for it.
It obviously helps that it has slightly more of my favourite Mineral songs on it. 'Five, Eight and Ten' is a definite blueprint for the jangly emo sound, with Simpson's voice showing both his power and incredible range perfectly, while 'Gloria' switches things up brilliantly, going from loud to quiet, fast to slow and back again in the first 60 seconds. For me, it's one of their most enduring songs and one I really cannot wait for them to play in February. '80-37' is another absolute classic. Perhaps a bit more up-tempo than what you'd normally associate with Mineral's, there's a moment at the end, with Simpson struggling to hit the note on the word 'answers' and his voice wavering, that is absolutely spine-tinglingly beautiful. Nowadays I'd expect to see most of that sort of stuff Pro-Tooled (or Garage Banded) out of existence. Finally, it has 'Parking Lot' – a dark, cathartic, defining highpoint of the album. One of Mineral's most popular songs, it's still hugely powerful and affecting, and lends itself to the moniker in which they played their first reunion show under.
Ultimately, both albums are classics, and if it wasn't for the reunion we wouldn't be here writing this. Mineral are a band that mean a lot to a lot of people and it would be easy to debate which album is better until the early hours. Surely that tells you all you need to know about a wonderful band with a wonderful back catalogue.
EndSerendading (by Brad Barrett)
Unlike a lot of my favourite bands, I'm really hazy as to when Mineral pulled into view. Was it when I discovered emo(core) – as it was weirdly dubbed on message boards and chat forums I frequented – and fell for bands as diverse as The Appleseed Cast, Leiah, As Friends Rust, Poison the Well, Saves the Day, boysetsfire and Thursday? Was it later when they were mentioned on a Million Dead forum, probably by Frank Turner himself? I'm not sure, but it feels like I've grown with them.
Through numerous hard drive disasters, I've lost and regained the records in digital form, meaning at certain times I've listened to one far more than the other. For a while, 'EndSerenading' didn't do as much for me as 'The Power of Failing' which was rawer, more vital sounding and energetic. Younger. And it had Parking Lot. But as time has gone on, this slower, more brooding record – 'EndSerenading' – has come to mean far more to me, lyrically, melodically, rhythmically.
Like any album that insists on driving into your skull and seeping into membranes and neural passages, it's difficult to simply pick one element to begin.
The fragility of the band is here on show, lyrically just incredibly honest, continuing the themes explored two years previously; of faith and love and disappointment and optimism. When Chris sings "I only hope that I might resemble you in even the smallest way/I only hope that you can be proud of me" on 'Gjs', his voice barely reaches the ascendant note he wants, and it is absolutely perfect. It's like the meek communicating as best they can with an omnipotent force, and it's something that occurs throughout. It's triumph silted with defeat. Once that concludes, 'Unfinished' strikes up with a bare bones two note motif that slips a little, joyously, and is then joined by a tangled counterpart that rings the most harmonious chiming bells in existence. It's perhaps this song that best illustrates the strengths Mineral show on this record – they take the simplest things, the sketchy hint of an idea, and build upon it expertly, taking us to unimagined places from the humblest beginnings. 'Unfinished' has a crescendo that 'The Power of Failing' would covet most highly, all bombast and furious squeals. The haunting echo of Chris' voice howling into the turbulence is all that's needed to sell the idea that they've lost none of their youthful intensity.
You could keep on going through the record track-for-track like this and be delighted with the outcome. 'ForIvadell' is a full pelt pop song that begins slightly off-kilter, cunningly, so that the sweetness that kicks in when the guitars change track isn't saccharine but like sunshine gleaming upon the horizon. The conclusion is an invigorating sprint, the likes of which never gets repeated. While the record hangs together as it should, the temptation to stick to a singular, steady thrum never rears its head, except to inattentive ears. Again, like all the best albums, it has chemistry – rather than a formula – which pops, fizzes, sparks, bubbles and burns when you least expect it. It helps you stay riveted to the extremely personal songs, as Chris' voice breaks and growls across the flourishing soundscapes they create with simple guitar, bass and drums. They're stained glass windows in a series, all getting more elaborate and iridescent as the stories are confessed.
What we hear on 'EndSerenading' is the final accomplishment of a very young band (three years old, each member in their early twenties) who had finished what they started before finishing the record. Rather than leave it incomplete though, they went back and finished it, releasing it shortly after posthumously. But the impressive thing is it doesn't sound like a band in collapse – they sound united – maybe damaged, a little forlorn, but bravely standing up and preaching passionately in a hostile world. For example, the searing barrage of 'Aletter' contrasts so well with the hymnal flow of 'Soundslikesunday', betraying a subconscious confidence that perhaps didn't seem to be there at the time.
For me, the record is highlighted by its almost-title track '&serenading'. Hearing this song live in New York City for the first (official) set of shows was itself a highlight of my life. Surrounded by incredible friends, knowing I'd spent a whole bunch of cash just for this moment after at least a decade of waiting, it was one of the greatest musical payoffs I can remember.
"When I was a boy I saw things that no one else could / so why am I so blind at 22 / to the hope that is all around me filling up this room?" sings Chris, stretching it unfathomably across a slow burning chorus that is already risen above where it seemed intended to go. It's a line that seems to both question his former faith and his ability to see the good ahead of him. It's a line that shouldn't be sung or uttered by someone so young. When the line returns, altered – "When I was a boy I could hear symphonies in seashells / so why am I so deaf at 22 / to the sound of the driving snow that drives me homewards to you" – it breaks into a call and response destined to be played live, but cruelly cut short as Mineral never toured the record in 1998. 17 years later, entire venues are yelling these words back to the band, just as it was meant to be.
Hope has filled the room again, and the band fucking deserve every smile, every sweaty embrace between friends, and should feel vindicated for completing a record that may never have made it out of the studio if not for incredible self-belief and, yes, faith.
'The Power of Failing'' and 'EndSerendaing' are reissued and are available now on Xtra Mile.
Mineral will be touring the UK in February 2015:
February 2015
6th The Joiners, Southampton
7th The Exchange, Bristol
9th Bodega Social Club, Nottingham
10th Brudenell Social Club, Leeds
11th Stereo, Glasgow
12th Ruby Lounge, Manchester
13th The Underworld, London
Mineral links:
Follow Robert Mair on Twitter @BobNightMair. Follow Brad Barrett on Twitter @artbaretta