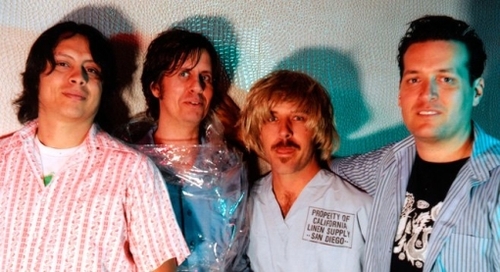 Now this one here's a bit special. Rather than two of our own writers pitting their wits and writing their rights to their favourite albums of certain bands, we've got two guest writers! Intrigued? You should be.

It's been a while since we've let some outsiders dive straight into 'Versus', but a mighty fine job they've done. Normally we'd give a brief bio of said band, but one of these lovely gentleman has nailed that on the head as well! 
So, without further hesitation, this week's "Versus" is all about Hot Snakes and our two guest writers are vocalist Dave Verellen of Narrows, delivering his colloquial accounts of the 90's and 'Automatic Midnight' whilst in the other corner is guitarist Ryan Patterson of Coliseum giving you the absolute factual lowdown on Hot Snakes and 'Suicide Invoice' right until this very day. Read on.
Let us know which is your favorite Hot Snakes album on our Facebook and Twitter pages.
'Automatic Midnight' (by Dave Verellen of Narrows)
The 90's are over and kids all over the oceanic rim of the United States are freaking out. Who can they turn to? Who will provide them with the angular rock and rhythmic thrust they desire?
It's not enough to listen to your favorites time and time again. For most of us we are looking out onto an endless ocean we perceive to be flat and barren and sailing to the edge. The famed and seemingly indestructible Drive Like Jehu dead and gone. Then like a motherfucking implanted alien life form the Goddamn motherfucking Hot Snakes rocket from it's quivering corpse. Teeth gnashed and fucking guts all over its face… or whatever.
2000, Y2K itself, the death of all computer programs as we knew them, which is really laughable now, brings about an album that all music fans from A to Z are excited about. Did you see that shit? That's Rick Froberg, and that's Speedo, I mean John Reis… that's that other guy and thats the dude from Delta 72; with braids. This album is gonna crush!!!! And crush it did 
I don't care who you are but when 'If Credit's What Matters I'll Take Credit' starts and then builds up and Rick opens with that first shrieking line, your head starts bobbing and your are yelling with him… I'll be fucked if he didn't basically just yell "Gracie we're making babies yeah, we're barefoot on the tiles" all over again.
So obviously a disappointment this record was not. These two dudes, Rick and John, record songs in a way that I absolutely adore. The dynamics with pitch, tempo, volume, intensity, vocals and above all else the bass lines ('10th Planet') make me love this album. These dudes match strums wether upstroke or downstroke so perfectly that you'd think they were standing behind one another in the studio reaching around and whispering into each's ear, "no no, like this"
This album saved the new century for me. It's always on rotation and with the recent reunion shows I was lucky enough to see them play again, and rule again, and even though 'Suicide Invoice' has Mario Rubacalba on it; this record fucking ruled. If you get a chance to buy their Peel Sessions record I'd do it, it's amazing and it's John Peel. Give us a kiss…
'Suicide Invoice' (by Ryan Patterson of Coliseum)
I was born in the the perfectly punk rock year of 1977, although far away from the electric guitars and leather jackets of the burgeoning NYC and London scenes, and I came of age in the 1990s. I discovered what was then known as "alternative" music in the late 80s via the majesty of MTV's 120 Minutes (taped on VHS because it aired at midnight on Sunday), found punk cassettes in the Columbia House music mail-order subscription service, then dug into hardcore via band t-shirt ads in the back of Thrasher Magazine. It was a beautiful time, but a strange one. Punk broke big in 1992 and the kids who'd looked askance at me only months earlier were now extolling the virtues of Nirvana and singing along to Jane's Addition's 'Been Caught Stealing'. While the audience for what was once "underground" music was now as vast as the ocean, it was also just as watered down. Money also seemed to flow freely from the vast major label spigot and bands that seemingly had no business on a major found themselves with bigger budgets and distribution that reached every nook and cranny of the globe.
One such band was San Diego's Drive Like Jehu. Formed by the dynamic duo of singer/guitarist Rick Froberg and guitarist/sometime-vocalist John Reis, the band started shortly after the dissolution of Froberg and Reis' previous outfit, Pitchfork. Jehu kept Pitchfork's DC-esque angular and melodic sensibilities but steered the unit into darker and denser noise-punk territory. With songs that seemed both tightly constructed and on the verge of chaos, the band created a seething fury of loud/quiet dynamics with unique instrumental interplay and Froberg's unmistakeable strained, pessimistic voice leading the charge.
Around the same time that Drive Like Jehu was beginning, John Reis assembled and fronted Rock From The Crypt, a hyper-stylized punk rock and roll ensemble, with Reis adopting the nom de plume "Speedo" as his RFTC identity.
Rocket From The Crypt and Drive Like Jehu simultaneously signed to major label Interscope Records in 1994. While RFTC's room-shaking sound never garnered the band a bonafide hit single they still made sense as a major label band in the 1990s. Jehu on the other hand could be one of the most unique and ill-fitting major label signings of all time. Their second and final album 'Yank Crime' was as great a noise as screeching, angular, noisy, post-punk/hardcore/etc. has ever made. It was challenging and weird, catchy yet impenetrable. It was inspiring and incredibly influential. Many, many bands found themselves putting "Jehu parts" into their songs (mine included) and just as many bands aspired to ape Jehu wholesale.
Of course the band promptly broke up. Reis continued on with RFTC who crafted an incredible catalog before calling it quits in 2005. Jehu's drummer Mark Trombino went on to great success as a major label rock producer and Froberg continued his work as an illustrator and artist. One of the great short-lived bands of the 90s was gone but their legacy was untarnished and bubbled in the underground.
By the turn of the century the early 90s and the brief explosion of real, sincere music toying with mainstream success (or at least mainstream financing) seemed like a million years ago. Some great bands got to make great records with a larger budget than they could have otherwise and a few of them reached enough folks that they would be able to continue to draw crowds and release records for many years to come. All in all, it wasn't too bad of an outcome. A band like Drive Like Jehu was important to a lot of us, but just as unknown to many that followed the indie/punk/hardcore music of the moment. 
I remember walking into my local record store, the fabled and incredible ear X-tacy records in Louisville, and seeing the Hot Snakes 'Automatic Midnight' CD on the rack. I can't remember if it had a sticker on it proclaiming "Rick and John from Jehu/Pitchfork" or if I already knew about the band from online hubbub (probably both). I grabbed it, bought it, popped it in the player and was once again pummeled by the sweet and sour sounds of Reis and Froberg, along with insanely awesome drummer Jason Kourkounis. There was no bass guitar; an ominously heavy organ took its place in the mix. The record was a flurry of down-stroked Wipers riffs and ripoffs mixed with Reis' signature sound and Froberg's frothy throat belting out the words. Wow. I was floored and my friends were floored and lots of people were really, really fucking excited about this record and this band.
But, not everyone was in the know. Hot Snakes didn't tour at first, the band was just a recording side project: Rocket From The Crypt was in full swing, Jason K. was in the Burning Brides, Froberg was working full time. This seemed like the return of the noise-punk Christ in the form of a sophisticated neanderthal down-stroked guitar assault. Was it not time to kneel and pray for more? Were the masses ready to be converted?
More we got. And better. Much better. Hot Snakes' second album, 'Suicide Invoice', was the punk rock shot heard round the world. (Okay, a certain world of music fans and bands and critics, but still) The band had enlisted old pal Gar Wood from Tanner on left handed bass guitar and they were here with a full band, a fully formed Hot Snakes album. It was hot shit. I loved it, everyone I knew loved it. (Once again, in the relative sense My grandpa probably didn't like it.) People I knew who didn't really buy too many records bought that one. "Hot Snakes" became a sound. The band single-handedly ushered in a renaissance/rediscovery of the Wipers, although by that time Hot Snakes had created their own patented churning punk rock vibe. They toured and the shows were packed. A zillion bands formed in their wake. 
'Suicide Invoice' was filled to the brim with Froberg's sarcastic, cynical perspective mixed with devious black humor. Every hook was perfect, every sound was unique to Hot Snakes, it churned and propelled forward with perfect pacing. Flourishes of organ bounced in and out, Reis chimed in with occasional backing vocals, Jason K. kept it all nailed down with unequaled precision. It was a perfect album. For me, and certainly many others, it is among the most listened to records I have ever owned. When it stops, you hit repeat again and again and again.
Hot Snakes followed up 'Suicide Invoice' with 'Audit In Progress', their final album. Jason K. had been replaced with Mario Rubalcaba, former pro-skater and cult hero drummer due to his work in Clikatat Ikatowi, among other cool bands. Upon its release 'Audit In Progress' seemed like a let down, although in hindsight I can't seem to understand why It's a more energetic and equally wonderful album in its own right. But how can any band follow up 'Suicide Invoice'? It's one of the great records of all time.
Hot Snakes toured a bit more and continued to be an all-around incredible band. They called it quits in 2005 at the heigh of their popularity and we were all very sad to hear the news, although a few live recordings were released to ease the pain. But, as bands sometimes do, Hot Snakes rose from the grave in 2010 and have been intermittently active since then. All of the members continue to make wonderful new music in Obits (Froberg) and Night Marchers (Reis, Wood, and Kourkounis), but the prospect of new Hot Snakes music is also very exciting.
What is your favourite album from Hot Snakes? Let us know on Facebook or Twitter.
Narrows links: Facebook|Twitter|Tumblr
Coliseum links: Official Website|Facebook|Bandcamp|Twitter
'Sister Faith' by Coliseum is released on 29th April through Holy Roar.
April
Sat 27 Ashford, Kent @ Platform 5
Sun 28Truro @ Live Bar
Mon 29 Brighton @ Green Door Store w/Narrows
Tue 30 Leeds @ Brudenell Social Club w/Narrows
May
Wed 1 Bristol @ The Exchange w/Narrows
Thu 2 London @ XOYO w/Narrows
Want to be a guest writer for a future 'Versus' feature? If you're in a band, run a label or music website then we want to here from you. Send us an e-mail to [email protected].