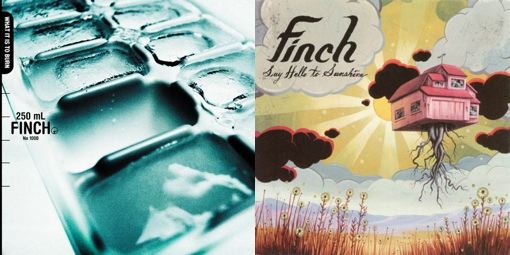 That day a few weeks back when the world found out Finch would reform for some shows was an absolute dream come true to some of the population of this world. A 10 year anniversary show celebrating the release of 'What It Is To Burn' with said album being played in full! Pinch me now, right?
Well, maybe not right. One of our writers Ollie Connors is pretty convinced that 'Say Hello To Sunshine' is Finch's best album. So, Sean Reid steps up to defend 'What It Is To Burn'. This one could get nasty…
Let us know what you think on Twitter and Facebook.
'What It Is To Burn' (by Sean Reid)
Let's get this straight, Finch's début album 'What It Is To Burn' is simply brilliant. It thrives on the bands youthful hunger and benefits from Mark Trombino production; although some may say it hinders the album by making it to polished in places.
Nevertheless it's packed full of great, great songs that have made 'WIITB' a "cult classic" ten years later. Tracks like 'New Beginnings' and 'Grey Matter' have a post-hardcore edge that supplements the more accessible songs like 'Letters To You' and 'Stay With Me' that take on a more chorus-driven approach yet the album throughout is carried by Finch's high-energy.
From start to finish 'WIITB' has stand out tracks, most that have huge, momentous choruses; 'Untitled,' 'Without You Here' and of course 'What It Is To Burn.' It's a style that opened doors and introduced fans to bands such as Thrice, Senses Fail, Saosin and Matchbook Romance.
On top of this, the bands knack of producing "catchy" edgy post-hardcore songs comes off a original, even if it's not entirely but 'WIITB' sounds refreshing and at times overwhelmingly exciting. And in the spectrum of Drive-Thru bands, back in 2002 they gave the label something different from the MTV-friendly Pop Punk bands. 
Perhaps like many I didn't quite embrace 'Say Hello To Sunshine' as much as I should of, yet I appreciate Finch's progression on that record, but it's their début that I'm still fond of ten years later. A superb collection of chorus-focused, post-hardcore songs that have somehow turned out to timeless and continue to gain new fans purely on its great balance of aggression and melody.
I can't wait for March and sing 'What It Is To Burn' in complete unison.
'Say Hello To Sunshine' (by Ollie Connors)
The so-called "difficult second album syndrome" is one of music's great clichés. Even upon reading that sentence, I'm sure a lot of you are formulating a list of bands that provided a diminishing return after a barnstorming debut. As is well-covered by my rival, in 2002 Finch blew the whole world away with 'What It Is To Burn', a landmark record in post-hardcore/"emo". What came afterwards though, was the Californians becoming a real force, and why I remain constantly disappointed they were unable to stay together long enough to build on the foundations laid down by 'Say Hello To Sunshine'. Sure, 'WIITB' had MASSIVE hits. Put on 'Letters To You', 'New Beginnings', 'Three Simple Words' or the eponymous track, and I will belt out every single word. However, that album, as treasured as it may be by my 15-year-old self is a little basic. It's even, dare I say it, a tad juvenile. 'Say Hello To Sunshine' is the album Finch found their feet, where they had the balls to experiment, where they discovered their true strength of songcraft, where they became real artists.
Let's not go into this under false pretenses – this album is utterly and completely indebted to Faith No More. Take 'Ink' for instance; the jagged riff, and Nate Barcalow's vocal going upwards in stages, from a menacing growl, to a melodic croon, to a harsh yell, is much like anything you'd find on 'Angel Dust'. The fact is though, this album should be treasured for its willingness to try and bring something unique to the table. Think about it – Funeral For A Friend came back with Hours, which was essentially a re-run of their first album, their popularity waned as a result and arguably they've never quite recovered. Finch stayed fresh and they're selling out Brixton Academy on their reunion tour. This album dared to be different; after Glassjaw had released 'Worship And Tribute', not to release another note of recorded music for 9 years after, this filled the void they had left in dark, dangerous and malevolent post-hardcore music.
Whereas you look back on the highlights of 'WIITB' with rose-tinted specs on, it's this set of songs that's stood the test of time. 'Brother Bleed Brother' scrapes the same stratosphere as 'Antenna'-era Cave In and 'A-Types'-era Hopesfall, progressing far beyond from the stock melodies of something like 'Stay With Me' off the first record. 'Bitemarks And Bloodstains', this album's sole single, is a career highlight – off-kilter, atmospheric riffs lie below a conceptual lyric based on anime Vampire Hunter, but before you start thinking this is some sub-Twilight twaddle, the swirling, waltzing section leading into a huge screamed/soaring vocal trade-off is simply magnificent. And for anyone whose favourite moment on 'WIITB' is the track featuring Daryl Palumbo (of the aforementioned Glassjaw), 'Project Mayhem', try 'The Casket Of Roderick Usher' for size – its Dillinger Escape Plan-esque mathy exclamation is on another plain to the heavier moments of 'WIITB'.
What I think I love most about this record is how divisive it is. Loving such a "Marmite" record in debate always makes for a fiery discussion, and I can't help but back this record to the hilt. Finch really discovered their true potential here, and we have but a sole self-titled EP and a couple of demos (plus another track for vampire movie Underworld soundtrack, 'Worms Of The Earth', one of the very best things they've ever done) recorded after this piece that reflect what could have been. I'm not here to deny the nostalgic glory of 'WIITB', that album was glued to my CD player in my formative years. However, where 'WIITB' stayed safe and cookie-cutter, 'Say Hello To Sunshine' dares to push the boat out with no regard to consequences – perhaps they knew the band would fall apart less than a year on from its release, and set out to make the bravest moves they could before swiftly imploding. This will always be the Finch album I revisit time and time again, the album that remains so much more relevant to my current music taste; where 'WIITB' is undeniably confined to its era, no-one would blink an eye if 'SHTS' was released in 2012 –  truly lightyears ahead of its time.
What is your favourite Finch album? Let us know on Facebook or Twitter.
Finch play their aforementioned final show on the 22nd March 2013 at the 02 Brixton Academy in London. Tickets can be purchased here.
Want to be a guest writer for a future 'Versus' feature? If you're in a band, run a label or music website then we want to here from you. Send us an e-mail to [email protected].