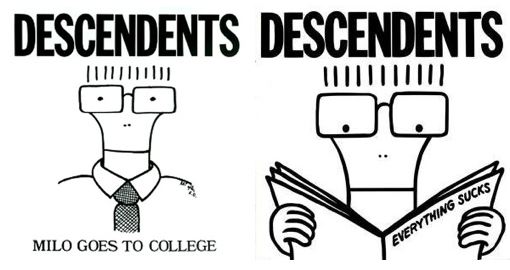 Arguably one of the most influential punk bands of all time. It's as simple as that really and that's not why we're here in this 'Versus' feature. What we are here for, my punk loving comrade, is to decide which is Descendants' best album. And all before their headlining set at Hevy Fest. Over 20 years have passed with the band releasing 6 studio albums, but which two will be pitted against each other?
Two of Already Heard's writers, Aaron Lohan and Thomas White go head to head to tell you which album they think is best and why.
Aaron has taken sides for Descedents first release 'Mile Goes To College,' whilst Thomas 'The Machine' White will be giving 96's 'Everything Sucks' the justice it deserves.
Heading to Hevy this weekend? Check out our '10 Must-See Bands'  and our other 'Versus' feature all about Glassjaw.
Read on and let us know what you think on Twitter and Facebook.
Milo Goes to College (Aaron Lohan)
One day my little 9 year old brother asked me to put some music on his MP3 player. It only took me a second to realise which album I would place first and it was none other than the first Descendents record, 'Milo Goes to College,'  an album which is the definition of a youthful energy waiting to explode.
Utilising the rawness of Black Flag and the melodies and pop hooks of The Beach Boys, 'Milo Goes to College' laid out the blueprints of what the Descendents were all about; to have fun and stay young forever and to look on the bright side of the challenges and obstacles that may halt you in your tracks.
Sure the Descendents improved their musicianship and songwriting in future releases, but their first full length features the classic songs that make you want to stage dive and grab the microphone, shouting the words to the best choruses in unison with the masses of sweat drenched bodies.
The opening bass line of 'Myage' is too hard to ignore and as soon as your attention has been caught it drags you down into the sharp frenzy of fantastic melodies and honest catchy lyrics. The two punch choruses of 'Suburban Home' and 'I'm Not a Loser' will satisfy the inner teenage angst of any individual. The themes of growing up, relationships and a humorous stab at societal expectations are straight to the point in the collection of punk rock anthems such as 'Hope' and 'Bikeage.'
The production of the record is not of a high quality but an honest quality making it feel timeless and relevant to today's generation of young people. This was a record made by kids for the kids. Yet even if you're old and living the 'serious adult routine', then stop for a second and relax, because this record has the power to reignite the rebellious teen you've shunned and placed in a ditch for all of your adult life.

If it wasn't for this record then a lot of today's big bands wouldn't have graced this wonderful musical landscape including the likes of Rise Against, Blink-182, and Taking Back Sunday. Not only did it spark the fire of melodic hardcore and pop punk but a lot of alternative music in general. In fact this is the beginner's album for punk rock.
All in all everything that I have explained to you just now, the production, the themes, the impact, the influence, the whole painting, give a justification as to why this is the band's best record. After you have read this, especially if you are going to Hevy Festival this year, all I urge you to do is to spend twenty minutes of your time to immerse yourself in this record, and hopefully you'll shouting "I want a Suburban home!" when and if you see them, because I will.
Everything Sucks (Thomas White)
Descendents have never made a bad album. From the seminal 'Milo Goes To College' to the more recent 'Cool To Be You,' they are a consistently brilliant band that have re-defined punk rock. Despite this, I must attest that 'Everything Sucks' is their best album. It reprised the low-fi, 80's punk sound of their earlier releases whilst also being a comeback album. It was a brave step and one that I certainly admire.
A band on hiatus for so many years may often create something very different or not in keeping with the quality of their original albums, but with 'Everything Sucks' The Descendents created a record that firmly stuck to their strengths. It is remarkable how complete the record sounds being that it is the first material they had recorded in several years. From the anthemic title track, to the short and fast 'Coffee Mug' and the more traditional punk-rock 'Sick-O-Me' there is not a hint of rust. These songs still inspire young bands today and remain the standard punk rock sing-along's.
In addition to this, there is an integrity to Descendents that few bands have. They come and go with little fanfare; playing a few shows and not embarking on grandiose reformation world tours like many bands do nowadays. Not only does the album sound brilliant, but the songs aren't milked to breaking point.
Everythig Sucks is partially a sentimental favourite. It is the first Descendents record I listened to and the record that made me fall in love with not only the band, but punk rock in general. It is a true punk classic and should be celebrated as such. I'll see you all down the front at Hevy next week!
What is your favourite Descendents album? Let us know on Facebook or Twitter.
Want to be a guest writer for a future 'Versus' feature? If you're in a band, run a label or music website then we want to here from you. Send us an e-mail to [email protected].