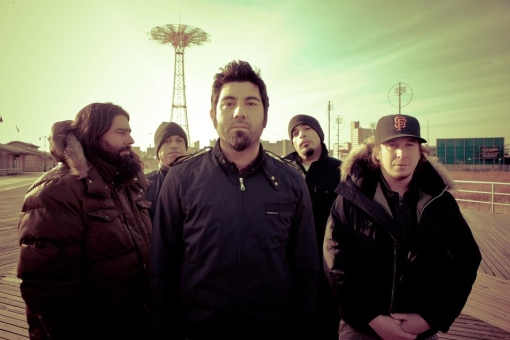 There's a very strong possibility that if you're into rock/metal you'll be into Deftones as well. An absolutely astounding set of musicians with albums more satisfying than, well, lots of things! I'm listening to 'Poltergeist' now and they're leaving me at a loss for words.
Formed in 1988 in the city of Sacramento, California, the band originally consisted of vocalist Chino Moreno, guitarist Stephen Carpenter, drummer Abe Cunningham and bassist Chi Cheng. Their name comprises of the hip hop slang word "def" meaning good and the suffix "-tones"; according to Carpenter, this vague name was used to intentionally reflect the band's tendency to not sticking to one style of music. Such a name applied perfectly due to the band's diversifying sound that has grown and continues to grow taking influence from the likes of hardcore punk, art rock, shoegaze, rap metal, and dream pop.
After much success with their first two records, the band permanently added DJ Frank Delgado to their line up.
During the recording of what was meant to be the follow up to 'Saturday Night Wrist' entitled 'Eros,' bassist Chi Cheng went into a coma after being seriously injured in a car accident on 4th November 2008. From this the band shelved Eros until Cheng recovered and continued on with help of former Quicksand bassist and friend Sergio Vega leading on to the release of albums six and seven, 'Diamond Eyes' and 'Koi No Yokan,' and constant touring. Since then they have continued to be a relevant and inspirational spectacle in the music scene.

Both writers for this weeks 'Versus' were at the Manchester show just gone so you can understand that we have two solid fans here; Aaron Lohan has 'White Pony' whilst Mikey Brown has 'Diamond Eyes'.
White Pony (by Aaron Lohan)
Whilst I can agree that 'Diamond Eyes' is a great record and a return to form after a couple of inconsistent and imbalanced releases, across the other side of a bridge and a decade apart, it doesn't measure to the incredible heights and hair raising power of the definitive Deftones record, 'White Pony'. Moulding influences of trip hop, new wave, shoegaze, and dream pop into their established alternative metal sound, what we have here is a masterpiece. It would be criminal of me if I gave a brief summary of this record, so I am going delve and dissect it track by track, piece by piece.
Opening track 'Feiticeira' wields the strong yet fragile tenor voice of Chino Moreno amongst a slick guitar, bass and drums surrounded by a swirling tension. The song looks into the feelings and experience of a captive individual trapped against their will; the edginess of this slits through the paper walls with the sinister hopeful words of "Soon I let you go".
From 'Digital Bath' an eerie overflow forms a bubble around Moreno's smooth wording which is coupled by a steady trip hop style drum beat. Heavy guitars burst this liquid layer into an explosive high noted chorus; the remains of the bubble can be heard trickling down via Frank Delgado's sampling, which is symbolic of the murderous image displayed in the lyrics.
The furious laugh at those who try to be what they already are is displayed brilliantly by the biting nature of 'Elite'. It's a track that constructively criticises on all sides with the raw yells of Chino himself and the 'digital monster' that fades in and out of the spiteful aura. Heavy percussion effects and a stuttering bass feature prominent in the chilling yet hollow nature of 'Rx Queen'. The theme of the song decribes a man's affections for a severely ill girl; from the tone of Chino's voice (who takes on the man's perspective) you begin to feel a sense of bewilderment, pity, and wonder towards such a character's affection for a troubled soul.
Rolling along a traumatic riff, 'Street Carp' emphasises the wild nature of a psychotic ex-girlfriend which really brings out a sense of nervousness in the vocals, which eventually erupts in full throttle when she knocks on the door and finds him. This contrast of a sharp, heavy jagged sound with Moreno's hovering light vocals is what feeds and fuels the power in the band's lyrics.
Things start to slow down during the aptly named 'Teenager'; the combination of sombre acoustic flow and scratching line brings about a hazy nostalgia of a date that went wrong for young Chino.
Floating over distorted chords that lead into a huge eerie and haunting photographic landscape of sex and violence, 'Knife Party' is majestically seductive as leaps along the anguished Spanish-Arabic style singing of Rodleen Getsic. The pain in her voice is like a weeping mother who has lost her child, whilst interplaying with calming but tense tone of Chino's voice; it is a frighteningly beautiful experience.
The heaviest track on the album, 'Korea' is shrouded in a heavy fog that is bleak and cold to the touch; the defining highlight being a "scratch solo" from Delgado's turntable. Whilst listening to this in harsh weather conditions, the impact of the track deepens profoundly.
Displaying every mood and signifying the sheer tenacity and majesty of Deftones, 'Passenger' is without question the strongest song of 'White Pony' and the band's best song in general. The vocal interplay between Chino Moreno and Maynard James Keenan of Tool is utterly breath taking to listen to as their voices both ride along the suspenseful atmosphere. The dynamic shift from the softly whispered verse and piano into the loud chorus and throttling heavy output is magnificent.
'Change (In the House of Flies)', the record's biggest hit, hits you in the ribs out of nowhere, and every follicle on the back of your neck reacts in sheer fright. The imagery used to describe someone changing for the worse is strikingly well written; particularly "I pulled off your wings, and then I laughed" shows a sense of pity and is borderline twisted.
Closing this masterpiece is the 7 minute epic entitled 'Pink Maggit', stemming from a moody whispered line into an explosive finale, the track cloaks itself in the eeriness as underneath the layer there is a triumphant message that urges one to take charge and have the power to achieve anything if they put their mind to it.
Track by track, piece by piece, I have given you 11 reasons why this record is incredible and why I think it's the definitive Deftones record. In wind, rain, snow or sunshine, this record is beautifully majestic whatever the weather.
'Diamond Eyes' (by Mikey Brown)
Some albums can stand the test of time. From the day they're released to 10 years later they still sound fresh, invigorating and relevant, still pulsing their way through your veins from that moment you first listened. 'Diamond Eyes' does this for me. Over and over and over again.
VIn a recent live review I stated that Deftones are kings and I will stand by that until the day I die, and on that day Deftones discography will still be fresh, invigorating and relevant. Hell, their releases after this date could well be better than everything so far. 'Diamond Eyes' was released 4 years after 'Saturday Night Wrist' and the band still had it all.
Title track 'Diamond Eyes' opens up the masterpiece with such a simple riff, but it straight away demonstrates the rhythm and groove that Stephen Carpenter (guitars) and Abe Cunningham (drums) have concreted together on every release. It's not just this track though. Again and again do we have this display of the two. 'Royal' launches an attack for flailing limbs everywhere and Abe even gets some double time in which is a first for the band. As if things couldn't get much heavier 'CMND/CTRL' is a mammoth attack on the ears.
Each chorus builds up an atmosphere; an array of sounds from Frank Delgado's keys joining forces with Chino Moreno's gliding vocals, soaring with his vocals into those long, lung bellowing notes. Chino has it all though and 'Diamond Eyes' showcases, in my opinion, some of his best vocal work; his softer, more delicate soul reaching charm and those growls, shouts and squeals for when he lets loose. 'You've Seen The Butcher' is the juxtaposition of Chino's softer vocals over the monstrous meeting of riff and kit with Stephen and Abe.
The delicate side of everyone is touched into for 'Sextape'. A name of such dirty deeds is instead given a beautifully sounding and gently paced song. And after the fast and frantic efforts of lead single 'Rocket Skates' it's placed rather well. 'Rocket Skates' will have you shouting "GUNS. RAZORS. KNIVES" whenever things get a bit out of hand. 
But why 'Diamond Eyes'? Why have I chosen this album over any others? I think it's got the right balance of everything whilst being more mature. It sounds so much better than plenty of heavy bands and I can't think of anyone who does anything similar that sounds this damn good.
There's more I could write on about and I really don't feel like I have or will ever manage to do 'Diamond Eyes' justice. The only thing that could ever portray this album is, well, the album itself. Nothing comes close. I'm sure this album will still hit me the same way it does now in another 7 years time.
What is your favourite album from Deftones? Let us know on Facebook or Twitter.
Deftones links: Website|Facebook|Twitter
Want to be a guest writer for a future 'Versus' feature? If you're in a band, run a label or music website then we want to here from you. Send us an e-mail to [email protected].