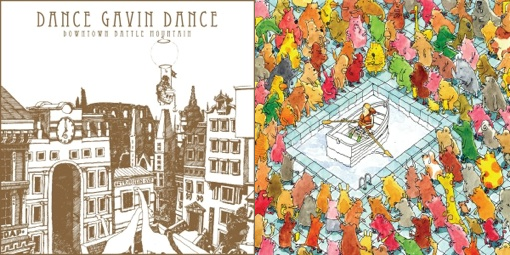 Crafted amongst debate and disagreement is another instalment of our 'Versus' feature that this time sees the post hardcore mob that is Dance Gavin Dance have their albums pitted against each. With Jonny Craig, without Jonny Craig. With Kurt Travis, without Kurt Travis.
Even when excluding those two, there's plenty of other line up changes that have left only two original members throughout each record the band have released and this rapid change of members does influence each album in such a way that you'd be forgiven for thinking a different bad had written each.
Oh, and the recent kicking of Jonny Craig (again!) really does lead us to think, well, which is the best album? Let's talk about Dance Gavin Dance in a positive light this time please!
Two of Already Heard's beautiful and fantastic writers go head to head to tell you which album they think is best and why. Jenny's sticking with fan favourite 'Downtown Battle Mountain' whereas Mikey's going for the not so obvious choice of 'Happiness.'
Still, read on and please let us know what you think on Twitter and Facebook. 
Downtown Battle Mountain (by Jenny Gagas)
It's safe to say Dance Gavin Dance has had a tumultuous life. The ever-fickle Jonny Craig's in-and-out appearances and multiple line-up changes has made it difficult for the band to keep their sound coherent, especially when they lose Craig, who has arguably the most unique voice on the scene.
Despite this, they've been able to retain some of the same quality and sound, the sound born from their first full-length, 'Downtown Battle Mountain.' Not only did they build their band around this combination of vocalists and musicians, but the elements found on 'Downtown Battle Mountain' have become their signature.
One of the main reasons this album is so great is the clash of the Titans that is singer Jonny Craig and screamer John Mess. The soulful crooning of Craig bash against Mess's harsh screams, their lyrics fighting for attention as they exist side-by-side, completely disconnected. This apparent lack of cohesion is what makes this album so brilliant. These elements, that may well be a disaster in other hands, come together to create a completely unique and fresh sound.
If the vocals aren't enough, the funky guitar riffs and hardcore drums come together to add another layer to this album. Again, it's about contrast, and this is all illustrated beautifully on 'I Told Them I Invented Times New Roman.' Craig's intricate – dare I say beautiful – voice backs into Mess's chaotic scream, while the guitars and drums hold their own party while not overwhelming the vocals.
Even though this particular lineup has only produced two albums together, they created Dance Gavin Dance's now-signature sound on 'Downtown Battle Mountain.' If you've never heard any Dance Gavin Dance before, this stand-out, iconic album is the one to choose.
Happiness (by Mikey Brown)
This effort is without Jonny Craig who is, yeah… he's good. I'm not going to deny that. It's only because he's good that Kurt Travis is looked over WAY too much. Kurt is as good as JC and is given plenty of breathing space on 'Happiness'. Clean vocals are a much more common occurrence on this album as guitarist Will Swan handles screaming duties and does a pretty good job, helping you to forget who Jon Mess is.
The post hardcore element of the band has definitely been taken down a notch, but do not fret! A more experimental side to the band is delivered and an element of funk seems to be influencing quite a few of the songs. Yeah, funk! It's pretty cool though and helps you see why this album is called 'Happiness' as those twiddly bits like the opening of 'Nasa' are shoved aside as the intensity of the band at heart comes into play, but this is only the start. Further into the album we've got 'gang vocals' of a party, full of cheering and, well, happiness!
The atmosphere of the album is so positive that it gives such a unique edge on other albums as well as to the band itself. It's thanks to this experimental nature that the delight ful rapping in 'Powder To The People' has been conceived and it's a nice change to clean and screamed vocals. It seems evident that the band don't take themselves too seriously (surely songs names are the only evidence needed for this? 'Strawberry Swisher?' Really?) and it's allowed them to open up and let in all this positive energy and attitude that helps define 'Happiness' as an album that's overlooked by many fans of the genre!
Open up and embrace it, dude.
What is your favourite Dance Gavin Dance album? Let us know on Facebook or Twitter.
Want to be a guest writer for a future 'Versus' feature? If you're in a band, run a label or music website then we want to here from you. Send us an e-mail to [email protected].