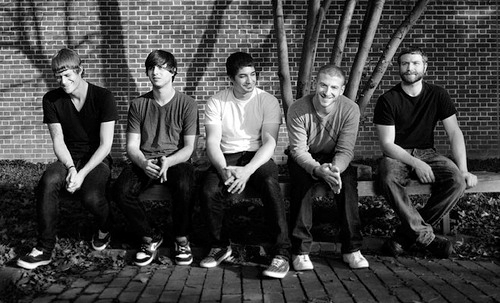 With news recently emerging of Long Island, New York hardcore punk band Crime In Stereo beginning work on a new album, we thought it'd be a good time to have the quintet featured on "Versus."
Formed in 2002, the band released a couple of EPs in their early years before unleashing their debut full-length ('Explosives and the Will to Use Them') in 2004. 'Explosives and the Will…' was a thriving, stripped down hardcore record with melodic moments throughout. 2006's 'The Troubled Stateside' saw the bands progressive melodic hardcore taken to the next level with structured songwriting and poignant observations.
Its follow up, '…Is Dead' saw the band expand their appeal with catchier tracks, complicated arrangements, and exploring new musical territory. The bands latest and final record before announcing a hiatus, 2010's 'I Was Trying to Describe You to Someone' built upon the foundations made in its predecessor, adding depth and variation to the bands hardcore punk sound. Later on in 2010, they announced a hiatus which lasted until October 2012 with the announcement that the band would be reforming with immediate plans to record new material. Last month the band announced plans to record a new album for a 2014 release.
Now we've given you that brief history lesson, two members of the Already Heard have picked their favourite Crime In Stereo album for this installment of "Versus." First of all, Rosie Kerr explains why the band are one of the most underrated bands in the scene and why '…Is Dead' an absolutely essential album. Whilst Ryan Clayton tells us why the bands last record, 'I Was Trying To Describe You To Someone,' is the bands most interesting and unique record.
What do you consider Crime In Stereo's best album and why?  Let us know on our Facebook and Twitter pages.
…Is Dead (by Rosie Kerr)
For those who do not know, I'm telling you now that Crime In Stereo may be one of the most underrated artists "our" music scene has seen. I know that's a bold statement, but I feel time after time that their efforts were unappreciated. Now, with the news of the band's "reunion," I can only hope that people begin to pay attention. And on that note, please first avert your ears to one of my all time favourite records '…Is Dead.'
I think '…Is Dead' could be a pretty popular choice for favourite record of theirs, and there's reason behind that. Not only is it an intelligent album, it's a highly emotional one too. It's the album that for me, first marked the band's progression (and if you've read other works by me on here, you know how much a fan I am of progression within music). From the opening of 'XXXX (The First 1000 Years Of Solitude)' with the best opening drums to a record, you're then immersed into a downright beautiful, tumultuous affair. 'Third Atlantic's opening snare demands your immediate attention not only for the music, but for the incredible production. I mean, seriously, who can make a snare sound that good? (Mike Sapone for those who are interested. He also worked with Brand New, Taking Back Sunday…)
My favourite lyrics on this record come from Animal Pharm' and this is mainly because they're almost completely contrasting to the rest of the song; "I want you, I want you to see, that I'll be there when you're trembling; and I hold you up when you're collapsing in to sadness, I can stand it."
This album rates as one of my all time favourites, and a song within this record also rates as one of my all time favourites too. That song is 'Orbiter.' I really wouldn't know how to even begin to explain the effect this song has on me in writing, so I'd rather you just listen, and become consumed like I did. When I saw this song live (twice), I definitely cried (twice). It's one of those songs that you can never forget. It's almost haunting. This is all beautifully placed on the album though as it runs into 'Choker' which is maybe one of the more straight up punk songs on this record, and what a closer it is. 'Choker' proves to a listener that they haven't forgotten their roots, and it has the potential for audience involvement in an ending to a live set, which I love.
Overall, '…Is Dead' is an absolutely essential album. Not just for Crime In Stereo, but for all punk fans old and new. With their return to music, this is probably the best time to get involved.
I Was Trying To Describe You To Someone (by Ryan Clayton)
In all honesty, Crime In Stereo had never really appealed to me before 'I Was Trying To Describe You To Someone.' The bands previous effort '..Is Dead' set a precedent but still didn't completely sell the band to me. Now if this was due to the fact I had written them off as another punk band that were influenced by hardcore, I'm not quite sure. This all changed with the release of what I now consider one of the most interesting and unique sounding records of the generation. Taking queues from post hardcore, punk, alternative rock, Crime In Stereo crafted a sonic masterpiece.
'I Was Trying To Describe You To Someone' opens with 'Queue Moderns' drenched in feedback, before giving way to a rhythmic verse that gets stuck in your head, at almost 2 minutes long the song is probably the most straightforward for the band, however it eases you in gently before the band begin to really experiment with their sound. In my opinion this is where the record really sets itself apart from the rest of the bands material and is sets a strong precedent for what came next with the band's Daytrader project.
The first track released to the public from 'I Was Trying To Describe You To Someone' was 'Drug Wolf,' a driving rhythmic song that laments living in the city, dying to escape the grind of it all. It worked perfectly, it introduced the band's new found willingness to try new things and the simple repeated line; "Better off alone together" cries out for you to scream along. Vocally and instrumentally 'IWTDYTS' was miles ahead of other bands at the time, for sure it may have been influenced by another Long Island band who like to reinvent themselves with each release, but what Crime In Stereo did was completely unexpected and ambitious. It had such an impact on me, in a way that the rest of the bands discography never quite managed.
Tracks like 'Not Dead' and 'Republica' are straight forward songs clearly influenced strongly by all those late 90's and early 2000's post hardcore bands; its done excellently. For me this record really, really stands out with its closing three tracks. They each flow into one another perfectly, from 'I am Everything I am Not''s reverb drenched repetitive rhythms through the slightly more subdued 'Dark Island City,' and finally closing out the album is what I would argue is the Crime In Stereo's best track; 'I Cannot Answer You Tonight;' a driving rhythm, reverb laden guitar, desperate vocals all whilst keeping to the bands hardcore punk roots.
While some regard 'IWTDYTS' as patchy and paced badly, I would always argue in its favour. The willingness to experiment with their sound to such a degree showed that Crime In Stereo have the balls to really break new ground. When released the album divided fans and critics but to me it simply was the departure from the bands earlier sound that dragged me in. Whilst each previous record is great in it's own regard, 'I Was Trying To Describe You To Someone' set itself apart from the crowd, it challenged the perception of what punk bands could do and this is why it is without a doubt my favourite album by the band.
What do you consider Crime In Stereo's best album and why?  Let us know on our Facebook and Twitter pages.