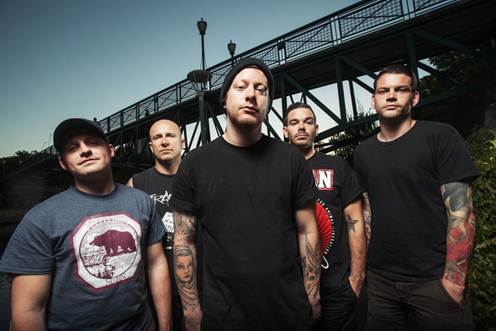 At the turn of the century, in Winnipeg, Manitoba, Canada, Figure Four members, Andrew Neufeld and Jeremy Hiebert formed melodic hardcore group Comeback Kid. With their name based on a headline about hockey player Mario Lamieux coming back to the NHL, the band initially formed with Scott Wade on vocals, Neufeld on rhythm guitar, Hiebert on lead guitar, Kyle Profeta on drums, and Cliff Heide on bass (he would be replaced by Kevin Call in 2003, who would be replaced by Matt Keil in 2008). 
Despite initially being a side project, word of mouth and underground success with debut album 'Turn It Around', released on Facedown Records, led to the outfit being on a full time serious basis. Signing with Victory Records led to their anthemic hardcore punk to be heard further, and also the release of their influential breakthrough LP, 'Wake the Dead' in 2005. 
Despite their continuing rise, the line up would be shook up as vocalist Scott Wade left, being replaced by guitarist Andrew Neufeld, whose position would be taken by Casey Hjelmberg (2007-2012), and since 2012, Stu Ross of Misery Signals/Living with Lions fame. Such a shake up didn't stop the band from releasing critically acclaimed efforts in the form of 'Broadcasting…' in 2007 and 'Symptoms + Cures' in 2010.
Last year saw the quintet embark on a 10th Anniversary tour of 'Turn It Around' in Europe and North America. This tour exclusively featured former vocalist Wade back in position, with Neufeld reverting back to rhythm guitar. To the delight of fans, the band played material from their first two full lengths.
In celebration of their brilliant AH 5/5 rated fifth LP, 'Die Knowing', the team have decided to place Comeback Kid under the "Versus" microscope. In one corner, recently returned AH veteran Mikey Brown speaks from a third person narrative as to why their latest album is the band's best. Meanwhile, at the opposite end, Chris Mackie from Norwich hardcore boys Free Will, has elected himself to explain why second album, 'Wake the Dead' is the bands best work.
What do you consider to be Comeback Kid's best album and why? Let us know on our Facebook and Twitter pages.
Die Knowing (by Mikey Brown)
In a shock revelation to fans everywhere, "music journalist" Mikey Brown (is that even his real name?) states that 'Die Knowing' is Comeback Kid's greatest album to date, ignoring all of their previous releases and acknowledging that their newest album is their best work, despite only being a few weeks old.
It came as a shock to the 23 year amateur "journalist" when listening to the melodic hardcore band's new album; "When that palm muted intro began I knew that I was onto something much heavier. It was just what I wanted from Comeback Kid and luckily the rest of 'Die Knowing' followed suit". After one listen he knew that it was the band's best work. Controversial it may be, especially when considering the old phrase 'their older stuff was better' was sure to be heard amongst the infamous 'internet'.
However, Mikey is sticking to his word. He went on record to say that "despite 'Symptoms + Cures' being a brilliant album, there's something about 'Die Knowing' that feels more like a Comeback Kid album. It is heavier, but specifically it's more hardcore. It's an album that showcases the band back at their roots with plenty of breakdowns, octave lead choruses and gang vocals. Oh, and not to mention the riffs, riffs and more riffs".
When looking at songs like 'Should Know Better',it's clear to see that he has a point. The song could easily be regarded as some of the band's older work as it's a showcase of what Comeback Kid are best known for and could be used as a prime example in showing a potential fan exactly what they are to expect from the band.
"So whilst being a new album, it's more like their older stuff… get it?" And he has a point. Whilst many will come to the early conclusion that the Scott Wade-era of Comeback Kid is the promised era, it's hard not to agree that 'Die Knowing' only further cements the band as still being strong contenders within the hardcore scene and worthy icons. And let's not forget to mention that Wade himself features on the song 'Full Swing', showing that the band are fully acknowledging their roots.
It may have been 4 years in the waiting, but Comeback Kid are still as strong as ever, if not stronger. Whilst they may be older than a lot of bands within their scene, they've got experience. Knocking out an album such as 'Die Knowing' is evidence enough that the band are still relevant. And if that wasn't enough, the final track 'Sink In' will surely knock you back. Comeback Kid are still here and will be for a good while.
Wake the Dead (by Chris Mackie, Free Will)
Comeback Kid's 2005 record 'Wake The Dead' has shaped me into the person I am today. From the day I first heard the iconic title track, I was hooked on hardcore punk. Hardcore is a big part of my life, and for me, Comeback Kid and 'Wake The Dead' was where it all started.
In my opinion, 'Wake The Dead' is a near perfect hardcore record. Bill Stevenson's (Descendents, Black Flag) excellent production work helped shape the band's sound, evolving from their debut, 'Turn It Around', into what many consider to be a modern classic of the genre. To this day i'm still impressed by how well their more melodic  'Champion-esque' sound is combined with a heavy guitar tone, and riffs which would put a smile on the face of any fan of alternative music. There is a fine line when it comes to melodic hardcore, and striking that perfect balance is something Comeback Kid have locked down. 
'Wake The Dead' was the final release with founding member, Scott Wade on vocals. Wade's vocal style and lyrics are one of the main things that draws me to this record over any of their other releases. The subjects raised by Wade on this record, non-conformity, rebellion and self belief, are something I find entirely relatable and is what draws me to it. The idea of being relatable to your audience is something I find lacking in many more recent hardcore bands and records. 'Wake The Dead' is positive hardcore you can mosh to.
I don't dislike Comeback Kid's more recent releases as such. I just find I haven't connected with them the same way I did and still do with 'Wake The Dead'. All things considered, I think 'Wake The Dead' is not only the best Comeback Kid record to date but one of the best modern hardcore records. I find myself listening to it nearly everyday and I can honestly say I never get bored. If Comeback Kid is a band you've slept on, make sure you listen to their stuff, both old and new.
'Die Knowing' by Comeback Kid is out now on Victory Records.