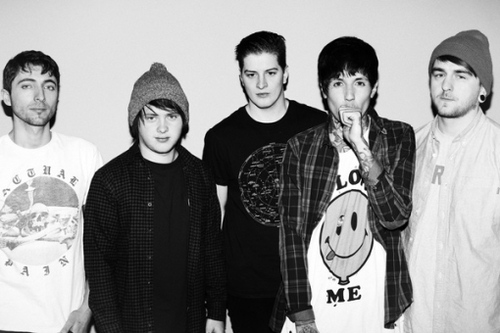 It's a cliché start to any written piece featuring Bring Me The Horizon, but they do seem to be either loved or hated. There's no denying the facts though; they are massive. Latest release 'Sempiternal' is their fourth full length and has seen them join a major label whilst over in Belgium they've played a very reputable spot on major punk festival Groezrock before returning to the UK for a short but successful run of shows.
There will always be a select number who will dislike what they do, but there's a part of me that thinks it's those critics that keep BMTH pushing further than they ever have previously. At Already Heard we even had a discussion if the band were big enough or had been around long enough for them to be included in 'Versus' and we quickly decided that they do.
It's without further ado then that I present to you our two contenders, Jenny Gagas and Callum McPhee. Our American sweetheart Jenny is fighting for what it is about 'There Is A Hell…' that really hits home for her, whilst Callum will be defending the band's newest release 'Sempiternal' in his first "Versus" piece. Who wins? You decide. Let us know on our Facebook and Twitter pages.
'There is a Hell, Believe Me I've Seen It. There is a Heaven, Let's Keep it a Secret' (by Jenny Gagas)
I used to be scared of music that had screaming. I shouldn't say scared… more like horrified. It was all noise, all bark and no bite. But somehow, I think through friends playing hardcore in the background of university study sessions; I began to get a taste for it and soon I couldn't get enough. Eventually I couldn't listen to a song without screaming and worked my way up to Bring Me The Horizon. Someone gave me their copy of 'There is a Hell, Believe Me I've Seen It. There is a Heaven, Let's Keep it a Secret' and that album is what, surprisingly, got me through all those long nights of reading Shakespeare and Chaucer.
But why 'There is a Hell…' ? I admit, I did have to backtrack and have a listen to 'Suicide Season,' an album that couldn't have a better title. Unbridled metalcore at it's best, 'Suicide Season' had all the intensity I could ever want. 'Diamonds Aren't Forever' has that chant-like quality that is irresistible, a mantra screamed out as violently as possible with no restraint and as loudly as possible.
And that's where 'There is a Hell' rises above. Bring Me The Horizon is one of those bands that is never content and is always pushing for a new sound or technique to revamp their identity. Lucky for us, because on their follow up to 'Suicide Season,' they show an undeniable growth and evolution. They mastered restraint and gave us complexity and nuance.
Take the choice to include LIGHTS, a brilliant Canadian electropop queen with the most feminine voice, to an extremely harsh album. This juxtaposition set them apart from the run-of-the-mill and adds an ethereal, disembodied element to many songs on the album, my favorite being 'Crucify Me,' a track that utterly pours over you with waves of emotion in the form of nonstop guitars, drums, and vicious screams but is balanced with a delicate vulnerability.
Yes, delicate vulnerability within a musical world where murder, suicide, blood, guts and the word "fuck" are tossed about with abandon. Take 'Don't Go' as the ultimate example. Following up a super heavy song literally called 'Fuck,' 'Don't Go' let's us see a different side of Bring Me The Horizon: "Tell me that you need me 'cause I love you so much. Say you'll never leave me 'cause I need you so much." Delicate vulnerability.
And this is why this album is the band's best work. Their latest release, 'Sempiternal' retains all of the qualities I love about 'There is a Hell,' and Oliver Sykes adds his surprisingly nice clean vocals, a huge step in the band's continual evolution. But that balance of brutality and vulnerability, heavy verses light element that I have come to love isn't quite there. But that's the beauty of a band unafraid of changing; you never know what they'll come up with next.
'Sempiternal' (by Callum McPhee)
When a band's every new album blows away all expectations every time, it's really hard to know what to expect, and Bring Me The Horizon's move to a major label hasn't hindered their progression or sound in any way at all.
From the teaser of ʻShadow Moses' on their website I knew this was going to be something special, and it was the first time in quite some time that the anticipation of an album got me truly excited. Then, ʻShadow Moses' was released, and everything I had been hoping for without even knowing what to expect had been fulfilled and then some.
Oli Sykes has become the type of band member who is an entity of his own, forgetting he actually is a vocalist at times due to him becoming a poster boy, a somewhat iconic figure, to the point where you're listening to the album and you hear singing and wonder ʻwho've they got singing?!'. I then realised Oli was actually singing, and that's when I realised this album had took on a whole new level of the sort of progression we've all grown accustomed to with BMTH.
ʻCan You Feel My Heart' opens the album, not hesitating to ease in the addition of new member Jordan Fish on keyboard/synthesizer. With Oli having shouted and screamed for the past 3 albums the singing is not expected, but having been worked on extensively with Jordan it seems to have worked out well and fits the music perfectly.
The third release from the album ʻSleepwalking' takes the sound in another direction, with the shouting/screaming being expressed melodically, and the singing and keyboard addition gives it a Linkin Park edge. Echoed in ʻGo To Hell For Heaven's Sake' and ʻSeen It All Before', the maturer, more melodic touch to the sound makes the album more accessible, but still includes the riffs and guitar work that defines the heavy sound they're known for.
With the album being leaked, the release date was brought forward to April 1st, and the album was streamed online officially by the band. I'm not ashamed to admit I listened to it repeatedly and found something more to love about every song with every new listen.
From the beginning to the end there is something for all music fans, including the anthem ʻAntivist', a song referring to the type of people who sit behind a computer and voice their opinion – "If you really believe in the words that you preach, get off your screens and on to the streets". Oli really has upped his game with his lyrics, and the meteoric rise of Bring Me The Horizon doesn't look like it'll stop any time soon.
What is your favourite album from Bring Me The Horizon? Let us know on Facebook or Twitter.
Bring Me The Horizon links: Website|Facebook|Twitter
Want to be a guest writer for a future 'Versus' feature? If you're in a band, run a label or music website then we want to here from you. Send us an e-mail to [email protected].