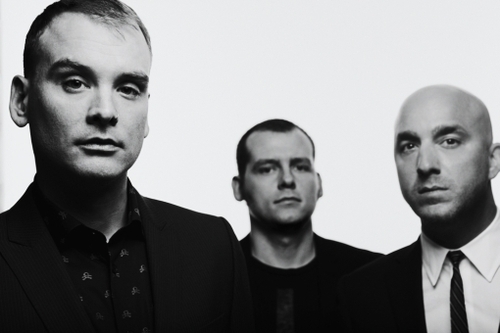 With their return to the UK imminent, the latest edition of "Versus" sees us putting the focus on Alkaline Trio.
Since forming in 1996, the Chicago band have released 9 albums under their belt. Add to that several EP's, and forming a handful of side-projects, and you're left with a dense discography with plenty to pick from.
With the band's roots firmly in the punk/hardcore Chicago scene, the partnership of guitarist/vocalist Matt Skiba and bassist/vocalist Dan Andriano has been the core ingredient to the band's punk rock sound.
Alkaline Trio are one of the most influential punk rock bands in recent years, and for this installment of "Versus", two members of the Already Heard team have picked out a classic Trio album each with the belief that there chosen album is the band's best. To begin with self-confessed Trio MEGA fan Jay Sullivan tells us why 'From Here to Infirmary' is the band's finest work. Whilst Alex Phelan explains how 'Maybe I'll Catch Fire' is a superb example of musical catharsis.
What do you consider to be Alkaline Trio's best album and why? Let us know on our Facebook and Twitter pages.
From Here to Infirmary (by Jay Sullivan)
Alkaline Trio are my favourite band, I'm a full-on logo tattooed, card carrying Blood Pact member so I could have argued for any Alkaline Trio album as their best (except maybe the unspeakable 'This Addiction'). However, for me 'From Here to Infirmary' stands out as their finest, displaying the right balance between the band's more punk-orientated older tracks and their poppier latter material.
'From Here to Infirmary' is full of wall-to-wall brilliant songs, with the only weak songs strangely being the ones they released as singles. Despite its catchiness 'Stupid Kid' is Skiba's song writing at its weakest and 'Private Eye' failed to stand up to the test of time. Thankfully there are plenty of bangers to redeem this, 'Bloodied Up', 'Steamer Trunk'and 'Trucks and Trains' all display the morbid-humour and dark imagery that have earned Alkaline Trio their fan base. My all time-favourite 'Armageddon' features here too, with arguably one of the best opening riffs the band has ever written.
There are plenty of fan favourites on 'From Here to Infirmary' as well, such as the ever-popular 'Mr Chainsaw', and the gut-wrenchingly depressing 'Crawl', which despite being 13 years old, regularly find themselves amongst the band's set list picks. The Dan Andriano tracks here display the first signs of his superior song writing talent, with 'Take Lots with Alcohol' giving us hints of the amazing tracks that will later appear on 2003's 'Good Mourning'.
Slightly more polished than the earlier 'Goddammit' and 'Maybe I'll Catch Fire' releases, and without the full blown goth-punk showmanship of 'Crimson' (no black shirts and red ties here!), 'From Here to Infirmary' has all the best bits of the band moulded into one. If you're among the uninitiated, it's also a great starter album for those looking to delve into the band's back catalogue.
Maybe I'll Catch Fire (by Alex Phelan)
I remember reading some years back (I've scoured the internet for the quote but to no avail) that Matt Skiba was deeply unhappy with &'Maybe I'll Catch Fire'. He said something about a bad atmosphere during recording, that people weren't getting on well (drummer Glenn Porter quit shortly afterwards) and that they basically just wanted to get it over with.
Whatever the circumstances surrounding the album, the darkness and gloom that permeate these songs does so in the most glorious way. It's bleak, it's hopeless and it's the perfect record to put on full blast when at a low ebb…to drown in the gloom of Skiba and Andriano's minds – a magnificent musical catharsis.
'Keep Em' Coming' kicks things off with bags of speed and momentum. It's got a breakneck drumbeat and is simple as anything, letting Skiba's voice do all the work as he describes the poverty of the band life in which his broken heart takes solace. He hits his song-writing stride on this release, and the three superb records which follow it are testament to that.
'Madam Me' is the first real plunge into the murky depths of Skiba's psyche. "Lower than piss, have you ever felt like this?," he enquires as he sings of feeling so hollow that seeing the morning sun tears him apart.
'You've Got So Far To Go' is a love song, although given the nature of the record it's a safe bet that it's a lost love. Either way, the moment in the pre-chorus as the guitars build and Andriano, taking the lead for the first time, pours his soul over you is wonderfully touching. It doesn't get much more romantic than, "Let's walk home, let's be afraid, I wanna grab you by the arms and kiss you, so hard".
There's no filler to be found whatsoever, and the likes of 'Fuck You Aurora' and 'Sleepyhead' are well loved additions to Alkaline Trio's library, but as we hit the halfway point we get the first of a group of truly unforgettable moments. Title track 'Maybe I'll Catch Fire' is jaw-dropping.
I can't claim to have ever been close to suicide, but Skiba takes you with him to the edge, the power-chords wailing from his guitar as he strains, "Maybe I'll catch fire, something warm to hold me, something pure to burn away the darkness that hides inside my mind". 
If 'You've Got So Far To Go' was a fond reflection on romance, then 'She Took Him To The Lake' is the splendid antithesis of that. There's nothing quite like the cold, soul-sucking cruelty of unrequited love and this stormer of a track, one of the band's heaviest moments, captures the agony in perfect clarity.
Like all the best Trio songs it's sung by Andriano, and you're holding back the tears as he laments, "But then she went away, his calls were not returned, he went to see her but her eyes were burning a different stare, the focus was somewhere else, and that feeling had somehow disappeared".
Every special album should always give you something to look forward to at the end which seals the deal, leaving you with that burning excitement in your gut and a desire to listen through again just to hear the last song in proper context.
This album has 'Radio'. It's about anger, about being sick and tired of a relationship and wanting nothing more than to end it. But it's also triumphant, like Skiba's finally found the voice to say what he really thinks, to quit beating around the bush and tell someone, "I've got a big fat fucking bone to pick, with you my darling!" After all the pain you go through with the Chicago boys during 'Maybe I'll Catch Fire' it feels like not just a catharsis for the listener, but for the band as well.
They've discovered the strength to stand up and be counted, and in a wider context this is what took them from scene favourites to worldwide fame as one of the biggest punk rock bands on the planet. Skiba may not think back fondly on this recording, but it is one he has every reason to cherish.
Alkaline Trio's UK tour with Bayside kicks off on April 15th.
April
15th Oxford O2 Academy
16th Norwich Waterfront
17th Nottingham Rock City
19th Leeds Metropolitan University
20th Newcastle O2 Academy
21st Glasgow O2 ABC
22nd Manchester The Ritz
24th Birmingham The Institute
25th Bristol O2 Academy
26th London Forum
27th Portsmouth Pyramids