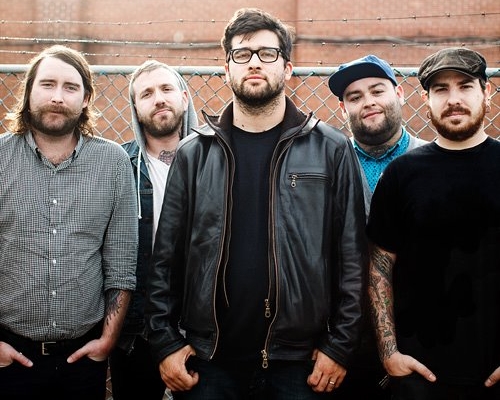 I think this week has been emotional for all of us. Alexisonfire have played their final two shows and people from all across the UK travelled down in their masses to Brixton to say their goodbyes and enjoy the only band ever for the final time.
All the talk about Alexisonfire lead us here at Already Heard to realise just how much, as a team, we love Alexisonfire. Bearing that in mind you can understand how much some people wanted to write this feature. However, we've upped our game. We've gone for a cheeky 3 way. There's too many emotions, memories and opinions to just stand by 2 albums. You have ahead of you 3 pieces packed with the aforementioned. Colin Henderson, Mikey Brown and Bert Maddison will all explain why they've chosen the album they've chosen, be it musically or personal.
Thank you Alexisonfire; we hope you enjoy this tribute to the only band ever.
 What is your favourite Alexisonfire album? Let us know on Facebook or Twitter.
'Watch Out!' (by Colin Henderson)
As soon as the opportunity to write a piece on Alexisonfire came up for Already Heard's 'Versus' feature I knew what album I'd be backing; 'Watch Out!' However at the same time I wasn't quite sure how I could do my favourite album justice.
For me, Alexisonfire is a band I've loved for such a long time. I remember being in high school and a friend giving me their self-titled album because "it's just a load of noise." I took that album and listened and listened and fell in love right away. However something wasn't right, the album was rawer than anything I'd ever heard and it sounded all over the place (something I've since grown to appreciate). It was just a taster of what was to come.
Fast forward to 2004, and that same band I'd grown to love releases their sophomore effort; 'Watch Out!' I eagerly awaited this release and followed the pre-release in the UK press. I still remember ordering the CD online and it coming through my letterbox.
From my first listen to the album opener 'Accidents' I was taken aback. George Pettit's familiar roar as he let's rip whilst Dallas' lush tones perfectly compliment each other. Whereas on their self-titled release it sounded like the two were in a battle over the microphone this time round the polar opposites work in perfect unison. It sounds like the two have struck a balance and it works so perfectly well.
On 'Watch Out!' The band has well and truly found their feet, everything is so much more thought out. It feels like they've almost realised that sometimes less is more. Take for example 'It Was Fear Of Myself That Made Me Odd' It starts off with Dallas leading us in which then leads to a cacophony of sound which just erupts as Pettit roars "I will play, the sky is black" That ending still sends shivers down my spine to this day.
'Side Walk When She Walks' is an utter gem of a track. George takes a back seat on this one and it is left to Dallas to take us on a journey. Yet this song is one of the most compelling and powerful songs I have ever heard to this day. 
As well as defining their sound for future albums 'Watch Out!' also tackles deeper subject matter. Take 'White Devil' a song which tackles cocaine use and the issue of their friends' dependence on the substance. Yet on the same album you have a song about go-karting; 'Hey, It's Your Funeral Mama' 
As well as everything sounding so much more refined and almost methodically pieced together in the same heartbeat, it sounds like utter chaos. Chris Steele's bass tones no longer take a back seat; they are right at the forefront driving home the message. Anguish and heartbreak come across as strong themes.
My all time favourite Alexisonfire song has to be 'Sharks And Danger' a song which starts with a recording of a telephone call to the St. Catherine's psychiatric helpline. The themes of anguish, despair and hopelessness ring throughout as Dallas cries out. Then come the cavalry, Pettit barks out "Who will be there, to tell me how stupid I am?" As the repetition of "Anxiety chokes me like razor wire, razor wire" fades out I feel a sense of relief. That song struck a real raw, emotional chord with my teenage self. I felt like nobody understood me in the town I came from yet whenever that song comes on I still remember listening for the first time and being completely overwhelmed; it filled me with positivity and gave me hope.
Penultimate track 'Get Fighted' is another favourite track. As a band, Alexisonfire were never about fitting in and pandering to the masses. As the band says "Coz this shit's not about pants, and this shit's not about shirts. And this shit's definitely not about hair. This shit is about having a good fucking time" That really stuck out to me, this band weren't trying to be poster boys or fit in. They were about honestly, passion and raw emotion. Petitt roars "Maybe music isn't dead, maybe we all forgot what it fucking sounded like" still rings true to this day. Too many people are overly concerned by a bands image or what brand of t-shirt they wear.
It'd be sacrilege to write a piece on 'Watch Out!' without mentioning the closing track 'Happiness By The Kilowatt' A song with many interpretations; some feel it is a song about suicide or loss and suffering. It's no secret though that the band are heavily influenced lyrically by the works of Kurt Vonnegut Jr. in this instance 'The Euphio Question', a piece which tells the story of a simple radio announcer who decides to sell euphio energy to evoke happiness in people. This euphoria phone exposes people to a false sense of happiness, hence the title of this track. Musically it is a ballad; piano plays a huge roll as does the simplistic repetition of the marching drum. As the track closes and the echo of "Was this what we hoped for, it's not what we hoped for. Its not." Referencing the happiness generated by a machine and not true happiness. Perhaps these are just a few lost souls seeking internal happiness.
Alexisonfire might not have the chiselled good looks or the hair product endorsement but they have so much more. They have bags and bags of hits and most of them are on the one album and that in itself is an achievement.
I could write for days about Alexisonfire and more so about 'Watch Out!' People talk about game changers a lot in the music world. For me the very definition of a game changer has to be 'Watch Out!' by Alexisonfire. Their sound is polished without losing its charm and appeal. There isn't a sense of them "selling out" at all. It comes across as a band fully embracing their very own fucked up hearts and souls and wearing them proudly on their sleeve.
To this day 'Watch Out!' plays such a special part in my life. I listen to it all the time and always will do. It's an album I'll cherish for years to come and one I hope to pass on to future generations. I'd go as far to say that it's my sound track. This album not only defined Alexisonfire as a band but helped shape and to mould me as a person but also my music taste. Without them I wouldn't have discovered nearly half the bands I hold with high regard today. This album is like a best friend, it's always there through the high points and the low points in my life and whenever I put it on I am transported to anywhere I want to be. 
'Crisis' (by Mikey Brown)
Honestly, I'm pretty sure 'Watch Out!' is my favourite Alexisonfire album. There's something about it that still strikes me as a collection of work to this day. However, I realised that I had to pay homage to 'Crisis'. It's only been in this week of the band playing their final UK shows that I've come to realise how much I owe to them, and in turn how many memories I have attached to this album, so here comes the nostalgia!
Outside of the big HMV in Manchester and I'd just bought the deluxe edition of 'Crisis' with the cover sleeve. An old friend of mine says 'that album's rubbish' and I was genuinely gutted. I just bought this album and now he's telling me? He then went on to say 'none of the songs are like "This Could Be Anywhere…".' Like most of my year, 'This Could Be Anywhere In The World' was on our phones and iPods and we'd listen to it at breaks or lunch. It was our rebellion in our way to the social norm and to all the kids who listened to MCing and repetitive dance music and the rips of MCs improvising over repetitive dance music.
I'd already heard of Alexisonfire from having heard '44. Caliber Love Letter', but I was still concerned that this album was going to be 'bad'. Oh my, I shouldn't have listened to my friend (I stopped not long after). Don't get me wrong, 'This Could Be Anywhere…' is brilliant, but the rest of the album was soaked in so much more passion and grit that I was absolutely astounded by it. 'Crisis' became my album, my anthem. It became a ritual to listen to that album pretty much every day for a long while. Never had something meant so much to me at that time. It was at this point, and from my friend's comment, that I realised what my taste was. I now knew what I liked in terms of music and was able to jump onto so much more stuff knowing what it was that I wanted. UnderOATH, Thrice (took a lot longer to get into unfortunately) and other bands that utilised the screaming/shouting and melodic hooks over all that chaos.
It really did though, it meant so much. Dallas' voice was incredible and stood out above the rest, but taking in his actual words, what he was actually singing about was what really took my interest in lyrics. 'Boiled Frogs' became one of my favourite songs ever because of that chorus. Man, it really hit me. 'There must be more to my life'. How much depth have those 7 words got? It was at a time when I wasn't really sure about where my life was going. It was in the final year of high school and so much was about to change. I wrote that lyric on my final piece of work for my Art GCSE and even stuck Alexis' heart skull on there. It wasn't too long after that I found out some really personal stuff to my life and suddenly that lyric made so much more sense, to me, and I had such a deep connection with it.
'Crisis' came to me at a time in my life when I was learning so much about myself and my life. Everything was changing, but this album stayed so constant. Even though their sound changed to a more punk offering in 'Old Crows/Young Cardinals' and I ended up deciding that 'Watch Out!' would end up being their greatest release, I'll always now appreciate and realise how much this album means to me. It got me into Alexisonfire and so much more music that I'm into nowadays. They really were a game changer within my musical taste and to me, they'll be the only band ever to have so much influence on my life without realising. Holy heck guys; thank you.
'Old Crows/Young Cardinals' (by Bert Maddison) 
With every release Alexisonfire have upped their game, from their debut up to the present day not one album has sounded similar, they have stood out from one another, which is why this 'Versus' has proved difficult for me.
'Old Crows…' along with 'Watch Out!' are my favourite Alexis' albums, so which ever you decide is good with me. However I will explain my reason for choosing their last full length; it needs some defending don't you think? In particular the issue of George Pettit's change in vocal style kept cropping up which I think was a change in style that suited the record but also suited the time of the band. 'Old Crows…' is certainly a much more mature offering from the band; for example the song titles ('Accept Crime' & 'The Northern'); you won't see any quirky titles here. A more straight forward sound is apparent on this album; it's more punk. Over the years their sound has progressed from the scratchy, twiddly riff laden sounds of their debut up until now and it is a sound I can get on board with. 
I'm sure if the band had produced another 'Crisis' then fans would have been disappointed for not branching out, if anything 'Crisis' was a precursor for what was to come, it blended the simpler punk/hardcore sound and the angsty aggressive 'screamo'/post-hardcore stage of the band. The next step was to take a punkier root having already produced two amazing post-hardcore albums, it was the right decision. I am a firm believer in bands progressing with their sound and experimenting, some try and fail realising they have a formula which works for them, others succeed and produce innovative, interesting pieces of work, Alexisonfire did just that with their fourth full length release and have succeeded.
Tracks like 'Old Crows' with its heavy opening bass line and the introduction of George's new vocal style excited me, the pre-chorus with Dallas just built up so much power for Wade to take up the chorus. They had it all in that opener; reminding you that they have the perfect vocal line up any band has ever seen, George's rough aggressive style blending in with Dallas' infamous lulling tones and Wades ballsy punk shout. However what came as a shock was also Dallas' vocal progression; he wasn't just singing he was taking on harsher vocals as well, creating yet another dynamic to the band. 
'Young Cardinals' was just a huge rush, that fast punk style highlighting again that Petitt's vocals were perfect for this new adopted style, the huge chorus from Dallas, became an instant hit, as catchy as ever it is a firm live favourite for me.
Skipping forward to 'Born and Raised' (my favourite released single off the album) just oozes power, the introduction contains one of my favourite guitar solos. The verses are strong with George's almost controlling tone blends into Green's powerful singing voice.
This is just one example of the highs and lows of this album, it can go from all out punk rock aggression Alexis style to a more dulcet tone, tracks like 'The Northern' and closing track 'Burial' are softer in their sound, in particular the latter which I will admit I think is a poor man's 'Rough Hands' but it still showcases the bands diversity and skill to mix up the rough with the smooth.
Other notable tracks include 'No Rest' (WOO!), 'Emerald Street' and 'Accept Crime' all following the same formula of a powerful speedy verse and an anthemic chorus plus some amazing guitar work.
'Old Crows/Young Cardinals' is all we have left of this amazing band (EP 'Dog's Blood' does not count!) (EDITOR: We're now treated to the 'Death Letter' EP as well!), their split hit their fans like a tonne of bricks and I believe that their next full length would have gone down as their best album since 'Watch Out!' Unfortunately this is nothing now but a dream I have. 'Old Crows…' was the work and the start of things to come for "the only band ever"; they had their hay day as post-hardcore legends now was the time for a maturer sound. Unfortunately now, we will never know. 
What is your favourite Alexisonfire album? Let us know on Facebook or Twitter.
Alexisonfire links: Website|Facebook|Twitter
Want to be a guest writer for a future 'Versus' feature? If you're in a band, run a label or music website then we want to here from you. Send us an e-mail to [email protected].