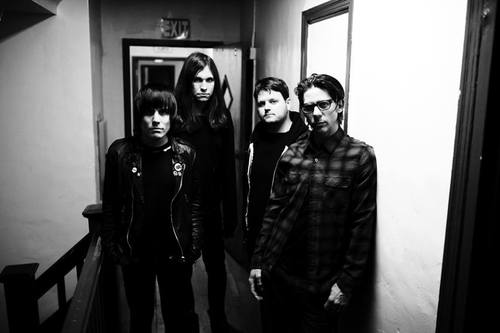 The moniker of this Gainesville, Florida outfit began as the solo project, of an individual whose name was Tom Gabel. Gabel occasionally performed with backing musicians. After several line up changes, by 2002, this moniker became the name of the legendary folk punk anarchists. For roughly a decade, the band featured Gabel on vocals and guitar, James Bowman on guitar and back ups, Andrew Seward on bass, and Warren Oakes on drums. Through this line up, the band released one album on No Idea, and two albums on Fat Wreck Chords. Eventually, the quartet signed to major label, Sire Records, releasing another two full lengths. Both of these were successful on the Billboard 200; 2007's 'New Wave' at 57, and 2010's 'White Crosses' at 34. With success, the band went back on the independent road, establishing their own record label, Total Treble Music.
In 2012, Gabel publicly came out as transgender, beginning the transition to living as a woman, and taking the name Laura Jane Grace. Laura's courage certainly has placed her as an inspirational figure, not just in the music community, but culturally as well. 
Despite losing several members, including recent drummer Jay Weinburg in 2012 and bassist Seward in 2013, the band have been actively busy over the last year recording their fifth album. This will be entitled 'Transgender Dysphoria Blues', a document of Grace's experience, and will be released next week. You can listen to it here! (It's great!) Also, the band have new members including Inge Johansson on bass, and Atom Willard on drums.
This week, in celebration of Against Me!'s newest album, we at Already Heard have decided to discuss which is the band's best album. Senior Editor Sean Reid is writing to defend 'White Crosses', their most successful album to date. On the other hand, Assistant Editor, Aaron Lohan, glorifies the honour of final Fat album, 'Searching for a Former Clarity'.
What do you consider Against Me!'s best album and why? Let us know on our Facebook and Twitter pages.
Searching for a Former Clarity (by Aaron Lohan)
When it comes to Against Me!'s best, many people are stubbornly divided in precise cliques. Most older fans will stand by the band's classic debut '…Is Reinventing Axl Rose'. Fans of their recent output stand fast along with the likes of the polished stadium-esque 'White Crosses'. In all honesty, I believe the band have yet to make a terrible album…yes even the wishy washy major label debut 'New Wave'. But out of their five outputs, I champion 'Searching for a Former Clarity'.
This would be the band's second release on Fat Wreck Chords. It saw the band scrap shorter songs, and identified their fiery hunger for bigger punk fuelled rock songs. To gain a better understanding, here are my points as follows.
Described by lead vocalist Laura Jane Grace (formerly Tom Gabel) as a concept record, the LP strived for unapologetic numbers. The crisp production from former Burning Airlines/Jawbox frontman J. Robbins was well guided to retain the group's bite.
The progression from their earlier work was well placed upon it's release in 2005. Against Me! had a firm grasp with their flavours of punk, folk and country. From the first notes on saxophone/trumpet accompanied 'Miami', they put their foot down and rant away as they know best. 'Unprotected Sex with Multiple Partners' and 'Don't Lose Touch' feature a dance beaten rhythm and tempo, which harkened for things to come. Credit goes to the bass line escorted by Andrew Seward, particularly on the slower, goosebump ridden 'Violence', a song which channels Fugazi's quieter moments. The choruses are as huge as ever on the Rocket from the Crypt like 'Mediocrity Gets You Pears (The Shaker)' and 'Problems'. Slower country hinged songs, ¾ through the album i.e. the drug slave's regret on 'How Low?' and the bittersweet 'Joy', give time to breathe and reflect. The consistent craft work is tamed really well considering the band's influences are traditionally seen as restrictive and tiresome.
Themes are a driving force for a punk band like Against Me!, and they're delivered marvelously. The time period this album was released seems not so far away, but retains a timelessness that continues to the present. This helps the politically charged tunes provide a continuous warning. 'From Her Lips to God's Ears (The Energizer)' takes a satirical stab at U.S. President of the time George W. Bush, and looks through loop hole after loop hole in his foreign policies. In regards to the state of the music scene, the band shows no mercy at the naysayers ('Mediocrity Gets You Pears (The Shaker)') and the formulaic 'Holy Shit!'. It's a serious stamp in the face, but it's one shouted and yelled with such wit and humour.
But neither of the aforementioned matter in contrast to the more personal matters shared out by Grace. The aforementioned 'How Low?' and 'Joy' are two examples, but this is portrayed none more so than the titular song. Due to the recent developments of the band, particularly Laura herself, this song makes much more sense now, and it rightfully pulls on the heartstrings. It's a song that strives for identity and acceptance; an anthem not just for the transgender, but for everyone who suffers such mental chasms.
For a subjective matter, arguing Against Me!'s best record is controversial particularly within such a genre as this. Personally for me, 'Searching for a Former Clarity' captured a band who were progressing for big things, musically and thematically. I hereby rest my case and let the music do the talking! If you disagree then fair do's but we all agree that Against Me! are one hell of a band.
White Crosses (by Sean Reid)
I'll admit before Against Me!'s first major release (2007's 'New Wave'), my knowledge of the quartet was little, however with 'New Wave' and its 2010 followup 'White Crosses', I soon found a connection with the bands balance between their folk punk origins and accessible rock radio sound. Whilst 'New Wave' sparked my interest in the band, it's 'White Crosses' that I've picked for this piece as its the superior of the two.
Whilst some longtime fans may dismiss the more melodic approach 'White Crosses' takes, you can't fault the record for its consistency and overall drive. From the start, the title track and 'I Was a Teenage Anarchist' provide a punchy, strong double slice of punk-fueled, angsty alt-rock that have a conscious, something that is apparent throughout 'White Crosses'.
Lyrically Laura Jane Grace produced a mix of feisty, mature songs which are at the roots still "punk", and when combined with the bands arena-size hooks; 'Suffocation', 'High Pressure Low', 'Spanish Moss', the results are near-perfect. Grace and company have produced choruses that widen the bands appeal greatly, yet they fit their original mould and the momentum of the album.
It's clear the aim of 'White Crosses' was for Against Me! to reach the biggest audience possible, and its clear the band was influenced from the likes of Bruce Springsteen as songs like 'Ache With Me' and 'Bamboo Bones' have elements of his music. The former is a waltzy ballad that somewhat softens up the record yet allows Grace's lyrical prowess to shine. Whilst the energetic 'Bamboo Bones' closes the album on a high with the anthemic self-conscious message of "What God doesn't give to you / You've got to go and get for yourself."
On top of all of this you've got Butch Vig on production duties who adds that mass appealing shine to the whole record.
Sure 'White Crosses' might not be everyone's favourite Against Me! record and that's understandable. I'm sure I'd be pissed too if my favourite punk rock band became a radio-friendly, alt-rock band but as 'White Crosses' shows the transformation has worked out well. If you see pass the big melodies, you'll still see that same angst-filled punk band that Against Me! still are. But they're better and with a even bolder sound.
What do you consider Against Me!'s best album and why? Let us know on our Facebook and Twitter pages.
'Transgender Dysphoria Blues' by Against Me! is released on 20th January through Xtra Mile Records.
Against Me! links: Website|Facebook
Words by Sean Reid (SR) and Aaron Lohan