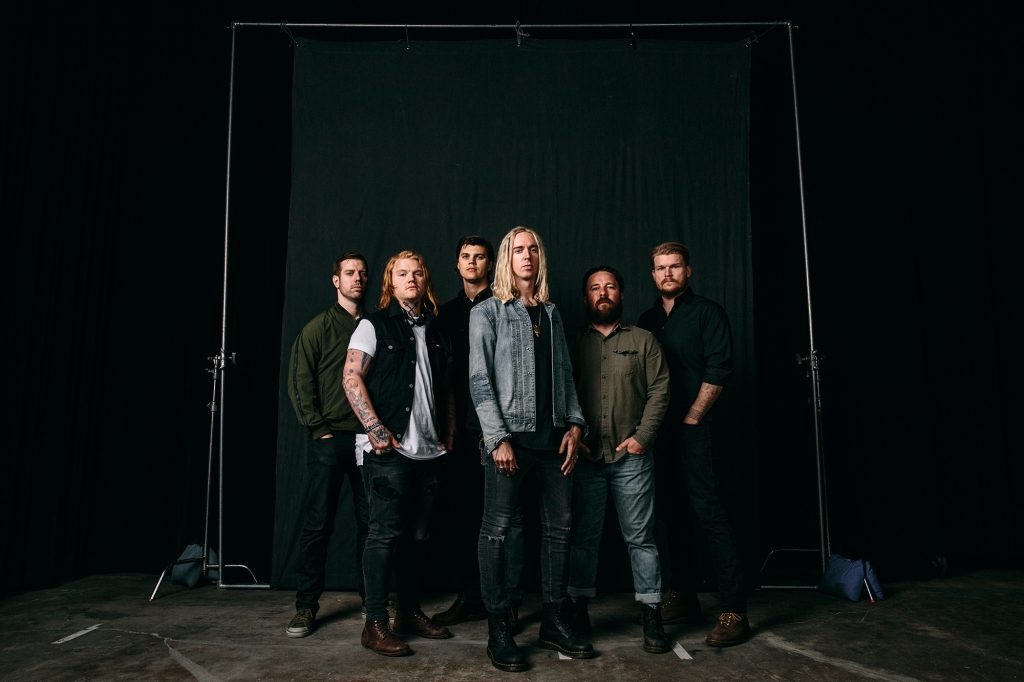 "We want our music to be for everyone, but people who are that close-minded, they're not gonna get it anyway, so we don't really care."
Tampa post-hardcore rockers Underoath recently made a triumphant comeback to recording with the release of 'Erase Me'. Their first album in eight years has been followed by a wealth of tours and festival appearances, including Reading & Leeds where we caught up with drummer and vocalist Aaron Gillespie and lead singer Spencer Chamberlain for a chat. Incredibly, for a band who's been around for so long, this year marked their first ever Reading appearance, a fact they were both pretty excited over. "We've been to the UK so many times and we've never done Reading or Leeds…[and now] we're closing down a stage, so it's really flattering," Spencer told us, the two of them sat outside the press area on a bench and shivering as the late afternoon weather began to turn cold, but in high spirits regardless.
It's been a crazily busy time for the band recently, with them doing a run of other festivals out in Europe this summer, including Download Madrid and Paris, and "fifteen others". Aaron remarked with a laugh, "I think both of our girlfriends have almost left us, like, 'what the fuck is this'…but it's better to be too busy than not busy at all."
This non-stop schedule comes on the heels of aforementioned album 'Erase Me', an album they were keen to talk about and are clearly very proud of. It's also an album that has sparked some controversy since musically, it's a departure from their other records, and personally, the band have voiced their move away from Christianity. Underoath have revamped themselves, but as Spencer pointed out, "we had to break up the band to do that. Everything's gotta be different for us to continue and be happy we have to do it on our own terms. We can't stay connected to something we did in 2006 and say 'this is how we're gonna do our business, this is how we're gonna do our band.' We love those songs and we love that time and we'll always play that stuff, but you can't live like you did then. Imagine who you were ten years ago!"
"You don't go to an art gallery and want to see the same painting painted fifteen times," Aaron added, coming up with his own analogy. "Then you'd never go back. So, if you kind of address each album as a piece of art or a painting, you're still the same artist so it's going to have the same style to a certain degree but you're gonna try and paint something different every time you do it."
Despite having a slightly different sound and feel to previous records, the comeback has, on the whole, had a really good reception. Marked most notably by the band's busy schedule, working tirelessly since it dropped earlier this year. "The reception's been great," Spencer told us with a big grin. "A lot of people were shocked, at first, but I think that's normal. The greatest records that I've ever fallen in love with have shocked me at first and made me think 'what the fuck is this'. We didn't shock people to shock people on purpose.
"As artists, we've just all grown, we're constantly learning. If you live in a bubble and think you're the shit and constantly think that you're doing the best ever and everyone else sucks then yeah, you'll constantly make the same record over and over." Nodding along enthusiastically, Aaron added, "but if you're out there trying to better yourself and learn and listen, hopefully, a lot will change." This led us to talk about the band's personal changes and their recent split from the faith that had previously shaped their career and music.
"We don't have any anger towards Christianity," Aaron was keen to point out. "If that works for you, that's great."
"Totally not," agreed Spencer. "I have strong beliefs, but you can't call yourself a Christian in the conventional terms. If Christianity is real, and you believe in it, then it shouldn't be connected to the establishment and it shouldn't be connected to music."
"We didn't shock people to shock people on purpose."
Aaron continued: "we want our music to be for everyone, but people who are that close-minded, they're not gonna get it anyway, so we don't really care. If you go back in time and ask John Lennon what he believes in, is that gonna change how you feel about the Beatles music? The fewer titles you put on it, the better it's gonna be. People say that we bash religion or that we hate Christianity, which isn't true. We hate what it did to us and what it did to our band, and we're sharing our story. If that offends people and your ears are so sensitive for it then don't listen.
"We're just being honest. It was just something that needed to be removed from our band for us to be healthy and happy. We're in no way lost or need help, we're actually in a really good place and everyone is communicating and happy for one another. We're a happy, healthy, functioning band."
'Erase Me' by Underoath is out now on Fearless Records.
Underoath links: Website | Facebook | Twitter | Instagram
Words by Becton Simpson (@swallowmyeyes).