With so much excellent new music being released every week, it can be difficult to keep abreast of absolutely everything deserving of review. However, in the interest of giving as many artists as possible a fair crack of the whip, we have Under The Radar; a monthly roundup highlighting a handful of releases that may pass you by.
For this month's edition of Under The Radar, we look at new releases from All Them Witches, The Arusha Accord, Walking Dead on Broadway, Canavar and Twin Jackal.
---
All Them Witches – ATW
Now here's a record to get involved in; the experimental psychedelic rock with its unmistakable seventies feel making 'ATW', the fifth album from All Them Witches, a veritable festival of expansive stoner tinged excellence. The arrangements are unpredictable, the songs are explorative rather than formulaic, and having recorded and self-produced it in a cabin in the middle of nowhere, there is a truly intimate vibe and a real sensation that this a band testing themselves and seeing where they can take their music.
Having recently added a keyboard player/percussionist to become a quartet, the guys from Nashville have even more room to experiment. This comes through on the atmospheric 'Half-Tongue' with its bluesy organ underscore and wailing guitar licks. There are more psych-blues to the lovely 'Harvest Feast', while in contrast, '1st vs 2nd' has a pure rock groove going on. However, it is the longer, darker, almost free-form, tracks like 'Diamond' 'HTJC' and 'Rob's Dream' where they really spread their wings and work the song's vibes. Cracking record, well worth multiple spins.
'ATW' by All Them Witches is released on September 28th on New West Records.
All Them Witches links: Website | Facebook | Twitter | Instagram
---
The Arusha Accord – Juracan EP
It has been seven years since the last release from The Arusha Accord, but the UK Tech Metal pioneers are back as a slimmed down four-piece, with Paul Green taking total charge of the vocals since Alex Green's departure. 'Juracan', which is the deity of chaos and disorder, is actually the first in a series of four EPs, and is packed full of promise with its technical excellence and no holds barred aggression.
After a deceptively atmospheric intro of rainfall and mournful piano, 'Blackened Heart' explodes into action in a hectic flourish of tech-tinged riffs and attacking vocals that gives a hint of what they can do when they throw caution to the wind. The record is well balanced though, with tracks like 'Beneath The Dule Tree' boasting a more prog-y feel and 'Vultures', finding a walking a fine line between the attacking and the melodic. Epic tune 'The Dark Pan' closes the EP with a fitting showcase of the band's talent, throwing in an extremely smooth vocal to compliment the screams, and demonstrate the versatility they bring into play. Nice record.
'Juracan' EP by The Arusha Accord is released on 28th September.
The Arusha Accord links: Website | Facebook | Twitter | Instagram
---
Walking Dead on Broadway – Dead Era
'Dead Era' is the all-important third album from German quintet, Walking Dead on Broadway, and is the first to feature new vocalist Nils Richber, whose rapid-fire delivery and vocal versatility certainly add to their aggressive delivery. With frantic riffing and pummeling rhythms, "attack!" is the order of the day, but there is a sinister darkness to compliment the tech element underpinning the metal fury, indicating a mastery of their sound and a measure of maturity to their writing.
It all makes for a pretty satisfying listen and is sure to further broaden their growing fan base, with tunes like the irresistible 'Hostage to the Empire and the head swimming 'Song of Courage' oozing quality. Then there's the massive sound to 'The Fire Never Lies' and the shifting sounds to 'Dead End Utopia', besides the hellish doom of numbers like 'Your God Is a Tyrant' to showcase their songwriting quality. Although 'Standstill' offers a little respite in the form of a piano-based atmospheric instrumental, at thirteen tracks it is possibly a little overlong with the slightest hint of filler around the middle. Even so, it is a still a nasty slice of deathcore with some serious quality on display and great for those days when a little-controlled rage is necessary.
'Dead Era' by Walking Dead on Broadway is released on 28th September on Long Branch Records.
Walking Dead on Broadway links: Facebook | Twitter | Instagram
---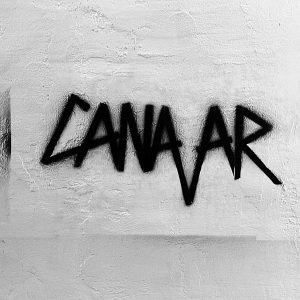 Canavar – Canavar
A south-coast battle of the bands must require actual bloodshed to find a winner, what with yet another band with an interesting record appearing out of the increasingly vibrant Southampton scene. Canavar play an up-beat blend of punk and metal that not only sounds fresh, but is really rather likeable. You get those bubbly punk bass lines, an interplay of stylish riffing from pop-punk through to thrash and all kinds of little touches as they cherry-pick their way through heavy rock to establish their own sound. Although there is the potential for it to be a little disjointed, the end result is actually pretty damn effective.
'Sacrilege' sets the pace with a frantic run through with a pure punk bass line and a stirring metal mid-section that sets the scene for the influences that are set to battle out the rest of the record. The thing is though, it works so damn well! 'Brick by Brick' sounds like a cross between Green Day and Death Angel, you can imagine an incredible mosh pit for the stop-start rhythms of 'Daybreak' and 'Devil's in the Details' and 'Fire Inside' are quite simply great tracks. The ease with which they throw in a tempo change, a smoking solo or a bass run, or how they switch up the riffing, really keeps you on your toes, especially on a killer track like the Staind-esque 'Deadly Sins'. This record is tremendous – listen to it.
'Canavar' by Canavar is released on September 28th.
Canavar links: Facebook | Twitter | Instagram | Bandcamp
---
Twin Jackal – Optimo Animo EP
There is a very contemporary feel to this game effort from South-London quartet Twin Jackal, their debut EP 'Optimo Animo' brimming with positivity. With Biffy Clyro and Arcane Roots influences vying for attention within a blend of math/indie-rock/pop they carve out a pleasant enough groove across the five tracks on offer here; their precise melodies underpinned by a muscular guitar sound.
Latest single, 'Make Me Brave' is a good showcase as to where they are at with its carpe diem sentiment indicating a level of thoughtfulness to their songwriting. They further explore such intricacies on the mellower 'Ease Your Reign', which is nice enough without really catching fire. Where they are more effective is when they beef things up a bit, as on the riff-heavy 'Ink & Mind' and the angular 'Humility'. However, they will need to go a little deeper to stand a chance on such a crowded alt-rock scene.
'Optimo Animo' EP by Twin Jackal is out now.
Twin Jackal links: Website | Facebook | Twitter | Instagram
---
Words by Edward Layland (@EdwardLayland)