With so much excellent new music being released every week, it can be difficult to keep abreast of absolutely everything deserving of review. However, in the interest of giving as many artists as possible a fair crack of the whip, we have Under The Radar; a monthly roundup highlighting a handful of releases that may pass you by.
For this month's edition of Under The Radar, we look at new releases from Cognitive, Darker Days, Vaureen, Strange Planes, and Active Bird Community.

Follow us on Spotify for more playlists.
---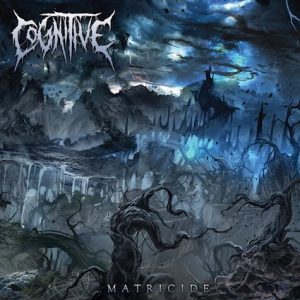 Cognitive – Matricide
South-Jersey tech-death metallers Cognitive are aiming to push the boundaries of their technical limits even further on their all-important third album 'Matricide'. As such, we get a highly intense and aggressive package of heavy riffing with a dual vocal attack in opposing tones of guttural. With its pulsating rhythms and focus on raw aggression, despite being high quality, technically speaking, the record is way more metal than it is tech. This makes it a more accessible release of good, healthy head-banging fury with a bit of substance.
'Omnicide' kicks in with a violently thrashy riff and blood-curdling vocals to set the pace for what's to come. The record then progresses through a platitude of searing riffs and demonic vocals, with title track 'Matricide' a particularly pummelling. Other stand out moments include 'Fragmented Perception', which slow boils its way through a series of twists and turns, and the pulsating epic 'Torn From The Void'. All told, this is a satisfyingly heavy album that rushes along in a fury-filled assault on the senses; it may lack novelty value, but if you like your metal expertly played and dripping in blood and gore, it's well worth checking out.
'Matricide' by Cognitive is out now on Unique Leader Records.
Cognitive links: Facebook | Twitter | Instagram
---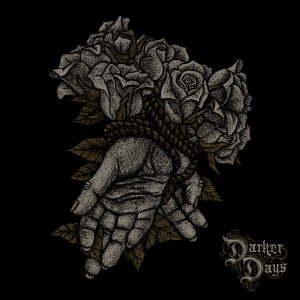 Darker Days – Darker Days EP
Featuring former members of Boston's hardcore punk band Energy, and with plenty of experience already under their collective belt, Salem quintet Darker Days already sound like the finished article. Although there is a dark, reflective side beneath the surface, their brand of upbeat punk is pretty straightforward, but it's slickly done and the five tracks on offer here make a likeable racket.
After the in-your-face opener of 'Night Piece', it all starts to get really interesting on 'Pressed Petals', which takes a reflective downturn in the mid-section before climaxing into a rousing finale. 'Sleepwalk' is another two-minute excursion into the punk rock playbook, but it features a deliciously dark riff spicing up the latter half, while 'Searchlight' reflects on regrets in similarly up-tempo fashion. 'Frost' closes out in style, with more than a hint of the darkness the band's name suggests, but with a strong dash of hope thrown in for good measure. Repeated listens encourage deeper thought on the heartfelt reflections underpinning the lyrics, making it a particularly satisfying listen.
'Darker Days' EP by Darker Days is out now.
Darker Days links: Website | Facebook | Twitter
---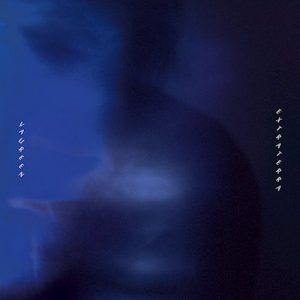 Vaureen – Extraterra
Having formed in 2011, Brooklyn trio Vaureen have taken their time finally getting round to releasing a debut album. However, with a sometimes quirky, sometimes immersive, always intense mix of shoegaze, grunge and indie fuzz, sludge punk it is certainly a genre-defying, yet accomplished record that will keep the listener on their toes.  There is a definite air of the ethereal to the more immersive passages, while the more straightforward tracks pulsate with a cool lo-fi indie rock groove; it's an eclectic mix that makes for an interesting listen.
Opener 'Shades of Cray' is a pretty fair guide of what to expect as it drifts between moody passages and heavy riffing, with a mix of laid-back vocals and histrionics. We then get slow-boiling, heavy indie rock on 'Mercury Flood' and 'Secret', angular quirkiness on 'Run to the Forest' and a touch of feedback tinged stoner on 'Forms'. It's the title track where their eclectic melting pot is at its most effective though, as a distinctly ethereal intro feels its way into a brooding slice of shoegaze that meanders towards a stirring finish of big riffs and triumphant vocals. This isn't a record for the masses, but if you fancy something a little left of centre, it's worth a shot.
'Extraterra' by Vaureen is out now on Rising Pulse Records.
Vaureen links: Website | Facebook | Twitter
---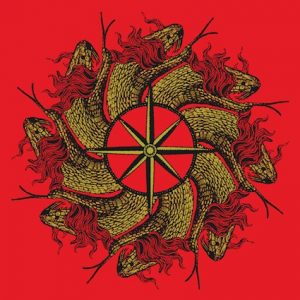 Strange Planes – South of OK
The debut album form punky North-London trio Strange Planes is another record drawing on the influence of 90s American punk, although 'South of OK' does also boast a very British rawness to the sound and down-to-earth lyricism. With twelve punchy tracks on offer and a reputation for raucous live shows, their brand of controlled intensity, their serious take on the punk rock genre certainly shows promise.
'Harness' and the likeable 'Headless Statues' kick it all off within a hard-hitting style, before the catchy 'East Berlin Comfort Zone', which is a likeable enough single. However, they are all eclipsed by the classy 'The Holy Book' with its intense riffing, pulsating bass and barbed critique. Then there's the frantic attack of 'Curse of a Pistol', the excellent 'Fade' and the heavy vibe to the title track. Despite their attempts to inject variety and the darker feel to some of the guitar lines, at 12 tracks it is possibly a little too long with an air of filler here and there, especially in the second half. Even so, there is obvious talent on display and the overall effect is positive as they succeed in sounding fresh, putting an interesting twist on well-trodden paths. It'd definitely be interesting to see them live.
'South of Ok' by Strange Planes is released on 31st October on Bad Horror Recordings.
Strange Planes links: Facebook | Twitter | Bandcamp
---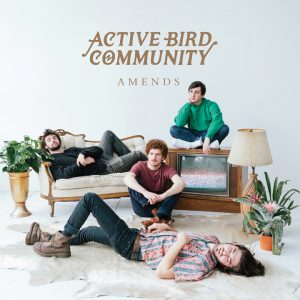 Active Bird Community – Amends
Brooklyn four-piece, Active Bird Community, have been playing music together for thirteen years – since middle school! They are now on their third album, 'Amends', which, with its brand of American indie-rock somewhere between Hotelier and Dinosaur Jr, is an extremely satisfying listen. Although they cover a variety of emotionally challenging topics such as broken relationships, loss and forgiveness, or simply getting through the day, there is an infectious positivity that somehow shines through to offer a certain warmth.
In fact, this is a really rather lovely record, whether It's in the ponderous way they talk directly to the listener on the cracking 'Downstairs' or in the delicious melancholy of numbers like 'Blame' or 'Holier'. It isn't all slow moving though, 'Metrics'borders on the defiant, while latest single 'Sweaty Lake' is a particularly upbeat number to contrast the catharsis of tracks like the rousing 'Unwind With Me', or the jazzy horns of quirky love song 'Baby It's You. All in all, this is a highly enjoyable record for anyone who likes a little emotional depth to their music or is a sucker for that American college indie-rock sound.
'Amends' by Active Bird Community is out now on Barsuk Records.
Active Bird Community links: Facebook | Twitter | Instagram
---
Words by Edward Layland (@EdwardLayland)