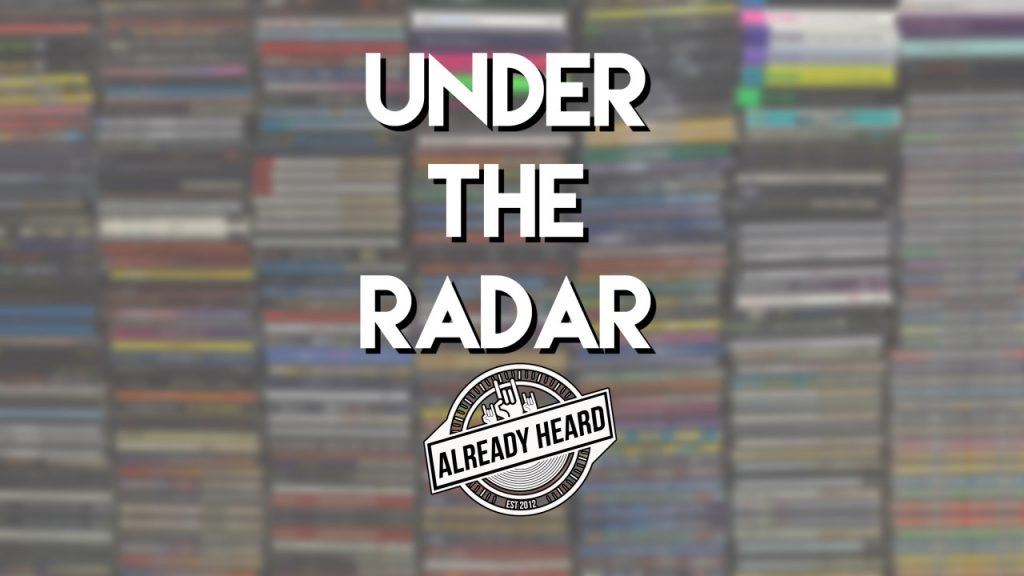 With so much excellent new music being released every week, it can be difficult to keep abreast of absolutely everything deserving of review. However, in the interest of giving as many artists as possible a fair crack of the whip, we have Under The Radar; a monthly roundup highlighting a handful of releases that may pass you by.
For this month's edition of Under The Radar, we look at new releases from Dark Stares, Hercules Morse, Fight For Friday, Encoded, Morag Tong, Heptaedium and Fick As Fieves.

Follow us on Spotify for more playlists.
Dark Stares – Darker Days Are Here to Stay
St Albans' quartet Dark Stares have nailed a deliciously dirty lo-fi groove on their immersive full-length debut, 'Darker Days Are Here to Stay'. They have drawn on a bunch of influences, but after obsessive exploration in their own studio, they seem to have settled on a signature sound with a kind of mid-tempo throb punctuated by dirty sounding guitar licks giving it a likeable edginess that falls somewhere in between BRMC and the Black Keys.
Besides the quality instrumental side to the band, in Miles Kristian Howell they have a seriously classy vocalist, who delivers many a well-balanced performance. There are obvious bangers like the pulsating 'Hips Don't Shake' and 'Cruise Control', while 'Ordinary Way' stands out for its versatile vocal and killer hook. With repeated listens the record reveals more and more, as tracks like 'So Good', with its dark pop synths, and the bleak melancholy of 'Feels (So Sad)' showcase the depth to their songwriting. Classy stuff.
'Darker Days Are Here to Stay' by Dark Stares is out now.
Dark Stares links: Website | Facebook | Twitter
---
Hercules Morse – Vita Boundary
There must be something in the water down in Southampton, what with the amount of quality music coming out of the city. Hercules Morse are the latest in a long line of bands from an incredibly diverse and vibrant scene to be putting out music, with their debut album Vita Boundary making for a thoroughly enjoyable listen. Combining Britpop-esque melodies with modern alt-rock riffs and searing guitar licks, they have quite an eclectic sound that is not only engaging but also really stays with the listener.
'War Within' is particularly likeable for its stomping rhythms and infuriatingly catchy hooks, while the grinding 'Resigned' shows a darker groove to the band. There is plenty of versatility on display throughout as they expertly combine shades of light and dark through their intelligent lyrics and quality melodies. It is clear from releases like this that bands can pull off using elements from a number of genres if the songwriting is up to scratch and there is a thread to pull it all together. Here you get, alternative, classic and even punk elements wrapped around their melodic approach and lyrical sensitivity to deliver an urgent yet engaging record. Fine work.
'Vita Boundary' by Hercules Morse is out now.
Hercules Morse links: Website | Facebook | Twitter
---
Fight For Friday – Someone You Could Trust EP
Formed in high school but only coming to fruition in the ensuing years, Fight For Friday are back with their sophomore EP, 'Someone You Could Trust', inspired by the Wonder Years song of the same name. They wear their pop-punk influences on their collective sleeve, but they make a pretty good racket and there is an engaging sincerity to the lyrics as they explore "the effect that other people can have on someone's happiness, health and life experience."
'Headache' is especially noteworthy as they explore the more emotive side of the genre to good effect, while the angular 'Take It Or Leave It' is interestingly arranged and well put together. However, in an already overcrowded genre, they are going to need to explore the darker corners of their songwriting if the want to get ahead of the pack and not end up as just another pop-punk band. Nevertheless, there is definitely potential and it's well worth a listen.
'Someone You Could Trust' EP by Fight For Friday is out now.
Fight For Friday links: Twitter | Bandcamp
---
Encoded – Psychosis EP
South-London quartet Encoded embrace a number of stylistic influences on their latest EP Psychosis, taking in elements of rap-rock, alternative rock and nu-metal. They certainly make for an interesting proposition as they aren't afraid to experiment or go off on the occasional tangent. Longer numbers like the title track and 'Decalcified' meander down all kinds of paths, with Alex Bowmer's vocal versatility proving vital, nailing the emotive passages, as well as more aggressive moments, in a style reminiscent of Faith No More's Mike Patton.
The eclectic style and experimental nature of their songwriting is most definitely a positive aspect, although it can come across as a little confused or directionless here and there. Nevertheless, if they keep trying stuff out and exploring their different sides they could well go places, because when it does all come together, like on the pulsating 'Normalisation' with its winning chorus, bludgeoning verses and downbeat mid-section, they are a class act. Worth watching out for.
'Psychosis' by Encoded is out now.
Encoded links: Website | Facebook | Twitter
---
Morag Tong – Last Knell of Om
As their name and album title suggest, Morag Tong are not exactly your usual run-of-the-mill guitar band of crunchy riffs and sing-along choruses. They play a spacious blend of psych doom where less is definitely more; their debut album Last Knell of Om resounding like a deep hum to ponderous bass lines, sparsely littered with doom-laden riffs, the occasional screaming solo and hypnotic melodies. Weighing in at a hefty 50 minutes for only six tracks, this is a massive record.
During this record, the listener will disappear into the kind of trance-like state normally associated with copious amounts of weed, as songs like 'We Answer' actually attempt to respond to the cosmos and we get transported into another musical dimension. It's a bit like a lumbering beast meandering across the Earth since the dawn of time, its steps a hypnotic rumble that fills the listeners' headspace with psych doom soundscapes. It all culminates in the gigantic 13 minutes of 'Ephemera-Stare Through The Deep', which is a tour-de-force in itself and tells you everything you could need to know about this band. Brilliant.
'Last Knell of Om' by Morag Tong is out now.
Morag Tong links: Facebook | Twitter | Instagram |Bandcamp
---
Heptaedium – The Great Herald of Misery
One man progressive, industrial, video-game soundtrack, synth-metal band, Heptaedium, the brainchild of Frenchman Florent Lambert, is back with a fourth album of mind-fuckingly aggressive djent mayhem. This time, Florent's best friend Mickaël Ratinaud has come along for the ride to provide a guttural guest vocal and add another dimension to the apocalyptic boiling pot. The album is basically a full frontal metal assault, underpinned by an electronic vibe to enrich the sound, and punctuated by atmospheric passages and engaging samples.
The record succeeds in achieving a nice balance between the aggressive, the technical and the experimental, it all coming together in style on the brilliantly named 'Spill Torrents of Carcass on the Ground', not to mention the pulsating 'Trapped in a Gravitational Abyss', where all the elements combine particularly well. Then there's the face melting 'I'm a Symmetric Mass of Hate' and the title track to really torture your soul with. Mind-bending stuff – well worth checking out.
'The Great Herald of Misery' by Heptaedium is released on 25th May on Apathia Records.
Heptaedium links: Facebook | Bandcamp
---
Fick As Fieves – Drift End EP
East Anglia's Fick As Fieves are a trio of indie-rockers that have obviously put a great deal of themselves into their brand of upbeat alternative pop-rock. Sure, they are foot-tapping fun, with some crunchy riffs and catchy hooks, but quite how much they offer beyond the likes of the Arctic Monkeys or Supergrass remains to be seen.
Even so, they are obviously a talented bunch that know their way around a fretboard and can write a tune with a groove; the super catchy 'Martha' and the frantic Same Story being obvious bangers. However, when you ply your trade in a country with such an incredibly rich history of indie-rock, to make a halfway decent splash you have to raise the bar a little, or at least stand out from the crowd somehow, which is a difficult task. What FaF most have in their favour is their frantic energy, which is sure to pack out their local venues and provide a fun night, but there are just too many similarities to old favourites for them to really stand out. Game effort.
'Drift End' EP by Fick As Fieves is out now.
Fick as Fieves links: Facebook | Twitter | Soundcloud
---
Words by Edward Layland (@EdwardLayland)