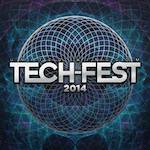 Details of the 2014 UK Tech-Fest have been announced with The Ocean, Vildhjarta and Glass Cloud amongst the bands announced.
UK Tech-Fest takes place at the Showground in Newark, Nottinghamshire from July 10th to 14th.
Other names set to play include The Safety Fire, The Eyes Of A Traitor (UK exclusive), Felix Martin, Modern Day Babylon, Napoleon, No Consequence, Disperse, Drewsif Stalin, Friend For A Foe, Deadly Circus Fire, From Sorrow To Serenity, Carcer City, Hord, Aeolist, Bear, Kadinja, The Bellerophon Project, Lies Of Nazca and The Sun Explodes.
Weekend tickets cost £59.99 (+£20 for camping) and are on sale now from Ticket Script.