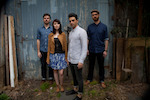 Twin Forks has postponed their forthcoming UK and European dates due to a scheduling conflict.
The band's North American run alongside American Idol 2012 winner Phillip Phillips has been extended and as a result the bands UK and European dates has been postponed. Rearranged dates will be announced shortly.
The band made the following statement:
"You guys in the UK and Europe were the first to embrace our band so it pains us to have to reschedule our upcoming tour there. Scheduling conflicts happen and we hope you trust that we will make it up to you. Thank you for your support and understanding."
Twin Forks' self-titled record will be released on the UK on March 17th.