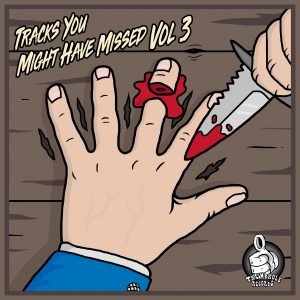 There are so many bands out there and so many with so little exposure, as is the case with Thumbhole Records' new compilation, 'Tracks You Might Have Missed. Volume 3′. The purpose of which is to showcase a whole plethora of artists you've probably never heard of before. The bands are unsigned, underground and for the most part, fresh on the scene, hailing from all corners of the world; from Scotland to New York to Sweden.
It opens up with the cheerful pop-punk of Semi-Pro and a stereotypical Warped Tour bouncy anthem, appropriately titled 'Sunny', it's a good, confident start. On then to alt-rock Altered Sky, with some gutsy confident female vocals, followed by Bouncing Souls-style noisy punk from Braincoats.
It's certainly a "compilation" in as much as you're getting a variation of many different styles, from the bouncy ska-punk of Victory Kid to the more metalcore vibe of Sorry Mom. Whether it's a compilation that represents the best unheard talent out there still remains to be seen, but there's definitely a handful of standout songs on the collection of twenty-four tracks and some bands you should probably be watching out for over the next year or so.
Here's our pick of ten of the best bands on the compilation and a little bit more about them:
Semi-Pro
A pop-punk band from New York City, you can also find their track 'Sunny' on their debut EP, 'Classic', released earlier this year.
This four-piece are fresh and brand new to the scene, having only finalised the line up at the end of 2017.
FFO: New Found Glory, ROAM, State Champs
Semi-Pro links: Facebook | Twitter | Instagram | YouTube
---
Braincoats
"This is the sound of having a blast in the middle of a bad break-up, this is the sound of being love sick and frustrated, this is the sound of BRAINCOATS," their Bandcamp tagline boldly claims, and it seems like an accurate description. A noisy, energetic punk rock 'n' roll band from Sweden, these guys have put out two full-length albums and like to occasionally throw a curveball throwing different influences and sounds into the mix.
FFO: Hot Water Music, Alkaline Trio, Social Distortion
Braincoats links: Facebook | Twitter | Instagram | YouTube
---
Canavar
All over the place in terms of genre and style, Canavar are a crazy, heavy mix of shouty angsty punk and classic shred metal. Their compilation offering, 'Sacrilege', starts off as a shouty punk record, then transcends into face-melting heavy metal guitar solos and growly screams in the last thirty seconds.
Hailing from Southampton, the band are just starting out and don't have any content out online yet, but have been doing well for themselves already having recently landed a supporting slot with Fangclub.
FFO: Pennywise, Millencolin, Disturbed
Canavar links: Facebook | Twitter | YouTube
---
Last Hounds
'Lay Me Down' has an attitude-ridden and infectious chorus, the whole delivery is oozing with confidence and hardcore swagger. Describing themselves as "agro punk hip-hop," these guys sound like the kind of band who'd be killer live.
They're a five-piece from the Midlands, currently touring the southern and middle parts of the UK in support of their debut self-titled EP.
FFO: Gallows, letlive, Linkin Park
Last Hounds links: Facebook | Instagram | YouTube
---
Shark Bait
If you fancy a bit of pop-punk from Yorkshire, look no further than Shark Bait. The six-piece band released their first single late last year, and they've been playing shows up and down the UK ever since.
Their sound is upbeat and energetic with plenty of attitude, punchy guitars and confident vocals delivery.
FFO: Chunk! No, Captain Chunk!, The Story So Far, New Found Glory
Shark Bait links: Facebook | Instagram | YouTube
---
Carry The Crown
An alt-rock band from Lincoln, Carry The Crown have received some well-deserved attention from BBC Introducing for their slick, vibrant metalcore and high calibre songwriting. They recently put out a brand new EP, 'Not Alone' which includes the anthemic track 'Fire' as also featured on the compilation.
FFO: You Me At Six, Twin Atlantic, Blitz Kids
Carry The Crown links: Facebook | Twitter | Instagram | YouTube
---
Highlives
Hailing from Bristol, Highlives have been around in some form or other since 2014, and their song 'Nothing Left' has also been released as a single, separate from the compilation.
Their high energy pop-punk sound has been getting them plenty of fans, good press and shows with Neck Deep no less. With plenty of thick guitar sounds, their songs are infectious and bouncy
FFO: As It Is, Boston Manor, Kids In Glass Houses
Highlives: links: Facebook | Twitter | Instagram | YouTube
---
I Plead Guilty
With one foot in post-hardcore and one foot in metalcore, I Plead Guilty's mission is to "wake up the people drowning in the brainless cycle of work, eat, sleep and repeat, who lost contact with their passions in life".
They're an exciting five-piece from London whose members originally come from all over the world, as far afield as Poland and Colombia.
FFO: Amity Affliction, While She Sleeps, Parkway Drive
I Plead Guilty links: Facebook | Instagram | YouTube
---
Better Than Never
A five piece pop-punk band from Oxford, they released their first EP back in 2015 and are now signed with Fox Records.
The band have been tipped for the top by many press and online outlets. They have also already shared stages with names such as Boston Manor.
FFO: Woes, A Day To Remember, WSTR
Better Than Never links: Facebook | Twitter
---
Reckless Intentions
Although billing themselves as a pop-punk band, Reckless Intentions from Brighton are also clearly influenced by other emo and post-hardcore greats and throw an interesting balance of sounds and styles into their music. Energetic and original, they released their debut EP in summer of 2017.
FFO: Mayday Parade, All Time Low, Green Day
Reckless Intentions links: Facebook | Twitter | Instagram | YouTube
---
'Tracks You Might Have Missed Vol 3' is released on 15th June on Thumbhole Records.
1. Semi-Pro – Sunny
2. Altered Sky – Stupid In The Dark
3. Braincoats – Animals
4. Canavar – Sacrilege
5. Victory Kid – My World
6. Sorry Mom – Rupture
7. Within Shadows – Enough Is Enough
8. Last Hounds – Lay Me Down
9. Shark Bait – Please Guy
10. Carry The Crown – Fire
11. Between The Lines – To The Wind
12. Heavy Sleeper – Night Swim
13. Life Is Short – Life Is Short
14. Highlives – Nothing Left
15. Shackleford – Dopamine
16. I Plead Guilty – For The Sake Of Nothing
17. Bare Teeth – Parted Ways
18. As Everything Unfolds – Centuries
19. Latte+ – It's Ok For Us
20. Better Than Never – Learning To Swim
21. Realms – Painted Demons
22. Reckless Intentions – Struggle
23. Sunset Radio – Surrounded
24. A Few Too Many – Moving Forwards
Thumbhole Records links: Website | Facebook | Twitter | Instagram