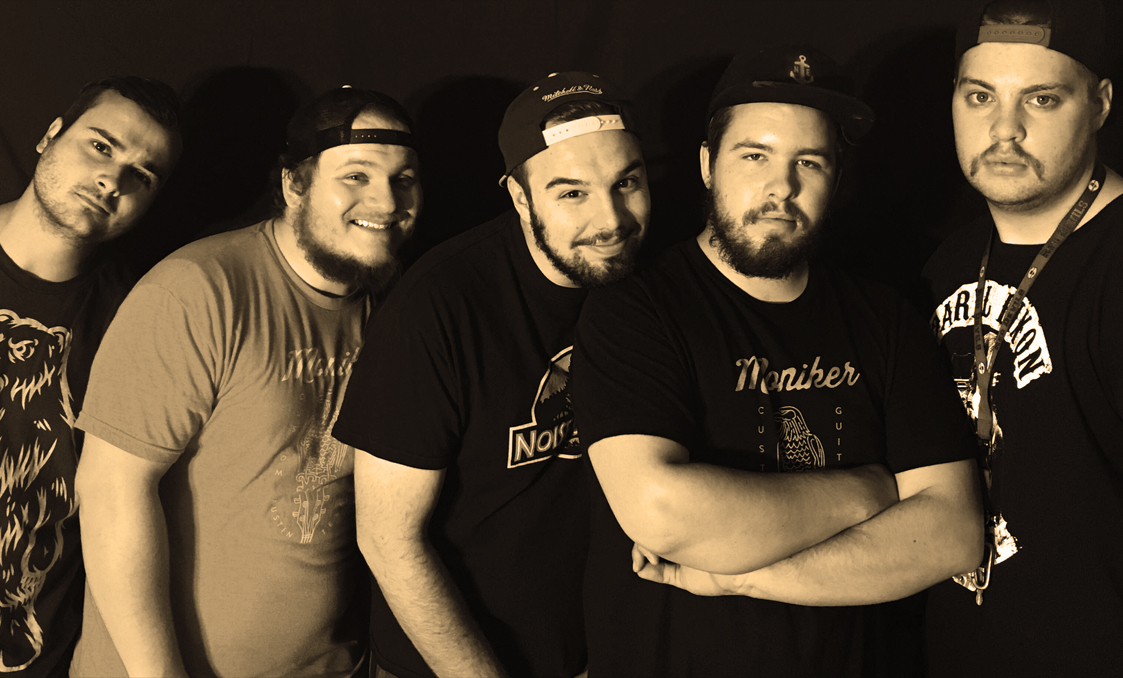 On their latest release, 'I Don't Belong Here', Utah pop-punks Wired For Havoc provide an abundance of hooks and breakdowns. While they took all the boxes for when it comes to being a heavy pop-punk band, there is a poignant underline throughout.
For starters, it is their final record. After going through the hardships the music industry throws at an independent band after six years, Wired For Havoc announced plans to call it a day last November, playing their final show last month. More importantly, 'I Don't Belong Here' sees the quintet cover a range of topics; social media misgivings, mental health, politics, and failed relationships. However, it's all not doom and gloom as songs such as 'Atmosphere', 'Confide' and 'Type-3' resonate with optimism.
To get a better insight into Wired For Havoc's final hurrah, vocalist Andrew Conner was on hand to break 'I Don't Belong Here' down track-by-track.
Atmosphere
This song was one of four songs produced by Stetson Whitworth at Highvibe Studios in Salt Lake City on the record. The song is essentially about how we as species are being held down by many irrelevant and hateful ideas and concepts such as war, racism, etc. It's also about reaching great heights as a species and the only way to do that and prosper is by opening up our minds, eliminating hate and exploring the final frontier.
Victim Eyes (feat. Doug Jones)
'Victim Eyes' is really the first political song we've ever done. The theme is social media and how we are pretty much sucked into the nearest screen we see. There are so many false articles regarding people and events online nowadays that it's kinda and of hard to determine fact from fiction.
We worked with one of our good friends Doug Jones, frontman of Noise Brigade on this one. He was super stoked to be a part of it. We sent him the music, he tracked his parts in Portland and sent them back to us and we loved it.
Safely Sleeping
As a band, we've always tried to touch on the subject of mental health and the struggles of living with a mental illness at https://valdiazep.com/valium-three-things-you-need-to-know/. 'Safely Sleeping' is the first track in the record to shine a light on the subject and we wanted to do it a little differently than before. We wanted to make something beautiful musically, almost like you were floating in space. A "space ballad" if you will.
Lyrically, we thought the best way to really make an impact on the subject was to be as genuine as possible. I felt the best way to do so would be to write about personal experiences with depression and how it's affected me. This one being about how it can leave you so exhausted, you find yourself sleeping the days away.
Piece Of Mind
Following 'Safely Sleeping', which is more about the helpless side of a mental illness, we have 'Piece Of Mind' which is about the more chaotic side. Clearly, we had to write something heavy and fast-paced. 'Piece Of Mind' is about losing control and starting the downward spiral into self-loathing and depression. It's about the loneliness we feel when the world tells us they know what activities we should do, what medicine to take and what ways to live to beat something only we can feel. This one was also tracked with Stetson Whitworth in SLC.
Create Bliss
'Create Bliss' is another very personal song about my struggle with depression. It's about trying to find happiness when nothing you do seems to bring you the joy you used to feel. Something I have to deal with on a daily basis are periods where my mind will race almost uncontrollably, sometimes resulting in an anxiety attack. This song was my way of expressing those situations.
Cut Me Out (feat. Devin Barrus)
'Cut Me Out' is another song we tracked with Stetson. It was a really fun song for us to track. Our very talented homie Devin Barrus from Sunsleep is featured on the chorus. Keeping it personal like the other songs, this one was about the falling out of a relationship and the feelings that went along with that.
Type-3
We really decided to push the boundaries with 'Type-3'. Instead of the hard-hitting breakdowns and big riffy choruses we've been writing for years, we wanted to change it up and make the listeners say "wait, this is Wired?"
The title, 'Type-3', refers to the term "Type 3 civilization", which in theory, is a civilization that can harness the energy of its entire galaxy to live. A theory we believe we can make a reality through evolution and advances in technology, but most of all by spreading love and equality.
Like Minds
This track is the heaviest one on the record. Touching on mental health once again, this song is about feeling like an outcast. Like you're being judged for living the life you want to live by ignorant people and isolating yourself from everyone to feel safe.
Bystander (feat. Tyler Hayes)
Our very talented friend Tyler Hayes that we've known for years was more than happy to feature on a track and we honestly couldn't be more pleased with how it turned out. This song is another political one. It's pretty much about watching the world fall apart and not being able to do anything but watch it burn while helplessly watching the higher powers make decisions that are out of our control. It's the only song in the record that has any real "easycore" elements as well.
Wonder
'Wonder' is really the only thing close to a love song on the record. It's more so about heartache and the negative parts of love. It's about realizing what you really meant to someone you loved unconditionally and cutting them out of your life for your benefit, even if it's not an easy thing to do.
Save Face (feat. Mike Moreno)
This song is another personal one about the falling out of a relationship. This one talks more about how my mental health played a role in the ordeal and the feelings that went along with that. The very talented Mike Moreno, the bassist for No Robot and wonderful friend of ours, was awesome enough to slap the bass on the one with us.
Confide
'Confide' is the last track on the album and the fourth song we wrote with Stetson Whitworth. We felt that this song would be the best one to wrap up the album with. The overall theme of the song is trusting and loving others. The universe will continue on without us whether we are happy or not. Sometimes the key to finding that happiness is loving someone who needs to be loved. Letting them confide in you. That can make a bigger impact in someone's life than you know.
'I Don't Belong Here' by Wired For Havoc is out now on Manic Kat Records.