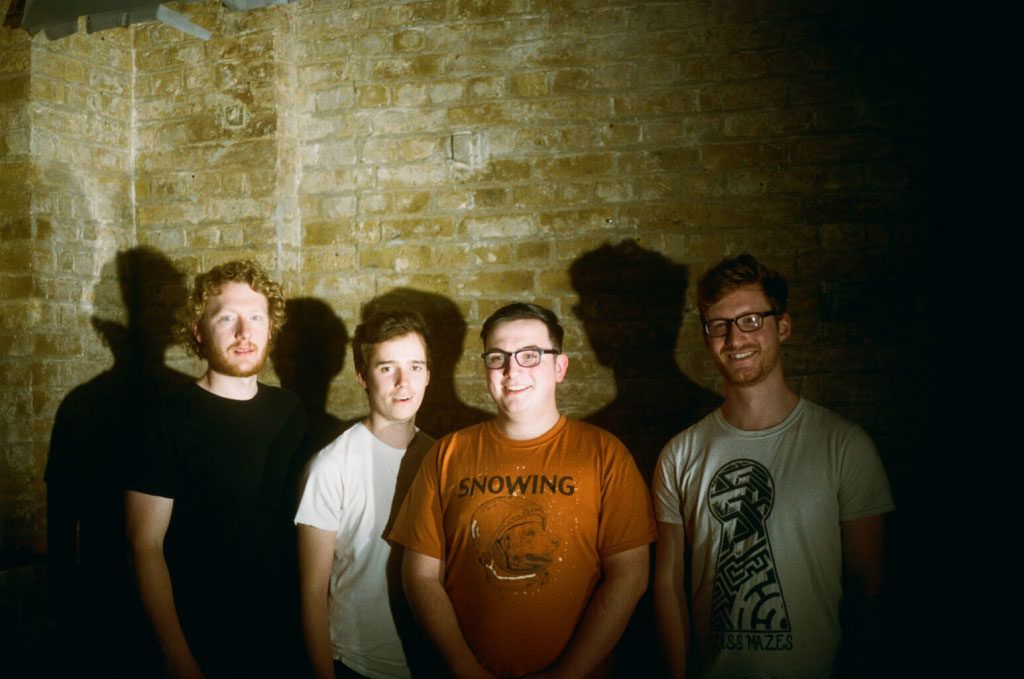 In Amber
Marcus: I went through a phase of listening to a lot of pop music, and wondered how we could combine some of those grooves and feelings into a song of ours. Whilst he didn't contribute any writing to the song, the direction was heavily influenced by our old guitarist Sam, who was a lot more groove-focused. Like the previous songs sung by Jack, I couldn't find any melodies, so once he came back with some, it was a no brainer he should sing it. Ali added a whole bunch of keyboards which gives it a lovely modern feel and Alex came up with the funk-inspired Bridge.
Jack: Lyrically, this one is paying tribute to my latter-teen years; making some great memories with some sometimes not-so-great people. The bridge is trying to see the last verse of 'Smoke Signals' by Phoebe Bridgers from the other side. I love putting in lyrical references to other artists and she has had such a huge impact on me as a writer. The last line is a shoutout to a very old friend of mine. After a house party at about 4am, we decided to "do a notebook" and lie down and have a cuddle in the middle of a dual carriageway A road (there was no traffic at the time, it's important to mention). Don't try that one at home, please.
Broken Things
Marcus: I remember Ali saying he had a piano idea for this song which we initially shot down but when he played it to us along with the track, and we were instantly sold. It really makes the song.
The song itself is about realising the impact of your mental health issues, specifically that horrible self-doubt where depression gets the better of you and you feel you might not be good enough for anyone. Even when you're in a relationship, you wouldn't be surprised if that person turned around and left. 
It has my favourite musical moment on the album. The way the outro builds and grows is super satisfying and pure bliss and the bass chord melody is probably my favourite musical idea I have ever written.
Jack: I love that Alex has something of a solo here because he's phenomenal and deserves more time to shine. It also took a while to arrange the outro whilst we were going through the mixes and we're all very precise in what we want. Luckily for us, Tom and Bob are absolute saints and have seemingly endless amounts of patience.
Be Happy And Love Part 3.
Marcus: As this is the final song we knew we had to make a statement, whilst linking back to part 1 and 2 of the song and keeping the themes we had developed. I wanted big anthemic moments, but I was also aiming for a softer touch similar to that of The Bronze Medal and City and Colour.
This song is probably the most emotionally honest and transparent song I have written. Blythe was the only other person I spoke to about my mental health issues, and because of that, we were kind of each other's support in a friendship group dominated by typically laddish behaviour. When he died, I didn't have anyone I could open up and talk to, which lead to me being pretty emotionally closed off for a while, which wasn't healthy. Admitting you're not well is the first step of many and writing this song was a massive help in self-realising that.
The outro to this song is the last thing that I was working on that I showed my Dad before he passed away. I wish I had shown him the rest, but I was still not ready to have the lyrics closely analysed, as I knew he would ask.
Whilst I definitely wrote the song talking to Blythe, there is now a distinct double meaning and extra weight with my Dad too. When I was in a slump and on the phone to him in tears he would always say "Remember what Blythe said: Be Happy and Love!", and I try to remember that when things get dark.
Jack: The gang vocals were one of the last things we did for the album and I felt such a strong sense that everything had come together. It was the first time we'd seen each other in a few months and everything felt right—tracking gang vocals is always fun as hell anyway. Alex is one of my oldest friends and I felt so grateful that the guys had let me in to make this thing with them, and yelling something so cathartic really concreted in my mind that this was what I was supposed to be doing.
'The Last Words That You Said To Me Have Kept Me Here And Safe' by The Yacht Club is released on 25th January on Beth Shalom Records.
The Yacht Club links: Facebook | Twitter | Instagram | Bandcamp
---
If you have enjoyed reading this article and would like to help us produce more content and promote more great new music, please consider donating to our Patreon page.