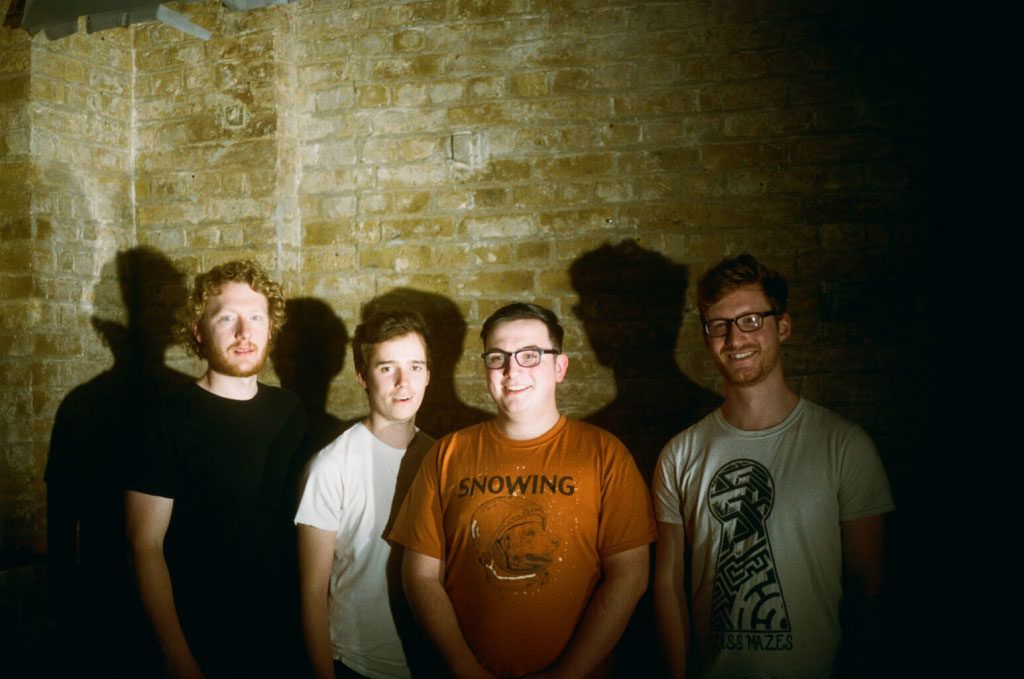 London-based math-/alt-pop quartet The Yacht Club have been on a rollercoaster of a journey to release their debut album – 'The Last Words That You Said To Me Have Kept Me Here And Safe'. Set to be released this Friday (January 25th), it sees co-frontmen Marcus Gooda and Jack Holland reflect on a difficult period, both individually and collectively.
"To say tracking this album had been a struggle at times would be an understatement. We were relatively inactive as a band and all going through quite difficult periods of our lives which made us more headstrong and stubborn than usual," explains Jack before adding, "There were also a bunch of great times tracking the album, and it made a hard year way more bearable for me."
Originally formed as a solo project for Gooda in 2012, various members came and went before Holland along with Alex Bramwell (bass) and Alexander Esp (drums/piano/keys) cemented the line-up. As for 'The Last Words That You Said…', it is an album decorated with harmonious finger-taps, intricate math-rock riffs and lushious pop sensibilites. It complements the sensitive and emotive spine of the record as Gooda and Holland reflect on mental health troubles, the loss of loved ones while trying to help others find a light in the dark. A thoroughly cathartic record, it highlights the stark juxtaposition of living a carefree youth with the encroaching realities and responsibilities of adulthood.
"If this album helps only one person get through a tough period of their lives, or provides any source of comfort, then as far as I'm concerned, we have done our jobs," Marcus tell us. "Music is a very powerful and personal thing, and to be the tiniest footnote on someone's journey is an honour."
To get a better insight into the making of 'The Last Words That You Said…' and the meaning behind its 10 songs, Marcus Gooda and Jack Holland from The Yacht Club have provided a detailed track-by-track breakdown.
Be Happy And Love Part 2.
Marcus: Going into recording the album, we wanted the record to open the same way that it closed, much like 'Transatlanticism' by Death Cab For Cutie. This song was the last one written for the record and the drums were even recorded as a re-recording of 'Be Happy and Love pt. 1' from our 'Fall' EP.
We knew we wanted to have a 'BHAL1' and 'BHAL2' to bookend the record, but as time went on, I really felt like BHAL1 didn't have the punch that the album deserved to kick it off. And so, this song was born into the world, without any of the other guys knowing I was working on it at the time.
Lyrically, it sets the stage for the rest of album. I lost one of my best friends, Blythe, to suicide a few years ago. I began writing the album as a way to cope and start the journey of recovery and try to deal with the loss—to start asking some painful questions and dealing with the fact you might not be OK yourself. A month or so before we went to record the album, I lost my dad very suddenly too, so the bridge and outro deals touches on that as well. Whilst the music itself isn't, I think it's a very emotionally heavy song, and it actually made Tom Hill (engineer/producer) and Bob Cooper (mix/master) cry whilst working on it.
Heigham Park
Marcus: I had the draft for 'Heigham Park' sitting around for a couple of years. It eventually became the first song I demoed with the conscious decision to have three guitar parts in it. I guess this song would be the first to break this new sound or direction we are heading in as well, with a more indie/emo influence coming through.
'Heigham Park' is a place in my hometown of Norwich, where me and my friends would spend days after school, our summer days and later, our summer nights drinking. I have very very fond memories of that place and now Blythe has his own bench dedicated to him. On more than one occasion I have gone to the bench to sit and listen to the birds, just switch off and zone out for a while, or perhaps try and hear his wisdom and words he would often impart when I need them most. I definitely remember having a cry after I tracked demo vocals in Alex's house.
Jack: This will always make me think of how long we spent trying to track the tapping part for this – it's particularly punishing on the left hand and playing it for any extended period of time hurts. A lot. Tom and I took a lot of coffee breaks during this one.
Postmarks
Marcus: I'm really proud of how we took this song from my twinkly bedroom riffs into something so much more. We really came together as a team for this. Alex came up with all the chords and a lot of the third guitar parts. I gave this song to Jack to come up with some melodies after not being able to find any inspiration, so it just made sense for him to sing the song instead. He has such a great voice and I'm super happy he finally gets to write, sing, and have a creative input in the band after being our guitar tech.
Jack: I wrote this (and the rest of my lyrics) when I was stuck in an office job that was going nowhere and the majority of my friends had just graduated uni, were off travelling and enjoying their lives whilst I couldn't work out how to enjoy mine. I'm quite uncomfortable with songs that call people out, so this is pretty vague but is about a bunch of people.
I tried quite consciously to use the second verse onwards to discuss how I love the memories that I have of these people but I'm not angry about us drifting apart. I say in the second chorus "I realise that I weigh me down", and that's not to say that positive thinking can pull you out of depression – because that's reductive and just straight up wrong 99% of the time, but there was a moment that I realised I had to move on and go after what I wanted if I ever wanted to feel fulfilled.
Glue
Marcus: Whilst this is only one of two songs on the album that doesn't have any guitar tapping in it, it's also one of the more musically layered. We made deliberate decisions to leave space and let the song breathe, even with three guitar parts, Rhodes piano and two drum kits.
Starting life off as a demo of just my vocals and piano, it's a real testament to how we've evolved and the creative input everyone has. I wanted the song to sound intimate in both the vocals and instrumentation even with so much going on and I think we all pulled together to make it happen. This is a real team effort and it's one of the songs I'm most proud of.
Lyrically it's about two people who have been through hell and back, finding something new and beautiful in each other, even if that something is a little scary and intimidating. It's not only about starting a brand new chapter out of all that pain, but also just enjoying a very private moment together, and feeling completely content if that lasted forever. I think emo — or math rock, or whatever genre you want to call us — has very few positive love songs, and this is exactly that: a love song.

21
Marcus: I really struggled to get any vocals for this down, so I handed the reins to Jack, who smashed it out better than I ever could have hoped for. None of us heard his vocals for this track until we were in the studio. Ali sprinkled some gorgeous piano and keys on this track which really just lifts everything up and gives it everything that was missing. I think the drum solo is a nice talking point of the album too.
Jack: I used to have a lot of dreams about bumping into people I used to know and explaining that I'd essentially done nothing with my life. This obviously wasn't the case, but it's how I felt at the time. The bridge is about when I first started having panic attacks. I became convinced I was going to die with my reasoning being that everyone I knew had lost someone before their time. Revisiting this through performing the lyrics was pretty difficult but I think it was important in helping me to break this down, compartmentalise it, pack it away, and move past it. That part was a struggle to do in particular, but I really tried to push myself vocally in general on this one. I also couldn't resist smashing that Counting Crows reference in at the start.
Read part two here.