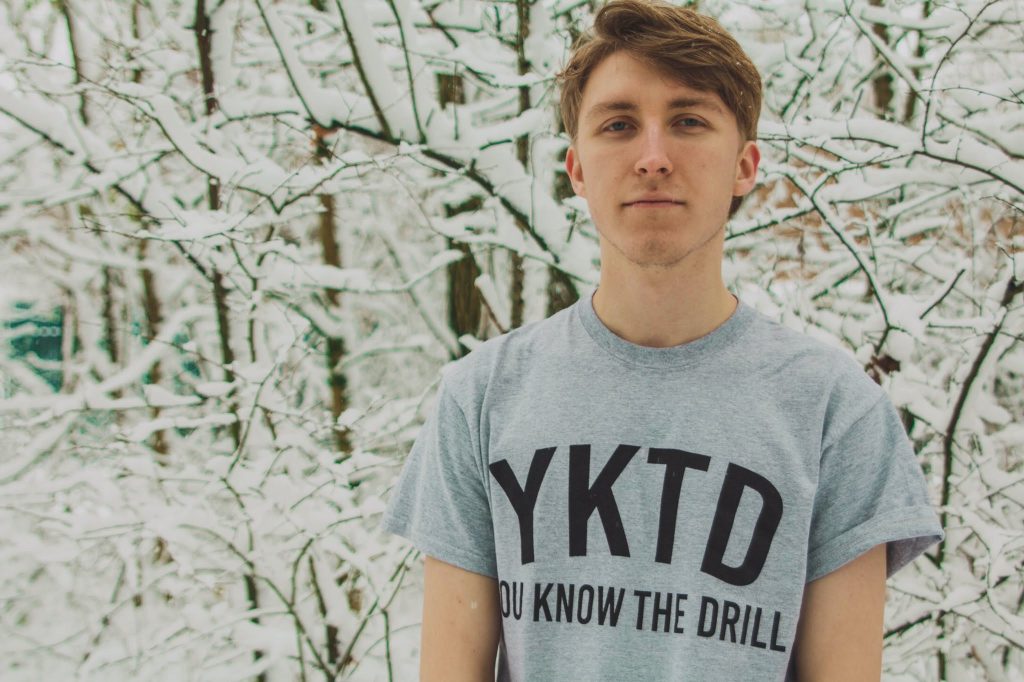 Just over a year ago, Birmingham-based singer-songwriter Luke Rainsford released 'I Feel at Home with You'. It saw the young performer bare his soul through a set of confessional songs, tacking several personal issues such as mental health struggles.
This week Luke returns with a new EP called 'I Just Don't Deserve To Be Loved'. In the time since writing 'I Feel at Home with You', Luke's mother passed away. Understandably, the EP revolves around the mourning and aftermath of her passing. Complemented by a rich, acoustic-heavy backbone, Rainsford delivers an emotional outpouring of grief, guilt, confusion, angst, and the toll the life-altering event had on him.
Although the six songs on 'I Just Don't Deserve To Be Loved' are profoundly personal to Luke, he has been breakdown the EP track-by-track especially for Already Heard.
Looking For Your Ghost
This song was the first I wrote specifically for this project, and is about how different my house felt the months after my Mum passed away. It delves into how I felt like my mental health deteriorated a lot during this time, and I didn't function as a human very well. This made being at home an incredibly weird time, because not only was it missing the one constant I'd had my whole life, I was pretty much existing in a daze the entire time. This song was written during that time, and then I edited it around a lot afterwards so it was more cohesive and made more sense as a song.
This is my favourite song from the EP, just because I think it's incredibly intense emotionally, and I also think it has some really strong vocal melodies throughout it.
I Can't Keep My Promises
This song was originally part of 'An Open Letter', but I reworked it and really liked the way it flowed into what that song became. This song is about how my Mum encouraged me to travel and play shows, in order to do what I loved, but also about how that meant I didn't see her much in the last few weeks of her life. This particular song is about a time I was getting the coach back from a show in Cardiff early, in order to go to her funeral.
An Open Letter
This song carries directly over from the interlude. It is about the shallow feeling I got from vague family relations and family friends, who were suddenly acting like they knew me or my family well at the funeral. I hated how fake everything felt, and for something that had such an impact on me, I just found it incredibly insulting to hear "everything will be ok" from people I'd never met before about something so close to my heart.
This anger also radiated towards how my Mum wasn't religious, yet the funeral still had a religious basing – and this goes towards my frustration at wishing I had the comfort of a belief in God or an afterlife. I struggled a lot with the thought of trying to believe my Mum would be in a better place, but I really couldn't comprehend a deity that would let things such as that happen. This song wasn't meant to be a dig at anybody's beliefs, more my own struggle with the concept of religion itself.
Sweet Briar
A lot of this song was written years ago – the chorus itself was written before most of 'I Feel At Home WIth You'. This song is sort of a Frankenstein of parts from various ideas for songs I've had over time. The lyrics deal with how I spent most of my late teenage years looking for happiness in all the wrong places. I've always got very attached to the idea that a place can suddenly hold so many new meanings based on events that happen. I'd never even heard of Leamington Spa or Liverpool that much before certain personal events made them hold a lot of significance to me.
What I Can't Believe
This song I wrote during load in when I played Brighton for the first time. This song is about feeling hopeless. It's about the days where I feel like I'll never truly beat my mental illness, and where I can feel it completely consuming my thoughts. It's about how I feel like I don't truly belong in my own skin, and how my head and my body can feel completely detached from each other at times. This song was pretty much written naturally in ten minutes, which is rare for me, as normally it takes me a long time to be happy with anything I write.
What I Hide Between
This song might sound at first like a more positive song, but it's actually about a period of my life where I was forcing myself to operate and function like a human being. I took myself off of antidepressant medication (which is an awful idea to anyone, not just people suffering with their mental health) and started forcing myself to shower, leave the house, etc. I just ended up crashing and relapsing on my self-harm due to the shock to my system. This song is written about times where I lie to myself that I'm fine – rather than actually trying to help myself. This attitude can be very self-destructive to a lot of people – and this song is intended to be a warning against that.
'I Just Don't Deserve To Be Loved' EP by Luke Rainsford is released on 6th April on Scylla Records (pre-order).
Luke Rainsford links: Facebook|Twitter|Bandcamp
---
Luke Rainsford is scheduled to play the Slam Dunk Festival on the following dates:
May
Sat 26 City Centre, Leeds
Sun 27 Hatfield Park, Hatfield
Mon 28 The NEC, Birmingham
Tickets can be purchased here.
Slam Dunk Festival links: Website|Facebook|Twitter|Instagram
---
If you have enjoyed reading this article and would like to help us produce more content and promote more great new music, please consider donating to our Patreon page.